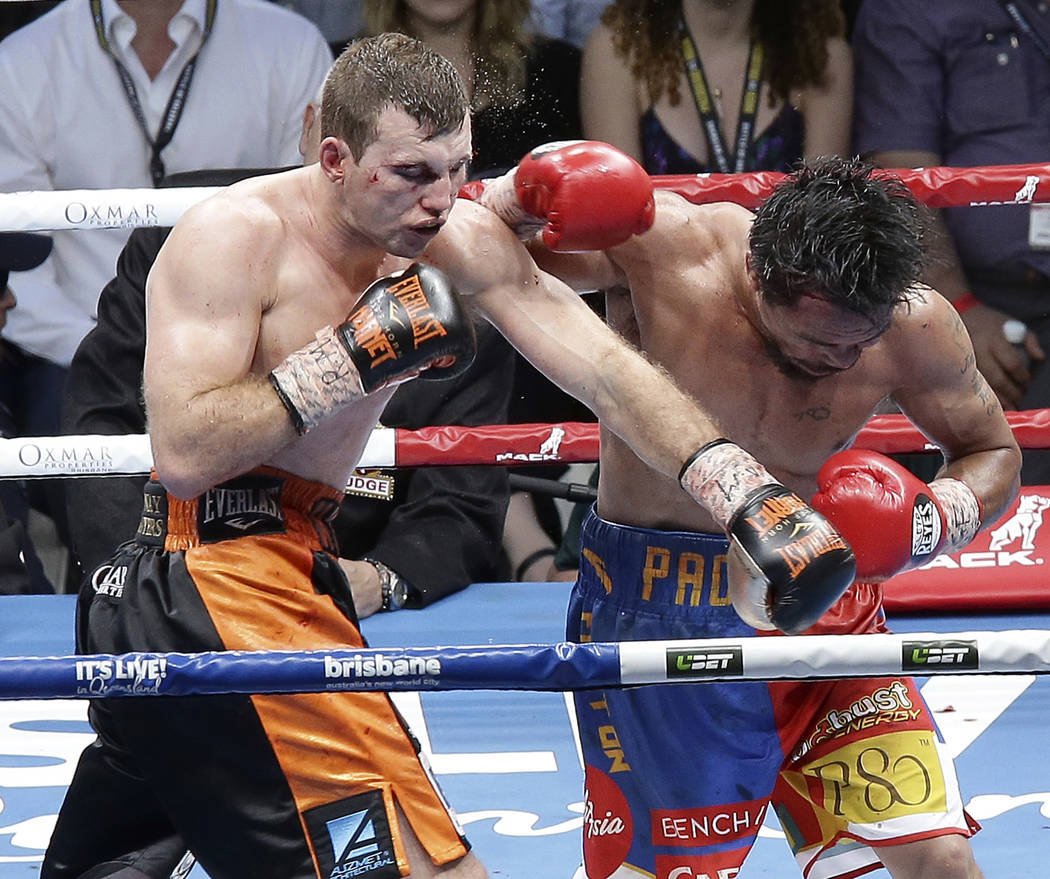 In years past, MGM Resorts International has moved events to different dates and cleared out arenas to bring a major boxing match to the fight capital of the world.
Times have changed in Las Vegas.
MGM officials told Top Rank promoter Bob Arum that T-Mobile Arena will not be available April 14 or April 21 to host a boxing card slated for the WBO welterweight title fight between champion Jeff Horn and Terence Crawford and possibly the return of Manny Pacquiao.
According to Arum, the MGM chose to keep T-Mobile Arena open for the two dates in case the Golden Knights host a playoff game. The NHL playoffs are scheduled to begin April 11, and the Golden Knights are first in the Pacific Division.
"We weren't able to get anything in Vegas," Arum said. "For sure it's not going to be in Vegas. It's nobody's fault. I don't want to place blame. We're happy to be in New York. It wasn't a question of a bidding war or anything like that. If I can't get a building, I can't get a building."
The ESPN-televised card will be moved to April 14 at New York's Madison Square Garden, according to Arum. Pacquiao has never fought in New York.
It's a bit of a surprise that the MGM didn't have any available venues to accommodate the Top Rank card. Pacquiao, who has headlined numerous events in Las Vegas, isn't guaranteed to fight on the card. Arum said he hopes to receive confirmation from Pacquiao in the next couple of days.
Pacquiao, 39, is on the decline as a boxer, but he's still one of the biggest draws in boxing behind Floyd Mayweather, Saul "Canelo" Alvarez and Gennady Golovkin.
Venue dates are often filled in Las Vegas with concerts, shows and now Golden Knights games. That has led to many boxing events moving to Los Angeles or New York.
"If Las Vegas wasn't doing well, all these building would be empty and begging for events," Arum said. "Las Vegas has now become a premier spot for every concert and everything else.
"I'm not going to say this is terrible. Blame so and so. It's great when the MGM has three arenas and tells me all three are completely taken, and as much as they want the event, they can't fit it in … and I say, hooray, you're doing great."
In the next three months, New York will host Errol Spence-Lamont Peterson, Deontay Wilder-Luis Ortiz, Sergey Kovalev-Igor Mikhalkin and now Crawford-Horn and possibly Pacquiao versus an opponent to be named.
Las Vegas has one notable card scheduled for this year — Danny Garcia-Brandon Rios on Feb. 17 — and could possibly host the Alvarez-Golovkin rematch May 5. But Madison Square Garden wants that fight, too.
"I think the relief is on the way with the new indoor football stadium being built and the Raiders' practice facility in Henderson," Arum said. "I think this is a really good thing, and it shows the growth (of Las Vegas)."
Pacquiao-Lomachenko showdown?
Rumors began to swirl this week when Pacquiao revealed he was in negotiations to fight Vasyl Lomachenko this spring.
Arum, the promoter for both fighters, and Egis Klimas, Lomachenko's manager, said that fight won't be happening any time soon. The weight is the biggest snag, with Pacquiao currently fighting at 147 pounds and Lomachenko at 130.
Arum said the potential showdown could happen in the fall, and possibly in Las Vegas if Lomachenko looks impressive in his 135-pound debut in April.
"Lomachenko will be having a fight that will probably be at 135 at the end of April," Arum said. "Lomachenko's father (Anatoly) would then need to give him permission to fight Manny at 140 pounds in the fall, and that's a fight we'll hopefully might want to put in Las Vegas if a building is available."
Pacquiao has said he has no issues with moving to 140 pounds to fight Lomachenko, whom many consider the best pound-for-pound fighter.
More boxing: Follow all of our boxing coverage online at reviewjournal.com/boxing and @RJ_Sports on Twitter.
Contact Gilbert Manzano at gmanzano@reviewjournal.com. Follow @GManzano24 on Twitter.