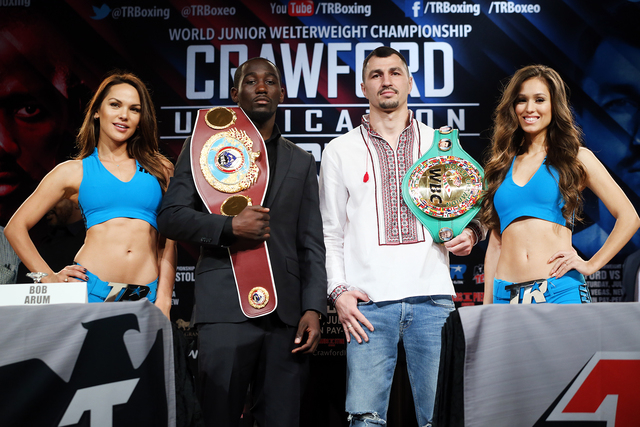 This might not be the best time to enter the pay-per-view universe. But Terence Crawford believes he's ready to get people to pay to watch him fight on TV.
So does Crawford's promoter, Top Rank chairman Bob Arum.
Crawford, the World Boxing Organization junior welterweight champion, faces World Boxing Council champ Viktor Postol on July 23 at the MGM Grand Garden on HBO PPV. The asking price is $49.95, half of what 4.4 million people paid for the dud that was Floyd Mayweather Jr.-Manny Pacquiao a year ago.
"We're hoping Crawford can do 100,000 (buys)," Arum said this week in Los Angeles at the kickoff to the promotion at the Beverly Hilton Hotel. "We've invested a lot of time and money building up Terence on HBO, and we think this fight, which is a helluva fight, is the perfect opportunity to introduce him to the pay-per-view audience."
Crawford believes he has paid his dues and can develop into a pay-per-view star.
"Anyone who has seen my fights knows I'm going to put on an exciting performance and give you your money's worth," he said.
He has done that. At 28-0 with 20 knockouts, Crawford is a legitimate star.
But since the Mayweather-Pacquiao debacle, boxing fans have become reluctant to buy pay-per-views. Pacquiao's April 9 win over Timothy Bradley did fewer than 500,000 buys. Canelo Alvarez's sensational knockout of Amir Khan on May 7 sold only 450,000.
"This is a very competitive fight," said Arum, defending the decision to go to pay per view. "Nobody gave Khan a chance against Canelo, so why buy the fight? Now, if Canelo fights Triple G (Gennady Golovkin), that's a different story. People are going to want to see that fight.
"We think we have a very good fight to sell with Terence and Postol. We have a good undercard planned. We're only charging $50. So I'm optimistic we can do a good number."
WILDER FIGHT IN JEOPARDY
Deontay Wilder's WBC heavyweight title defense May 21 in Moscow against Russian heavyweight contender Alexander Povetkin is in jeopardy after Povetkin tested positive for a banned substance.
The Voluntary Anti-Doping Association reported Friday that Povetkin tested positive April 27 for meldonium, which is used to combat heart disease by increasing the size of the blood vessels and allowing more room for blood to flow through the body. The substance is on the World Anti-Doping Agency's list of banned substances.
The WBC said in a statement that it was investigating the matter and would make a decision soon.
VARGAS-BROOK UPDATE
Jessie Vargas' manager, Cameron Dunkin, said a welterweight unification title fight between Vargas, the WBO champ, and Kell Brook, the International Boxing Federation champion, doesn't appear imminent.
"Jessie isn't happy with the money," Dunkin said Thursday. "They're offering him $1.61 million, which is three times what he got when he fought (Timothy) Bradley. I've told him it's the best fight out there, but we're running out of time to make a deal. I'm going to talk to Jessie again and see what we can do."
Contact Steve Carp @scarp@reviewjournal.com or 702-387-2913. Follow on Twitter: @stevecarprj