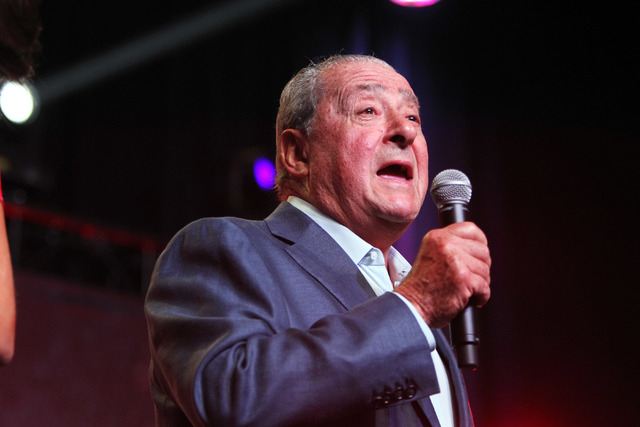 Top Rank filed a $100 million lawsuit Wednesday against boxing manager Al Haymon, alleging he and his partners, the investment firm of Waddell & Reed, broke federal antitrust laws and also violated the Muhammad Ali Boxing Act.
"It's been something we've been working on for a while," Top Rank chairman Bob Arum said after the suit was filed in U.S. District Court of Los Angeles. "It's something that we're taking very seriously."
Top Rank's legal action comes on the heels of Golden Boy Promotions' $300 million antitrust suit against Haymon, filed in May. Also, the Association of Boxing Commissions asked U.S. Attorney General Loretta Lynch in April to initiate a Department of Justice investigation into Haymon's business practices.
"Al Haymon and Waddell & Reed are engaged in a sophisticated scheme to gain control of the boxing industry," said Daniel Petrocelli, Top Rank's lead attorney. "As the lawsuit explains in detail, they are violating federal law, defying state regulators and absorbing significant short-term losses to drive legitimate operators out of business."
Among the highlights of the 50-page document, the suit claims Haymon has simultaneously managed boxers and promoted fights in direct violation of the Ali Act, which became a law in 2000 to protect fighters from such practices.
The suit also claims that Haymon paid boxers not to spar with fighters promoted by Top Rank and that Haymon forbade fighters under contract to him from being promoted by Top Rank and other promoters, preventing them from having access to major venues and blocking them from TV opportunities.
Haymon, who has more than 150 fighters under contract and serves as an adviser to Floyd Mayweather Jr., launched Premier Boxing Champions in March. His company has TV deals with NBC, CBS, Fox, ESPN and Spike. Waddell & Reed, located in Kansas City, Mo., has committed more than $400 million to bankroll Haymon's PBC venture, according to Top Rank's suit
"For decades, the boxing business has earned a poor reputation because of some unsavory characters," Petrocelli said. "Congress stepped in and enacted laws to clean up the industry. Top Rank is trying to ensure that Al Haymon and Waddell play by the same rules as everyone else."
Kramer Levin Naftalis and Frankel, the New York law firm that represents Haymon, said in a statement: "The lawsuit filed today by Bob Arum and Top Rank is entirely without merit and is a cynical attempt by boxing's old guard to use the courts to undermine the accessibility, credibility and exposure of boxing that the sport so desperately needs.
"The premier Boxing Champions series makes boxing free again by bringing championship boxing to free TV with a fighter-first promise and a commitment to the fans to restore boxing to the luster of its heyday. The continued success of this effort will far outlast this baseless lawsuit."
Arum and Haymon managed to work together to produce the May 2 megafight between Mayweather and Manny Pacquiao at the MGM Grand Garden. That fight broke records for live gate ($72 million), pay-per-view buys (4.4 million) and PPV sales ($400 million). The fight generated a total revenue of approximately $600 million.
But it was a contentious relationship, and after Golden Boy filed its suit May 6, Top Rank began pursuit of its own litigation.
"This isn't something that happened overnight," Petrocelli said. "We've been monitoring Haymon's activities for some time, and we wouldn't have filed the suit if we didn't believe we could win."
Golden Boy president Oscar De La Hoya supported Top Rank's decision.
"I applaud Bob Arum and Top Rank Boxing for stepping up on behalf of fighters not only in their own stable but all across the sport," De La Hoya said in a statement. "Those like Bob and myself who have spent the bulk of their lives around boxing understand that the Muhammad Ali Boxing Reform Act is a crucial piece of legislation that serves to protect boxers and enhance the sport.
"Golden Boy Promotions will continue to push forward with our own lawsuit to ensure our wonderful sport continues to grow in a competitive, just manner."
Contact reporter Steve Carp at scarp@reviewjournal.com or 702-387-2913. Follow him on Twitter: @stevecarprj.