Unbeaten Vargas drops in class to gain title shot
April 10, 2014 - 11:02 pm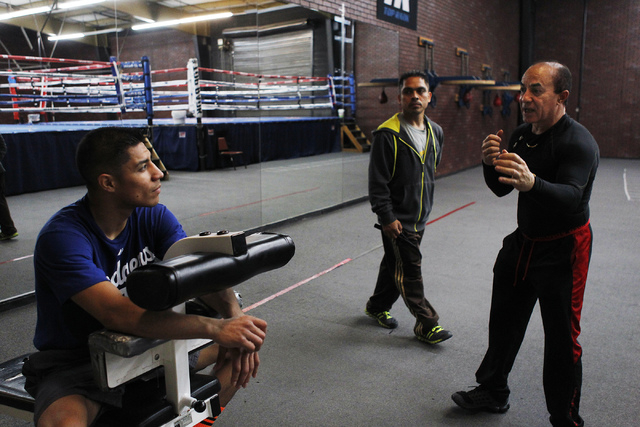 Jessie Vargas was happy fighting as a welterweight. But boxers go where world title belts are.
So the undefeated Las Vegan is dropping back down to 140 pounds in the hopes of defeating Khabib Allakhverdiev and taking his World Boxing Association regular junior welterweight title Saturday at the MGM Grand Garden. The 12-round fight is part of the Timothy Bradley-Manny Pacquiao undercard and will be aired on the HBO Pay Per View telecast.
"Ever since I was 8 years old, this has been my dream," Vargas said. "Now my opportunity is finally here. It has given me extra motivation to train, and I know I'm leaving the ring as world champion."
Vargas, 24, severed ties in October with trainer Robert Alcazar and hired Ismael Salas. The two have been together since November, and Salas said he wanted to make sure Vargas' fundamentals were sound while at the same time stoking the embers and bringing out the fire in him.
"The key was the feet — getting the footwork down and getting him sitting down on his punches," Salas said. "It took time, but we've been together awhile now so we've been able to straighten everything out.
"I also want to bring out the Mexican warrior in Jessie. I want him to fight with great passion."
Vargas (23-0, nine knockouts) sparred more than 200 rounds to prepare for Allakhverdiev (19-0, nine KOs). He handled his drop in weight wisely, gradually taking off the required 7 pounds to get to 140. He weighed 142 on Thursday morning and shouldn't have a problem making weight today.
"It was pretty easy," Vargas said of the transition back to junior welterweight. "I've learned how to lose weight properly and at the same time maintain my strength, my speed and my power."
Vargas, who never has gone beyond 10 rounds in his career, said getting a world title fight at 147 pounds would have been difficult, so he chose to drop down.
"I had two options — stay at 147 and not fight for a title or drop down to 140 and fight for a title," he said. "For me, it was an easy decision. When you get a chance to fight for a belt, you take it."
Vargas, managed by Cameron Dunkin and promoted by Top Rank, has been patiently waiting for the opportunity.
"I've just tried to stay positive," he said. "Everyone told me my time would come and as long as I took care of business, I'd get my chance.
"Top Rank takes their time with their fighters, and Cameron told me just keep working and he'd deliver."
For Vargas, who was born in Los Angeles, grew up in Las Vegas and attended Palo Verde High School, winning a world title in his hometown makes the opportunity extra special.
"I want to show the kids in Vegas that anything is possible if you work hard for it and you believe in yourself," he said. "I see myself as a positive role model to the youth of Las Vegas and the world. When I tell the kids my story, I see their eyes light up."
Vargas said his experience and conditioning will be the key against Allakhverdiev.
"I have more experience than him, and it'll be a factor," he said. "I'm ready to go 12 hard rounds, and my conditioning is the best it has ever been. Ismael has been great to work with. He has me thinking more in the ring, setting up my shots and staying a step ahead of my opponent."
Salas said he wants Vargas to not get reckless and not get confused when Allakhverdiev switches to a southpaw stance and tries to use his right hand to land a big punch.
"We've had sufficient time to prepare," Salas said. "He has been a good student. Now it's time to apply the lessons in the ring."
Vargas said: "All the cards are on the table. I want to give a spectacular performance and win that belt."
■ NOTES — Today's weigh-in at the Grand Garden begins at 2:30 p.m. Doors open at 1, and admission is free. … Pacquiao remains the betting favorite at the MGM Resorts sports books. He was at minus-280 Thursday, with Bradley at plus-220.
Contact reporter Steve Carp at scarp@reviewjournal.com or 702-387-2913. Follow him on Twitter: @stevecarprj.