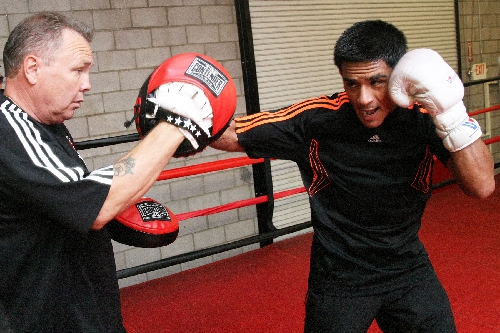 When Jesse Magdaleno's professional boxing advancement was moved up to eight-round bouts a few fights ago, the going was supposed to get tougher.
Instead, the undefeated super bantamweight from Las Vegas is finding it easier, with two of his recent fights not going beyond the first round, much less going the distance.
The 20-year-old Durango High graduate and younger brother of NABF super featherweight champion Diego Magdaleno has no explanation as to why his fights are ending early.
"I'm really not going in looking for the knockout," said Magdaleno (10-0, seven knockouts). "If it comes, great. If not, I just keep doing what I need to do."
Magdaleno stunned veteran Carlos Valcarcel in his most recent appearance on June 8. Using his superior hand speed and landing his combinations effectively, Magdaleno overwhelmed the 30-year-old Valcarcel (12-5-4, five KOs), and the fight was stopped at 2:25 of the opening round.
The fight was Magdaleno's second straight that didn't require the ring card girl's services. Tonight at Texas Station, Magdaleno faces another experienced fighter in 31-year-old Aldimar Silva Santos (17-2, nine KOs). But the way Magdaleno is going, it wouldn't be a shock if the scheduled eight-round bout on ESPN2 doesn't come close to going the distance.
"I don't mind if my fights end early," said Magdaleno, who has boxed less than eight rounds in three fights this year. "All I'm trying to do is take the work I'm doing in the gym every day and transferring it to the ring on fight night. I'm getting plenty of experience while I'm training."
Pat Barry, who trains both Magdaleno brothers, said Jesse is incorporating some of Diego's famed work ethic, and it's paying off.
"I think Jesse sees what it's done for Diego and the success he has had, and it's motivating him," Barry said. "He's excited to come to the gym, and he's all business once he comes through the door."
Magdaleno said his confidence continues to grow as he makes short work of his opponents and wins so convincingly.
"I wouldn't say I'm on a fast track, but I see every fight as an opportunity to get better and learn," he said. "I'm fighting another very experienced fighter, and it's a new challenge."
Magdaleno is in one of the televised bouts in support of the main event that features Filipino lightweight Mercito Gesta (25-0-1, 13 KOs) against Ty Barnett (19-2-1, 12 KOs) in a scheduled 10-round bout.
The first bell for the Top Rank card is at 5 p.m., with the televised portion at 7.
Contact reporter Steve Carp at scarp@reviewjournal.com or 702-387-2913. Follow him on Twitter: @stevecarprj.