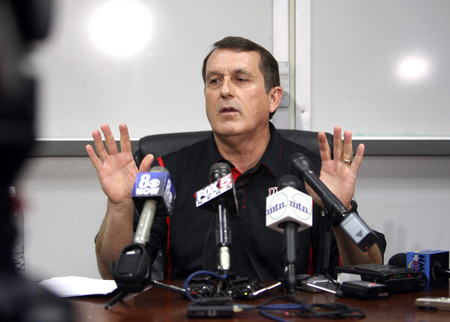 NO. 1 — SANFORD SAYONARA (249 points)
The situation was clear entering the season: Mike Sanford needed to go at least 6-6 and take UNLV to a bowl game or he was out as the Rebels' football coach. After five losing seasons, change finally occurred at the top of UNLV football.
The day after a 45-17 loss at Air Force on Nov. 14, Sanford was told he would not return next season. He exited with a 16-43 record, 5-7 this season.
At his introductory news conference in December 2004, Sanford said he would take UNLV to impressive heights, but the Rebels never came close.
The Sanford era officially ended Nov. 28 when Omar Clayton tossed a 17-yard touchdown pass to Phillip Payne to beat San Diego State, 28-24.
"This win today is not about me," Sanford said. "It's not about the coaching staff. It's about our seniors. It's about our players.
"I'm very proud of how they played today."
Sanford has since taken over as offensive coordinator at Louisville. UNLV, meanwhile, announced last week the hiring of Bobby Hauck, who in seven years at Montana went 80-17 and reached three national title games in the Football Championship Subdivision.
NO. 2 — AGONY AND THE AGASSI (228 points)
When Andre Agassi's acclaimed book hit the shelves in early November, the secrets of Las Vegas' favorite son already had been leaked: He did meth in 1997; he hated tennis, and lost on purpose at times; he wasn't into first wife Brooke Shields; his dad was incredibly hard on him as a kid.
No, his 386-page autobiography didn't hold anything back.
"It flies in the face of how people perceived me," Agassi said of exposing his human side.
"I had demons I had to fight through."
Agassi said that writing the book was a catharsis for his soul.
"I felt it was important to move forward with my life and tell my story," he said.
Agassi told the Las Vegas Review-Journal's Doug Elfman that the meth story has not hurt his charitable foundation or his Vegas school. He also says wife Steffi Graf is proud.
"She knows the stories of my life. She's waited anxiously as I figured out what the story of my life was."
NO. 3 — UFC 100 (160 POINTS)
In the beginning, it was about a guy wearing one boxing glove and another a jiu-jitsu kimono.
For the sport of mixed martial arts, it was the creation of something that would grow to massive heights in what has been a historic rise into the sports world's mainstream.
The Ultimate Fighting Championship celebrated its 100th show in July with two championship belts being contested. It mostly will be remembered as the night Brock Lesnar solidified himself as the UFC heavyweight champion.
He also made sure he would be cast as a villain to fans of the organization for as long as he chooses to be a participant.
Lesnar retained the belt by pounding interim champ Frank Mir until the referee called a halt to the bout at 1:48 of the second round. He then got in Mir's face and taunted the man who beat him in the same cage more than a year before.
"Frank Mir had a horseshoe up his ass, and I told him that a year ago," Lesnar screamed into the microphone in a manner reminiscent of his World Wrestling Entertainment days. "I tore that son of a bitch out and beat the hell out of him with it."
Mir says Lesnar embarrassed his sport by going on his tirade of spit and trash. Lesnar later apologized after UFC head Dana White scolded him for vamping like a WWE wrestler.
"Dana came back and we had a whip-the-dog session," Lesnar said. "I screwed up and I apologize."
In the co-main event, welterweight champ Georges St. Pierre methodically dismantled top contender Thiago Alves to retain the belt. And he did so without any Lesnar-type shenanigans.
NO. 4 — UNLV A.D. SEARCH (159 POINTS)
Jim Livengood wasn't UNLV's first choice to replace interim athletic director Jerry Koloskie, who took over in August when Mike Hamrick left Las Vegas for a similar position with Marshall University.
Livengood, the longtime athletic director at Arizona, got the job Dec. 17. He received a three-year deal with a base salary of $295,000, higher than the $280,000 he was making at Arizona and more than the $285,000 Hamrick earned. Livengood's first order of business at UNLV was hiring Bobby Hauck to coach the football team.
Livengood also said it will be his responsibility to quickly cultivate new revenue streams.
"You develop relationships and work on asking people to give," Livengood said of how he managed to raise $150 million at Arizona.
NO. 5 — PACQUIAO-COTTO (158 POINTS)
Manny Pacquiao dominated Miguel Cotto virtually from start to finish. He showed Cotto no mercy as he pounded away and eventually got a 12th-round technical knockout against the Puerto Rican champion, becoming the first boxer to win seven world titles in seven weight classes.
"It's an honor to win a seventh title," said Pacquiao (50-3-2), who earned $7.5 million."It's great to make history and to have a Filipino do it.
"It was a hard fight tonight. I needed time to test his power."
Cotto (34-2), who made $4 million, paid homage to Pacquiao in defeat.
"It didn't go my way in this fight," Cotto said. "The jab didn't do enough damage. Miguel Cotto will always fight the best fighters in the world, and Manny Pacquiao is one of the best boxers I ever fought."
NO. 6 — UNLV BASKETBALL RANKED (119 POINTS)
When practice for the 2009-10 season opened in October, UNLV coach Lon Kruger had a young team and a lot of questions. By the end of November, he found some positive answers.
The Rebels' 5-0 start included a 76-71 upset of 16th-ranked Louisville at the Thomas & Mack Center. UNLV appeared in the national rankings — checking in at No. 21 in the USA Today/ESPN coaches' poll and No. 24 in the Associated Press poll — for the first time since the 2006-07 season.
After a win at Arizona and a loss to Kansas State at the Orleans Arena, the Rebels rolled into the Diamond Head Classic in Honolulu with a 10-1 record. They routed Southern Methodist and Hawaii in the first two rounds, earning acclaim as the best team in the West.
On the verge of rising higher in the polls, UNLV took a step back and fell to 12-2 with a 67-56 loss to Southern California in the championship game on Christmas Day.
NO. 7 — PACQUIAO VS. MAYWEATHER (111 POINTS)
The proposed megafight between Manny Pacquiao and Floyd Mayweather Jr. looked like it was all set for March 13 at the MGM Grand. Now it looks like the fight is off for the foreseeable future, perhaps for good, because the sides can't agree on drug testing.
Mayweather's camp wants both fighters to submit to Olympic-style drug testing, which includes periodic monitoring of blood. But Pacquiao wouldn't agree to having blood drawn on a schedule he couldn't control, and now he's threatening to sue Mayweather and Co. for insinuating he is using performance-enhancing substances.
Pacquiao (50-3-2, 38 knockouts) is coming off a 12th-round technical knockout of welterweight Miguel Cotto on Nov. 14 at the MGM Grand Garden.
Mayweather (40-0, 25 KOs) has been working out since an impressive 12-round unanimous decision over Juan Manuel Marquez on Sept. 19. Though he has fought only once in two years, Mayweather was installed as a slight betting favorite (minus-120) over Pacquiao.
NO. 8 — KYLE BUSCH'S WILD RIDE (89 POINTS)
Kyle Busch's successful year began when he won the NASCAR Sprint Cup race March 1 at Las Vegas Motor Speedway and ended when he was crowned champion of the NASCAR Nationwide Series.
In all, Busch won 20 races in NASCAR's top three series.
"It's big," he said of the wins. "Well, the big accomplishment is some day to reach 200. If you can win 20 races in a season, that'll get you there a lot faster.
"It's not easy to win in any division in this sport, and when you're racing against some of the best and the top guys in each respective division, it's a big deal."
Busch dominated the second-tier Nationwide series for Joe Gibbs Racing by winning nine times, finishing second 11 times, posting a record 25 top-five finishes and leading a whopping 40 percent of the laps.
Although the 24-year-old Las Vegas native won four times in the premier Cup series, his Joe Gibbs Racing team faltered in the second half and he finished 13th in points. Busch also won seven of the 15 races he entered with Billy Ballew Motorsports in the NASCAR Camping World Truck Series.
NO. 9 — UNDERACHIEVING UNLV BASKETBALL (85 POINTS)
Wink Adams finished sixth on UNLV's career scoring list with 1,875 points, but his senior season met a disappointing end.
The Rebels, preseason favorites to win the Mountain West Conference, suffered consecutive overtime losses to San Diego State and New Mexico in early February and collapsed by going 4-7 in their last 11 games. UNLV hit a downward spiral toward a 21-11 finish and a 70-60 loss at Kentucky in the first round of the National Invitation Tournament.
It was the first time in three years the Rebels missed the NCAA Tournament, and coach Lon Kruger waved goodbye to senior leaders Adams, Joe Darger and Rene Rougeau.
NO. 10 — BISHOP GORMAN'S DOMINANCE (52 POINTS)
For most of the Class 4A state basketball final, it looked like Palo Verde (24-6) would win bragging rights, especially because Gorman (28-5) couldn't get the lead. But junior guard Johnathan Lloyd rescued Gorman by making a tiebreaking free throw with 1.8 seconds left. Gorman grabbed its only lead and a 56-55 victory over the Panthers for the championship.
Not to be outdone, the Gaels' football team completed an undefeated season by trouncing Del Sol 62-21 for the Class 4A title in December. Gorman (15-0) won 10 games by more than 40 points and clearly was the state's best team.
Also, the Gaels won the Class 4A state baseball crown for the fourth consecutive year. And in American Legion baseball, the Bishop Gorman Titans (63-14) fell short of becoming the first repeat World Series champions since Rio Piedras, Puerto Rico, won back-to-back titles in 1973 and '74. The Titans won their opening game, then fell twice in one day in the double-elimination event in Fargo, N.D., to bow out early.
"A bad day of baseball," Gorman coach Chris Sheff said.
TOP 10 STORY BALLOTING
Thirty members of the Las Vegas Review-Journal newsroom voted on the Top 10 Sports Stories of the Year from a ballot of 22 entries.
Each ballot ranked the stories, with the most important receiving 10 points, followed by the second-most significant with nine points, and so on. The top story, UNLV's dismissal of football coach Mike Sanford and the subsequent hiring of Montana coach Bobby Hauck, received 249 points, but was included on just 22 ballots.
The No. 2 story, Andre Agassi admitting to using drugs during a down period in his playing career, received 228 points but was included on 28 of the 30 ballots.