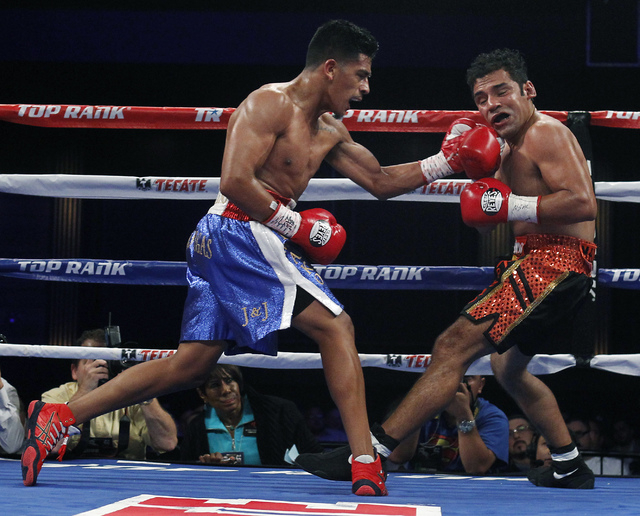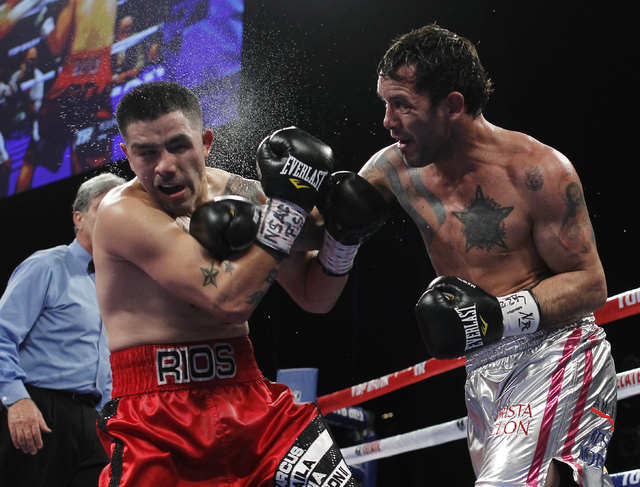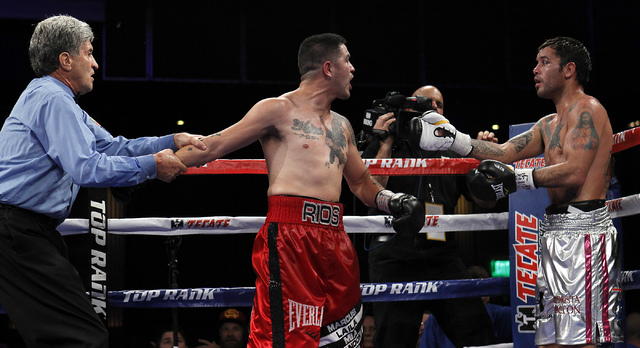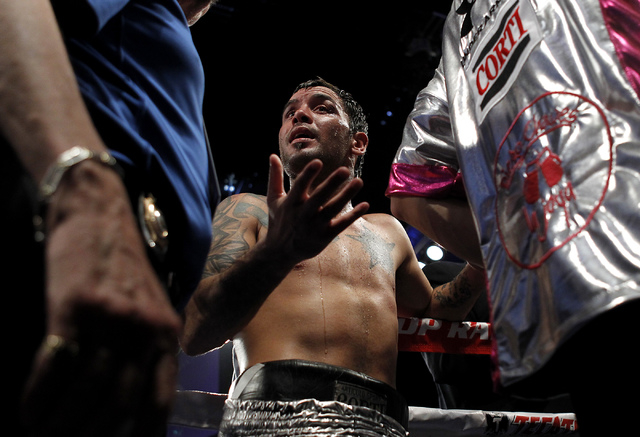 Jessie Vargas retained his World Boxing Association junior welterweight title Saturday night in his first defense since winning it in April. But his performance was far from perfect, and he was the first to admit it.
Vargas won a 12-round unanimous decision over Anton Novikov at The Cosmopolitan of Las Vegas to improve to 25-0 and hand Novikov his first pro defeat. He did it by being patient, using his right hand effectively and finding ways to improvise against Novikov's awkward style.
"He wasn't an easy guy to hit," the 25-year-old Las Vegan said. "But these undefeated guys don't want their '0' to go. They'll die in the ring. They'll never give up."
The three judges — all from Nevada — scored the fight 118-111, 118-111 and 117-111. But the reality was it was a far closer fight, and Novikov acquitted himself well.
The Russian was aggressive and landed more total punches, 223 to 191. Vargas had a 153-151 edge in power punches in a fight that saw Novikov go from 139.4 pounds at Friday's weigh-in to a remarkable 156 pounds in the ring. (Vargas rehydrated from 140 to 147 pounds.)
"He didn't feel that much bigger to me," Vargas said. "I landed the more solid shots. I thought he landed pitty-pat shots. I never felt I was in danger."
Novikov (29-1) begged to differ.
"It was a real tough fight, but I was the aggressor and I took the fight to him," a disappointed Novikov said. "I won that fight 7-5."
Vargas said he coasted through some of the rounds instead of staying aggressive. Such was the case in the sixth, when he clearly had Kovikov hurt but didn't capitalize on the situation and inflict even more damage.
"I got a little lazy at times," Vargas said. "I need to do a better job of finishing rounds off."
Still, it was a good enough performance for Vargas to keep his belt. He said he'll learn from the experience and return to the gym a better man.
"It bothers me I didn't finish him, but it gives us something to work on," Vargas said. "I know I can get better."
In the main event, former world lightweight champion Brandon Rios stopped his two-fight losing streak when Argentina's Diego Chaves was disqualified in the ninth round of their 10-round welterweight bout after referee Vic Drakulich determined Chaves was deliberately trying to injure Rios.
It had been a nasty fight from the opening bell, and Drakulich had taken points away from both fighters — Rios for holding in the fifth round and Chaves for holding in the third and head-butting Rios in the seventh.
By the ninth round, both fighters' patience had run thin. And when Chaves hit Rios with an elbow to the face, Drakulich decided he had seen enough and stopped the fight at the 1:26 mark.
Chaves (23-2) was ahead 75-74 on two scorecards when he was disqualified.
"I'm not a dirty fighter," said Rios (32-2-1). "But he was deliberately trying to hurt me."
On the undercard, Las Vegas super bantamweight Jessie Magdaleno, fighting for the first time in almost six months, remained undefeated with an impressive seventh-round technical knockout over veteran Carlos Rodriguez.
Magdaleno (19-0, 15 knockouts), who missed six weeks of training in April because of tonsillitis, knocked Rodriguez down three times — in the second, fifth and sixth rounds. He dominated virtually from the outset and showed no signs of ring rust.
"All the things we've been working in the gym we used," Magdaleno said. "I was able to go to the body, and that was the key. I know I hurt him, and that set everything else up."
Magdaleno said he wasn't surprised Rodriguez (18-15-4) lasted as long as he did.
"He really didn't want to stand and engage," Magdaleno said, "so it forced me to be patient. But every shot I hit him with, I hurt him."
Magdaleno said he hopes to fight again next month.
"I felt great," he said. "Wherever they want me to go, let's go."
Also on the undercard, rising super lightweight star Jose Ramirez improved to 11-0 with a 10-round unanimous decision over Alfred Romero (7-4). Ramirez used a solid left hook throughout the fight and won by scores of 80-72, 80-72 and 80-71.
Contact reporter Steve Carp at scarp@reviewjournal.com or 702-387-2913. Follow him on Twitter: @stevecarprj.