Victory over unbeaten Mayweather would rocket Maidana to stardom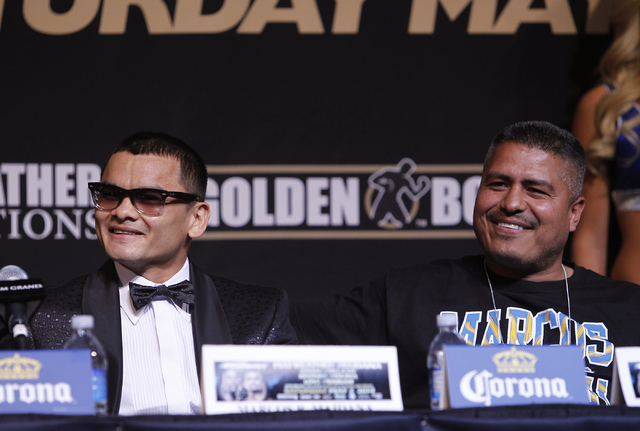 Marcos Maidana doesn't need to be reminded of what's at stake Saturday.
He can become the first professional fighter to defeat Floyd Mayweather Jr. In doing so, he would become the unified world welterweight champion. And he would reach legendary status in his native Argentina, perhaps close to the same stratosphere as soccer star Lionel Messi in terms of adulation.
His fight with Mayweather at the MGM Grand Garden on Showtime Pay Per View has been nicknamed "The Moment." And for Maidana, this undoubtedly is his moment.
"I know people are doubting me," said Maidana, an 11-1 underdog. "It doesn't bother me at all. I've won my last four fights, so I feel I've earned this fight."
Maidana, 30, got Mayweather's attention when he defeated Adrien Broner on Dec. 14 in San Antonio to win the World Boxing Association welterweight title. That title will be at stake Saturday, as will Mayweather's World Boxing Council belt, and Maidana wants to prove the victory over Broner wasn't a fluke.
"The fight with Broner gave me a lot of exposure," Maidana said. "I threw a lot of punches when I beat Broner, and I believe that's the way to fight Mayweather. Put a lot of pressure on him, throw a lot of punches. It's truly difficult to land a punch against Floyd Mayweather, but if I land one, I believe I can really hurt him."
Maidana's trainer, Robert Garcia, said it's important for his fighter not to act deferential toward Mayweather despite the latter's 45-0 record with 26 knockouts.
"He's not going to show any fear or respect," Garcia said. "I've seen most of Floyd's fights. I see which fighters have fought him the right way and which ones didn't. (Miguel) Cotto gave him too much respect. (Victor) Ortiz was fighting him the right way before he lost his focus.
"To beat Floyd, you've got to put pressure on him and take the fight to him. Chino will make Mayweather suffer. It will look like a street fight."
Maidana (35-3, 31 KOs) almost quit boxing two years ago after losing to Devon Alexander. But now, with Garcia in his corner, he has won his past four fights and become a world champion.
"I wasn't sure I wanted to fight anymore," Maidana said. "But I'm re-energized. I'm excited to go to the gym. I've learned so much from my trainer. My punches are connecting stronger now because the punches are being thrown in a better location and with more precision. I feel like I'm a new fighter."
Garcia said Maidana's awkward style could present problems for Mayweather.
"He frustrates his opponents because he throws punches from different angles than most fighters," Garcia said. "He also has tremendous power, and that's a big thing in this fight and a big factor that the world is going to see."
Maidana said there's no sense in holding back.
"I think I need to show everything to win this fight," he said. "I'm going to be aggressive and fight my fight. That's my style. That's what I do."
Maidana will make $1.5 million for the fight, the biggest payday of his 11-year career. But he said money isn't his biggest concern.
"It would be historic for my country if I were to win," he said. "The last thing I'm worried about is my title. What motivates me is that if I win, I'm going to beat the best in the world."
■ NOTES — Today's weigh-in at the Grand Garden will begin at 2:30 p.m. Doors open at noon, and admission is free. … Saturday's 10-fight card begins at 3 p.m. The pay per view starts at 6.
Contact reporter Steve Carp at scarp@reviewjournal.com or 702-387-2913. Follow him on Twitter: @stevecarprj.