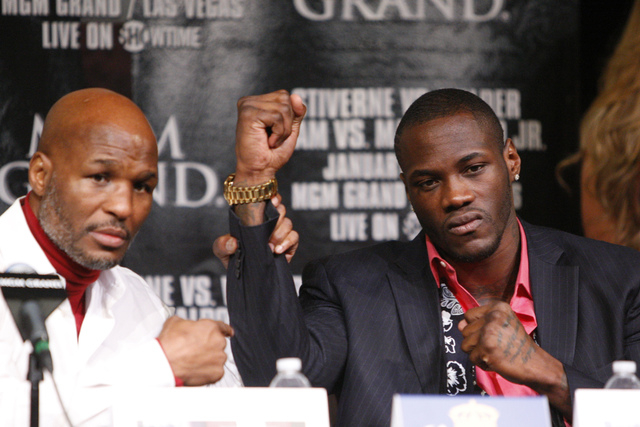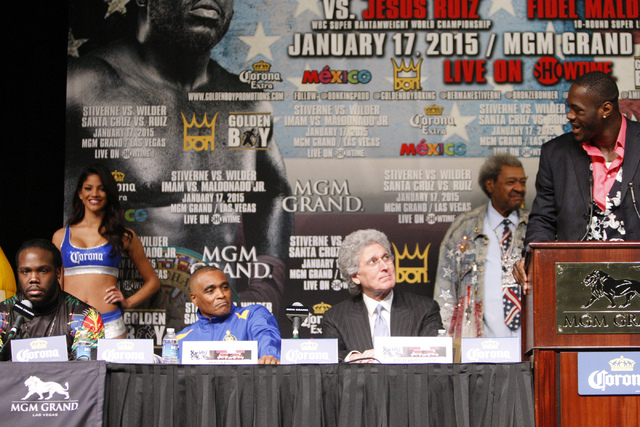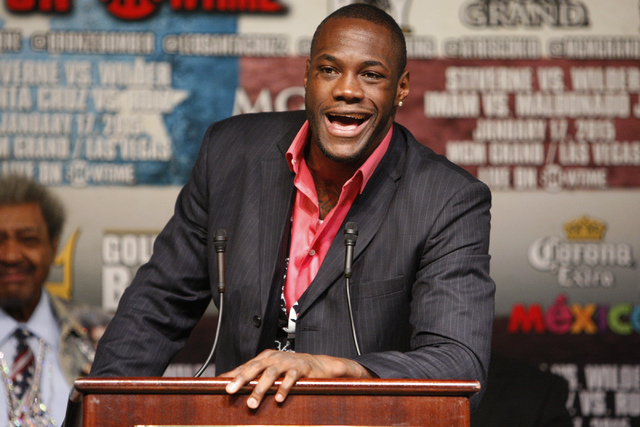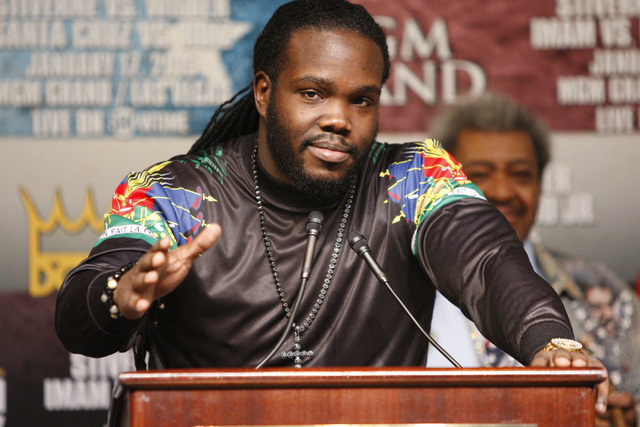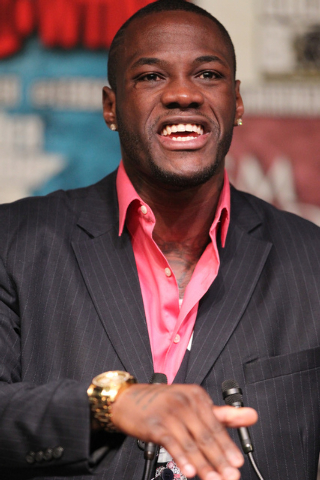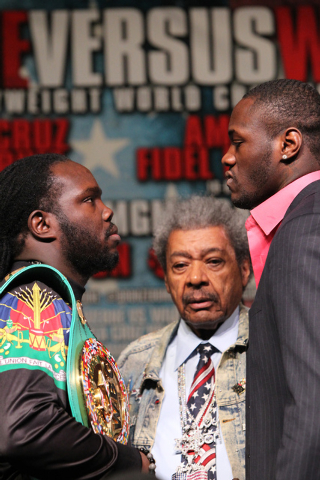 When one listens to Deontay Wilder and hears his outrageous talk, it's like listening to a 2015 version of Muhammad Ali.
That's not to say Wilder is Ali. Far, far from it. But on Saturday — the same day Ali turns 73 — Wilder will try to join him as an American heavyweight champion of the world. The last American to hold a share of the title was Shannon Briggs in 2006.
"I don't want to be compared to anyone," Wilder said Thursday after the final news conference to promote his fight Saturday at the MGM Grand Garden against World Boxing Council champion Bermane Stiverne. "I want to be the best Deontay Wilder I can be."
The 29-year-old from Tuscaloosa, Ala., brings an impressive resume into the fight. He is 32-0 with 32 knockouts, and none of his bouts has gone beyond four rounds.
Wilder, who will make $1 million Saturday, predicts a similar outcome against Stiverne (24-1-1, 21 KOs), who will get $910,000.
"Don't be surprised if you don't see me doing too much celebrating when I win Saturday," Wilder said. "To me, this is just a start. I want it all, and this will be the right step in the right direction.
"Some people are going to think it's a test, and others are going to think Stiverne is a bum if I beat him. All I want is my full credit when I beat him."
Wilder has an engaging personality. He talks about acting in movies and maybe doing TV sitcoms when he's through with boxing.
But he has a serious side. His entire boxing career has been motivated by his daughter, Naieya, who was born with spina bifida, a developmental congenital disorder.
"That's why I got into boxing in the first place," Wilder said. "I was a football and basketball star in high school. I was playing basketball in junior college. Then, my daughter was born, and with her medical condition, I had to quit playing and get a job."
But Wilder still had an athletic itch to scratch, and at age 21, he found his way into a boxing gym.
A year later, he was representing the United States in the Beijing Olympics. He won the only boxing medal for the Americans, a bronze, then turned pro later in 2008.
"I always give thanks to my daughter because she was the reason why I started to box," Wilder said. "But she's doing much better now. She's 9, and she can move around any way she wants. There's a bladder issue that we'll need to address when she's 12. But right now, she's good."
Wilder has discussed his lack of quality opponents ad nauseam. He knows people are going to ask him about never going beyond four rounds. Yes, he's tired of having to repeat himself. But he also knows the only way to change the narrative is to defeat Stiverne convincingly.
That might mean taking some of Stiverne's hard punches to prove he has a solid chin. It might mean taking the fight to six, seven or eight rounds, or even going the 12-round distance with the champ.
Wilder knows if he's to remain relevant in boxing, he better win.
"I think every fight is make or break," Wilder said. "Are there question marks? Of course there are. But I feel I was born to do this, so I don't really feel any pressure. But I'm ready to carry the banner on the world stage for American boxing."
Wilder knows his history. He knows what Ali, Joe Frazier, George Foreman, Larry Holmes, Evander Holyfield and Mike Tyson have done for American boxing and for the heavyweight title.
He also knows the division hasn't garnered the interest of most American fight fans because of the dominance of Wladimir and Vitali Klitschko. He has sparred with Wladimir Klitschko, the World Boxing Association, International Boxing Federation and World Boxing Organization champion, and has great respect for him.
But he also knows he can breathe some life into the heavyweight division with a victory Saturday.
"It will mean a lot to bring the belt back to America," said Wilder, taking a swipe at Stiverne, who was born in Haiti and lived in Canada before settling down in Las Vegas in 2007. "Look, it's never going to be back to the way it was. I just want to make the heavyweight division better than it's been."
Contact reporter Steve Carp at scarp@reviewjournal.com or 702-387-2913. Follow him on Twitter: @stevecarprj.