Zab Judah cleared to resume boxing career after lengthy NAC meeting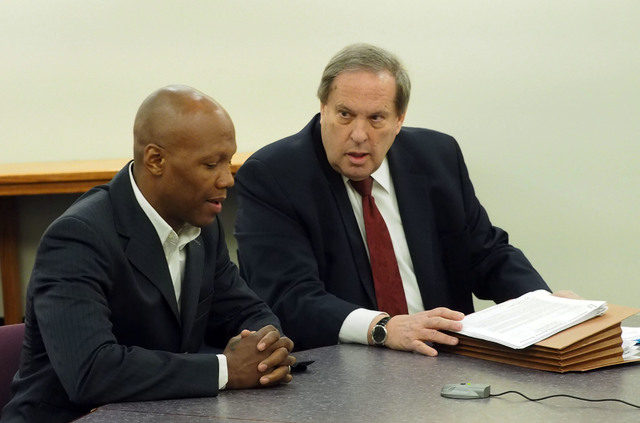 After a lengthy hearing that left the Nevada Athletic Commission baffled at times, former welterweight champion Zab Judah was cleared to resume his boxing career.
Judah, 38, faced the NAC for approximately two hours Tuesday morning before the council unanimously agreed to lift the fighter's suspension immediately.
The Las Vegas resident, however, still has a list of requirements to meet until he's granted his comeback bout.
Judah was originally barred from fighting after he and his promoter Roy Englebrecht falsified statements on Judah's boxing license that would have allowed him to fight on March 12. Judah was scheduled to fight Josh Torres in the main event on an Englebrecht card at the Downtown Las Vegas Events Center. But the fight was canceled after it was discovered Judah owed back child support and had indicated on his application that he had no liens against him. The form was filled out by Englebrecht without Judah's knowledge. The promoter was given an 18-month suspension last month.
Here's where it gets murky, the NAC doesn't acknowledge the license submitted by Engelbrecht since the promoter forged Judah's signature on the application. The NAC's deputy general attorney Caroline Bateman was not allowed to bring up the March application as a complaint during the hearing, which left the commissioners of the council confused as to what they were punishing.
Bateman instead was looking for a penalty on Judah's prior mistakes involving false information on applications before 2016.
From 2004 to 2015, Judah submitted the wrong social security number on five occasions and never indicated that he was convicted for a robbery felony in New York in 1998, according to Bateman.
Bateman argued that child support orders are tracked through social security and that's why Judah gave incorrect numbers. The boxer's attorney, Jay Brown, countered with Judah being unable to memorize his social security.
"Judah's intent was never to give the wrong social security number. He's done it on an IRS form in New Jersey," Brown said. "With the 1998 incident, that was 20 years ago. He's paid his debt to society. He wasn't trying to hide it. He has nothing to gain from that."
Ultimately, the commission's priority was for Judah's children to receive their funds. NAC chairman Anthony Marnell III didn't want Judah's false information to go unpunished and that led to the council handing Judah a 15-month suspension and 100 hours of community service.
Judah, who has five children, will also need to provide a payment plan for the child support he owes and submit his license application in person with proof of social security to executive director Bob Bennett. It's unclear how much Judah owes in child support, it's been stated that is up to $250,000, but Judah said it's closer to $80,000.
Judah's suspension started from March 10, 2015 when he was granted his license to come out of retirement, and since the Brooklyn-born fighter hasn't had a match in that span, his suspension has been served.
"It was a fair doing," Judah said about the ruling. "I think it proved my point in March that I didn't do anything. I learned a very valuable lesson here and that's to learn my social security number.
"I think I broke the record for the longest (hearing). I didn't know where it was going … The 100 hours of community service that's pretty cool. I do that anyways."
Judah has a history of receiving punishments from the NAC. In 2006, Judah was banned for one year and given a $250,000 fine for his role in an altercation during his match against Floyd Mayweather Jr. at the Thomas & Mack Center. A brawl broke out between the two camps after Judah gave Mayweather a low blow toward the end of the 10th round.
The former two-weight class champion hasn't fought since losing to Paul Malignaggi in 2013. Judah (42-9, 29 knockouts) moved to Las Vegas in 2006.
Contact Gilbert Manzano at gmanzano@reviewjournal.com or 702-383-0492. Follow him on Twitter: @gmanzano24