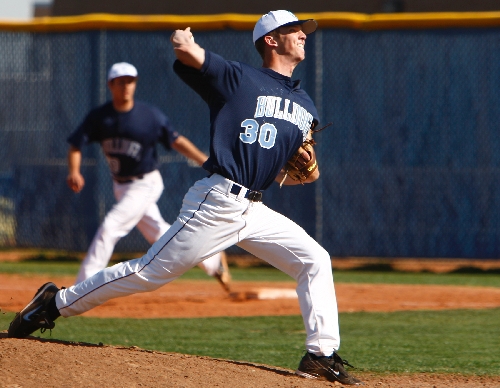 Centennial baseball coach Charlie Cerrone joked that he hadn't slept in three nights prior to Monday's Northwest League opener against Arbor View.
His team's 6-3 win over the Aggies should be good enough for at least one night's rest.
"I would say our league's the deepest in town," Cerrone said. "It's good to get the first one under the belt. They're a quality team with quality pitchers."
The win was even more important considering Centennial ace Michael Wagner was on the mound. Wagner, who has signed with San Diego, was clocked in the low-to-mid 90s early in the game. He was dominant before laboring a bit and allowing two runs in the sixth.
For the game Wagner allowed three runs on five hits in six innings. He struck out seven.
"He got a little tired," Cerrone said. "He took a couple months off because he pitched fall ball. So he's close, but he's still not quite there."
Sophomore Bryan Faucher came on and struck out the side in the seventh to pick up the save.
Faucher also was one of two sophomores to come through with big hits. His solo home run to lead off the bottom of the fifth gave Centennial a 6-1 lead.
Sophomore shortstop Casey Moses had a pair of clutch hits, hitting a two-out single up the middle to score two runs in the second and adding a two-out, two-run double in the fourth.
"We clutched up with a couple two-out hits," Cerrone said. "We're pretty young, and a couple of the young guys came through."
Bruce Lewallen had an RBI single to account for Centennial's other run.
Arbor View's Nick Urban had a solo home run in the fourth, and Zachary Quintana added a two-run triple in the sixth for the Aggies. Quintana also doubled.
"The kids played a pretty clean game, with one error, and we picked that up without letting that run come in," Cerrone said.
Contact Prep Sports Editor Damon Seiters at dseiters@reviewjournal.com or 702-380-4587.
In-depth high school sports coverage
MONDAY'S HIGHLIGHTS
BASEBALL
Western's Daniel Buzzard capped a seven-run sixth inning with a two-RBI single to help the Warriors nip visiting Clark, 9-8.
Bishop Gorman's Chris Tulak tossed a no-hitter with eight strikeouts as the Gaels downed Royal Palm Beach (Fla.) 5-0 in the National Grand Slam Tournament in Lake Worth, Fla.
Palo Verde's Cody Schuster was 3-for-3 with three doubles, three RBIs and four runs in the Panthers' 23-3 home win over Mojave.
SOFTBALL
Arbor View's Savanah Webster went 3-for-3 with a triple, a double and three RBIs in the Aggies' 8-2 win at Centennial.
Legacy's Danielle Pick was 4-for-4 with a triple, a double, three runs and an RBI as the Longhorns beat visiting Faith Lutheran, 13-3.
Spring Valley's Katie Campo hit a three-run homer in a five-run seventh inning to help the Grizzlies rally for an 8-5 win at Pahrump Valley.