Cimarron gets jolt from Haylei Hughes' interception to win state title
February 22, 2017 - 11:31 pm
Updated February 22, 2017 - 11:58 pm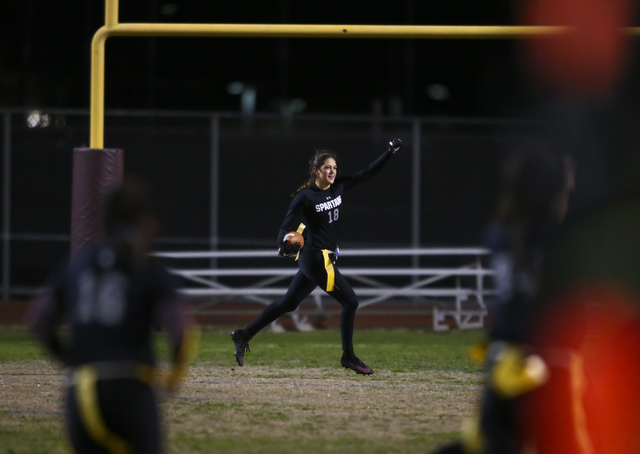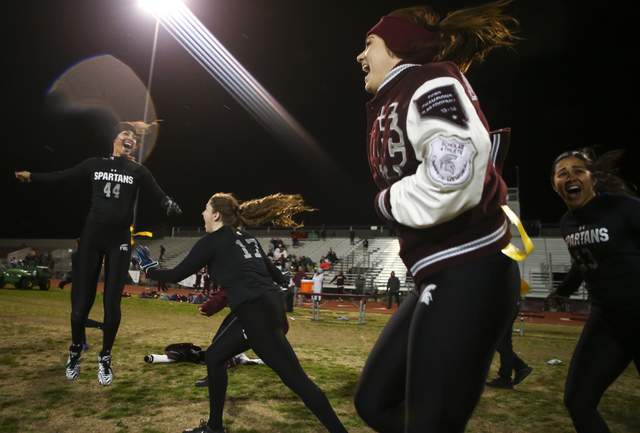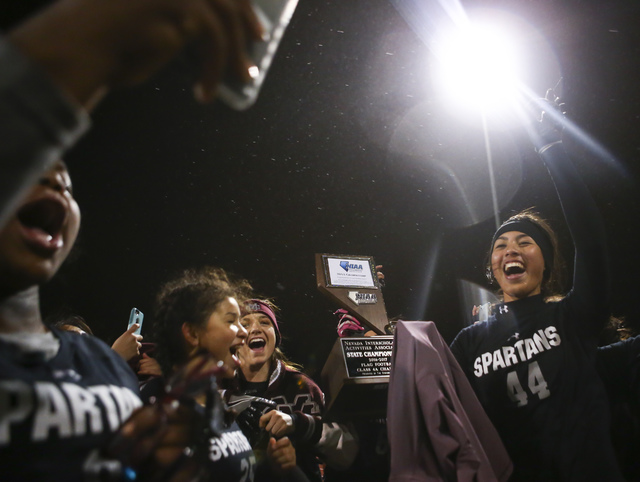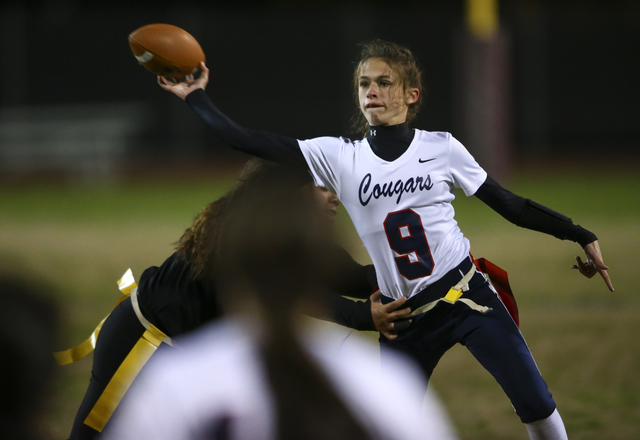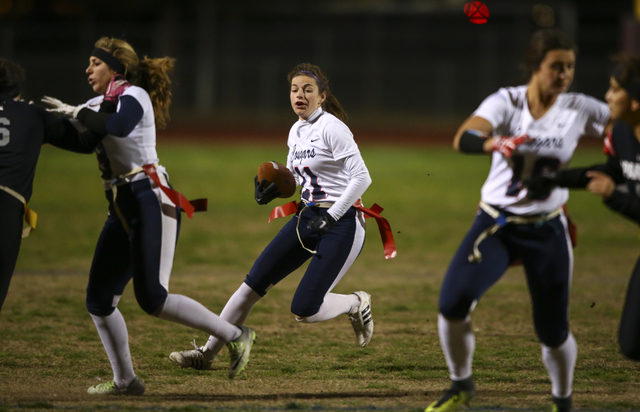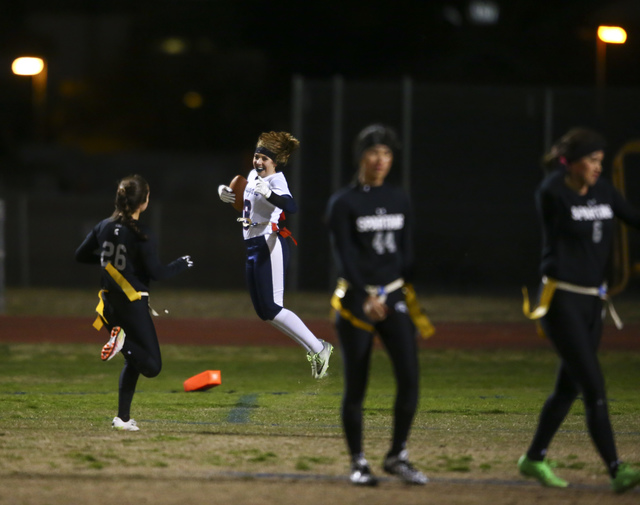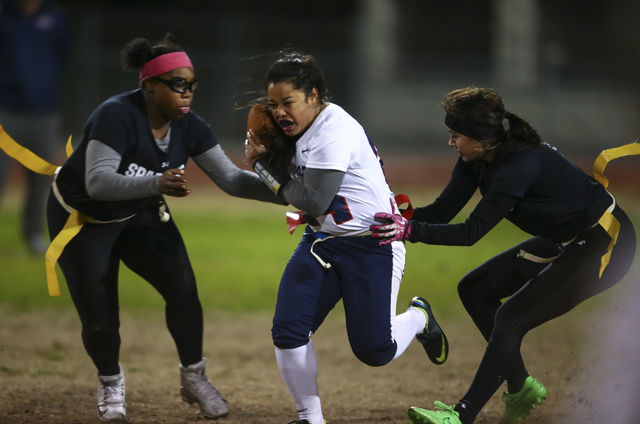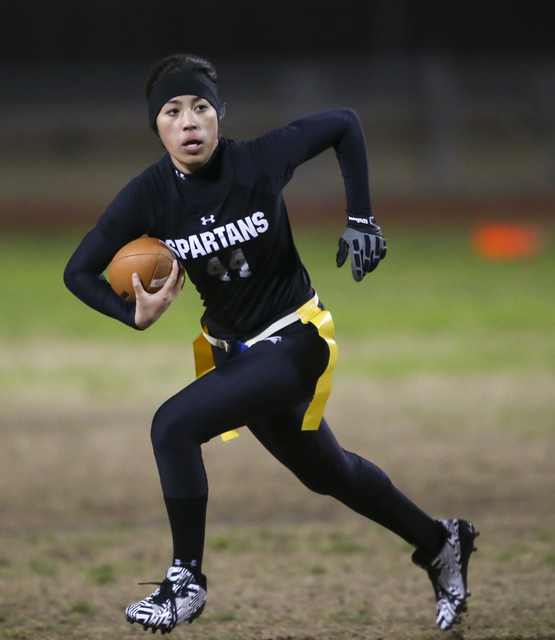 There was only one topic of conversation among fans, players and coaches alike for the first 48 minutes of the Class 4A state flag football final at Cimarron-Memorial High on Wednesday.
The arctic weather.
With pylons and yard markers falling over and palm trees tilting back and forth in unison near the South end zone, players huddled around one another in lettermen's jackets and blankets in an attempt to fight the low-40s temperature and 30 mph winds.
But in the blink of an eye, Cimarron-Memorial senior Haylei Hughes changed the topic of conversation for everyone and essentially sealed a state title.
With Coronado threatening to score a go-ahead touchdown late in the second half, Hughes jumped a route at defensive back and returned an interception 76 yards for a touchdown for the momentum-shifting play to send her sidelines into a frenzy and help the Spartans pull away for a 24-7 win over Coronado.
"I was just waiting for them to throw to me because they kept running it," Hughes said. "I was waiting to get that interception and make a game-changing play. … With the wind, I was trying really hard to run but it was pushing me back and I thought I was going really slow. I was just excited and was hoping to get the touchdown so we could get more composure and not have to be so panicky."
Hughes, who also had 57 yards of total offense, blew past the Coronado offense after the interception but eventually had to zig-zag past Cougars quarterback Caitlin Shannon at the other end of the field to give Cimarron an 18-7 lead with 11:45 remaining.
The Spartans took a 12-7 lead with 20:23 left after Logan DeLong scored on a 3-yard TD run. But the defense quickly fell on its heels as the Cougars drove the length of the field and made it into the red zone.
That is, until Hughes stepped in.
"The pick-six changes everything," Cimarron coach Mark Bailey said. "We were up at that point, but if they punch it in there, we're behind again. … Ultimately, without Haylei Hughes, we're not here. There's just no way."
Alyssa Karpinski, who scored on a 30-yard TD pass from Tiarra Del Rosario in the first half, added a 2-yard TD run with 3:25 left to seal the win.
"It's really exciting because when we first won state (in 2014), I was on (junior varsity)," said Karpinski, who finished with seven catches for 68 yards. "So it was exciting to actually be able to win a ring tonight. I'm really happy to be a part of this team."
Del Rosario was 18-for-25 passing for 194 yards, and Delong had nine catches for 98 yards for Cimarron (21-1), which trailed 7-6 at halftime.
Morgan Hemphill had 11 tackles, and Elizabeth Asoau added eight tackles to lead the Spartans defense.
Shawna Slater scored on a 20-yard interception return six minutes into the game to give Coronado its only lead at 7-0. The junior also tied for the team-high in tackles with five.
Caitlin Shannon completed 5 of 14 passes for 49 yards and ran for 118 yards on 12 carries to lead the offense, and Trinity Rhoades had 22 carries for 99 yards for the Cougars (13-9).
"It was a trying year, but I'm proud of the resiliency and everything," Coronado coach Rusty Andersen said. "We didn't get the ending we wanted, but we certainly had our opportunities. We're returning all of the girls but one, so we've got a lot going for us. This loss doesn't take anything away from the season we had and the strides we made."
CLASS 3A
Cheyenne flag football coach Anthony Johnson wanted the world, or at least his Facebook followers, to know as soon as possible theoutcome of the team's game Wednesday.
After defeating the Virgin Valley Bulldogs 7-0 at Cimarron-Memorial High School to win his first Class 3A state title, Johnson had hisphone in hand as he took to Facebook Live to make sure the outcome was well known.
"State champs baby! We're state champs!" he told his followers watching.
It was a long road to the state title game for Cheyenne (12-5), which lost by one point to Boulder City in the Southern Nevadachampionship game last season. The emotion was clear on the face of Johnson and every player on Cheyenne.
"It was really tough to get so close and come up short last year," Johnson said. "So I made it a goal this year to have that same drive,get back to where we were and finish the job this time."
The theme to the Desert Shields' season was "Unfinished Business" and it was the defense, completing a shutout against a team whichhad scored 78 points in its last two games, that finished the job.
"Defense wins championships, that's all there is to say about that," Johnson said. "Offense can win as many games as you want, but likeI tell my girls, if nobody scores on you then nobody can beat you."
The Bulldogs threatened offensively on their opening drive of the game, marching in to a goal-to-go situation. But E'moni Albert pickedoff a pass from Kallie Graves near the goal line to keep Virgin Valley (18-4) off the scoreboard. The Bulldogs did not get into scoringposition again.
"It was a game changer early on," Johnson said. "It was clutch and it was right on time. We needed it and we went right down the fieldand scored."
The ensuing possession included the game's only score as Cheyenne freshman quarterback E'leseana Patterson led her team down tothe 1-yard line, and senior Brianna Torres powered her way into the end zone for the only points the Desert Shields would need.
The winds played a major factor in the game, as neither team was able to throw the ball very effectively.
Cheyenne relied heavily on senior running back Angela Hammond, who finished with 14 carries for 115 yards. Patterson accumulated62 yards on seven carries and completed 6 of 13 passes for 49 yards.
"The wind took out a lot of our plays today," Johnson said. "We have runners though, and girls who can go. You can't control mothernature so you just have to call it as you see it."
Graves was just 4-for-12 passing for 45 yards and an interception in the harsh wind.
Virgin Valley had one last chance to tie the game with less than two minutes to play, but a sack from Cheyenne junior Kiantera Nealhelped stop the drive.
"Pressure busts pipes," Johnson said. "We had to keep sending pressure, and it got home for us in the end."
Box score:
Cimarron-Memorial 24, Coronado 7