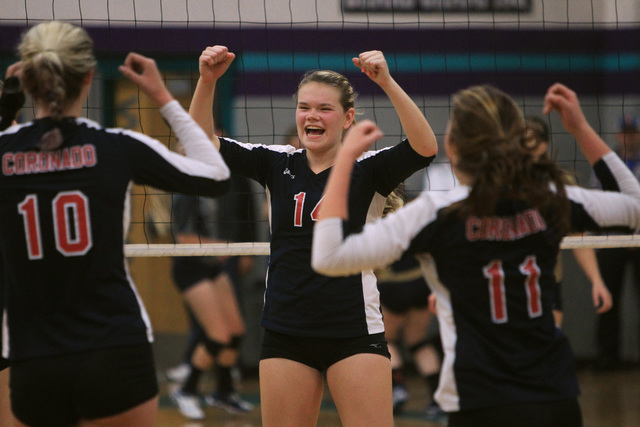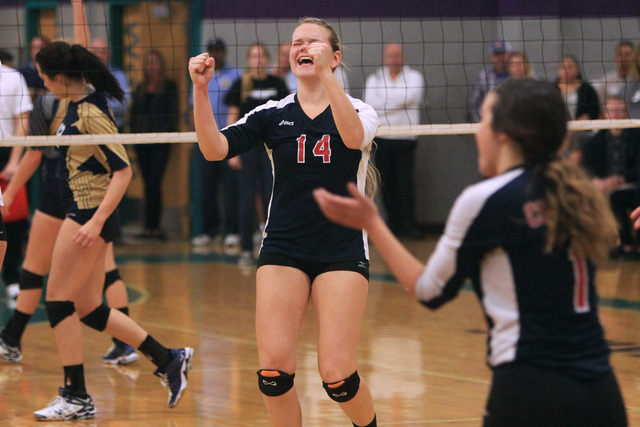 After winning last year's Division I state title, Coronado's girls volleyball team came back with three goals this year — to win the Southeast League, the Sunrise Region and a second straight state championship.
Two down, one to go.
Coronado needed just 56 minutes Friday to down Foothill 25-10, 25-18, 25-7 to win the Sunrise title at Silverado. The Cougars (32-7) advance to next week's state tournament in Reno.
"It's an awesome feeling, to go back to state," said Coronado junior Nikki Jackson, filled with emotion. "It's overwhelming what this team has accomplished this season. I'm so proud of our team, we played really well today."
The Cougars, winners of eight straight, did everything right against the Falcons. Jackson and front-row mates Berkeley Oblad and Carolyn Andrulis made all the difference.
"When you have a target on your back, you know you're going to get everybody's best effort," Coronado coach Matt Johnson said. "But the team responded from the beginning tonight against a good team."
In the first set, kills by Andrulis and Oblad keyed a 7-1 run that gave the Cougars a 12-3 lead, and Coronado never looked back.
Foothill (20-11) stayed close in the second set, evening the set 11-11, but Coronado used the serving of Emily Bender and its front line to rattle off seven straight points.
Coronado got a big lift by the return of Andrulis, who missed Thursday's semifinal with the flu. Andrulis responded with 12 kills, nine digs and two blocks.
Oblad had 14 kills and nine blocks. Cali Thompson added 42 assists, three blocks and two aces for Coronado.
Rebecca Hill led Foothill with six kills and four digs, and Olivia Stet had seven digs and four kills.
SUNSET REGION
All season, Shadow Ridge coach Karissa Guthrie has talked to her players about character and toughness.
Both of those attributes certainly were tested Friday against Palo Verde in the Sunset Region final at Silverado.
Trailing in each of the first two sets, the Mustangs rallied and rolled to a 25-21, 25-22, 25-19 victory over the Panthers for the team's first region title. Shadow Ridge (25-9) advanced to the state tournament next week in Reno.
"Wow, what a feeling," Guthrie said. "We have been tested all season long, and tonight was no exception. But we kept challenging the players about toughness, and they continue to respond."
In the first set, Palo Verde took a 17-11 lead on Kayla Kinney's kill. But the Mustangs used their biggest weapon — senior Ashley Smith — to rally. Smith had four kills during a 14-4 run that gave Shadow Ridge the set.
"We wanted to get the momentum, but Palo kept fighting," Guthrie said. "We didn't panic, and the girls knew to keep fighting, and that's what they did."
The second set was much like the first, as Palo Verde started quickly behind Kinney and outside hitter Kendall Cheval to lead 10-4.
The Panthers (28-10) still led 19-13, but again the Mustangs rallied. Smith and Chloe Gruwell led the Shadow Ridge charge with four kills each.
Smith led the Mustangs with 22 kills and 12 digs, and Gruwell added 17 digs, 11 kills and five aces. Easton Clements had seven digs, six kills and three blocks. Eadara Files had 38 assists.
McKenzie Paulk had 25 assists and eight digs for Palo Verde, and Faryn Duncan added 25 digs.
DIVISION I-A SOUTHERN REGION
Faith Lutheran had to replace three starters, including two all-state players, from last year's state championship team.
One would never know the way the Crusaders are playing.
Junior Bobbi Tharaldson had nine kills, eight aces and eight digs to lead the Crusaders to a 25-19, 25-22, 25-10 sweep of Sierra Vista in the Division I-A Southern championship at Sunrise Mountain.
The region title was the third straight for Faith Lutheran. Both teams advance to next week's state tournament in Reno.
"I really liked our intensity tonight and our work ethic," Crusaders coach Amy Fisher said. "I felt that we really worked hard. It's probably the match that we've worked the hardest all year. Our kids were ready to go."
In the first set, Tharaldson set the tone by scoring her team's first three points. She had two kills and an ace while helping the Crusaders (26-13) take a 5-0 lead. The Mountain Lions recovered for an 18-18 tie, but Tharaldson's six kills proved to be too much.
"Bobbi Tharaldson had her best match of the season so far," Fisher said. "She just did an excellent job of serving, hitting and (playing) defense. Just all-around. The kid was on."
In the second set, which had 10 ties and six lead changes, Fisher called a timeout with the Crusaders trailing 22-20. Her team quickly recovered with a 5-0 run to take the set, capped by an ace by Tharaldson.
Cayla Nikodemus finished with 10 kills and six digs, and Megan Kronschnabel added 33 assists and 10 digs for the Crusaders, who got seven kills by Jordyn Dunseath.
Bridgette Levi had 11 kills and 10 digs for Sierra Vista (21-10), and Bailey Bergquist added eight kills, two blocks and five digs.