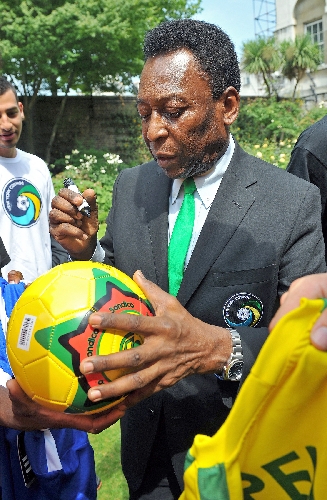 The Cosmos are coming to Las Vegas.
Not the famed 1970s New York Cosmos of Pele, Giorgio Chinaglia and Franz Beckenbauer Cosmos. Not even the Cosmos of Randy Horton, Shep Messing and Werner Roth.
No, these Cosmos will be a collection of young players intermingled with former World Cup stars under the brand of the former North American Soccer League franchise.
The Cosmos will participate in the inaugural "Vegas Winter Kick" on Feb. 25 at Sam Boyd Stadium. The Cosmos' roster and opponent will be announced in October.
Daren Libonati, president of Las Vegas-based Justice Entertainment Group, announced the game Thursday from Manchester, England, where the latest incarnation of the Cosmos will play Manchester United today at Old Trafford, Man-U's home stadium.
"The Cosmos have been an international name in soccer, and we're bringing that back," Libonati said. "Soccer is the world's sport, and Las Vegas is the world's playground."
Libonati also is working to bring one or more Major League Soccer teams to Las Vegas in February to train and possibly scrimmage as part of the two-week Winter Kick promotion. But the Feb. 25 match will be the main draw, and Libonati said he's lining up a First Division club team from Mexico, South America or Europe to face the Cosmos.
"All I can tell you is it will be a quality team that is recognized worldwide," Libonati said.
Pele, who tried to give the old NASL a boost when he agreed to join the Cosmos in 1975, is honorary president of the current Cosmos venture. Along with former Manchester United star Eric Cantona, the Cosmos' director of soccer, Pele is working with Libonati on the Vegas Winter Kick venture.
"Pele plans to be in Las Vegas for the October announcement and for the Winter Kick in February," Libonati said.
Libonati said there is a three-year commitment for the Vegas Winter Kick, which he said gives him enough time to try to secure the biggest clubs in soccer for 2013 and 2014.
"We'd love to bring Manchester United or Real Madrid to Las Vegas," he said. "That would be the ultimate."
The Cosmos' friendly against Manchester United is a testimonial match to honor Paul Scholes, who played 17 years for the Red Devils. The Cosmos' roster includes Manchester City's Wayne Bridge and Patrick Vieira, retired Manchester United veteran Gary Neville, retired 2006 World Cup star Fabio Cannavaro and Tottenham Hotspur's Brad Friedel. Libonati said he wasn't sure if any of the players on today's Cosmos roster would participate in Las Vegas.
The real Cosmos did play in Las Vegas once, in 1977. Pele, Chinaglia, Beckenbauer and the Cosmos were beaten 1-0 by the NASL's Las Vegas Quicksilvers in front of 11,896 at Sam Boyd Stadium, then known as the Silver Bowl. The Quicksilvers lasted one year in Las Vegas before relocating to San Diego.
Contact reporter Steve Carp at scarp@reviewjournal.com or 702-387-2913. Follow him on Twitter: @stevecarprj.