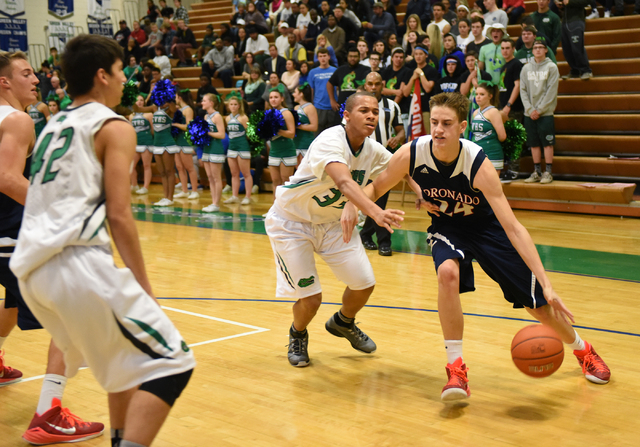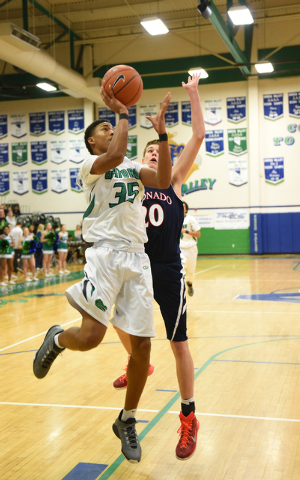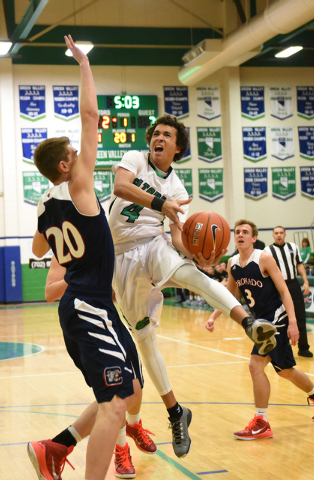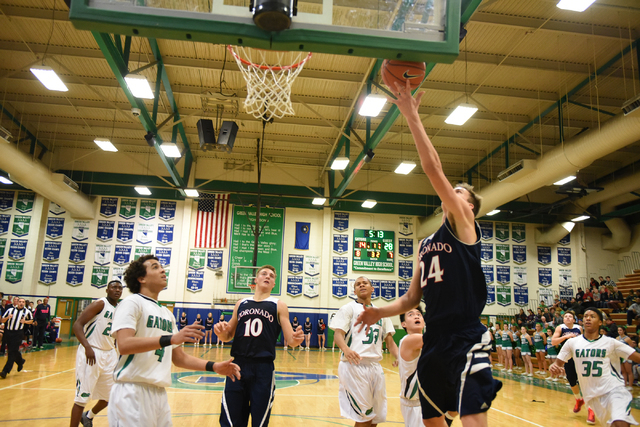 Coronado's boys basketball team didn't get caught up in the rivalry against Green Valley on Wednesday night.
Instead, the Cougars were in control from the start, rolling to a 72-47 road win in the teams' Southeast League opener.
"We were all about business tonight," Coronado coach Jeff Kaufman said. "It's a big rivalry game, so the kids get hyped."
Coronado opened the game on a 12-2 run. The Cougars worked to get good shots all night and took advantage of the open looks. They were 26-for-53 (49.1 percent) from the field. Coronado (7-3) had 15 assists on its 26 field goals.
"It's all about good shots," Kaufman said. "And that's the thing that's so great about this team this year, is they play together. They're not selfish, and they'll make the extra pass. And when we do, we've got shooters that can knock it down. It's a good mix."
While Coronado was making the extra pass and getting good shots, the Gators (10-5) were struggling to find consistency on offense. Romello Jones scored a game-high 22 points and shot 11-for-16 from the field, but the rest of Green Valley's team was 8-for-37. The Gators missed their first 13 3-pointers and finished 3-for-20 from behind the arc.
"He takes tough shots, and he was making those shots," Kaufman said of Jones. "He's got such great touch that we had to stop everybody else. And we did a pretty good job of making them take some bad shots."
While Green Valley was struggling from the perimeter, Coronado was making shots from long range. The Cougars were 7-for-15 on 3-pointers through three quarters before reserves missed three attempts in the fourth quarter after the outcome was decided.
The Cougars also took advantage of their size. Nick Kornieck and Jake DesJardins, the team's 6-foot-7-inch forwards, led the way.
Kornieck had 17 points and four rebounds, and DesJardins had 14 points, nine rebounds, five assists and three blocked shots. The team's other frontcourt player, 6-5 senior Travis Boman, had 11 points and nine rebounds.
"The thing about us is we have some big kids, but all those kids are pretty agile, pretty wiry," Kaufman said. "They can play guard or they can play forward. So it's good when you've got a kid who can rebound and take the ball the length of the floor. That's what we're going to be doing."
Contact prep sports editor Damon Seiters at dseiters@reviewjournal.com or 702-380-4587. Follow him on Twitter: @DamonSeiters.