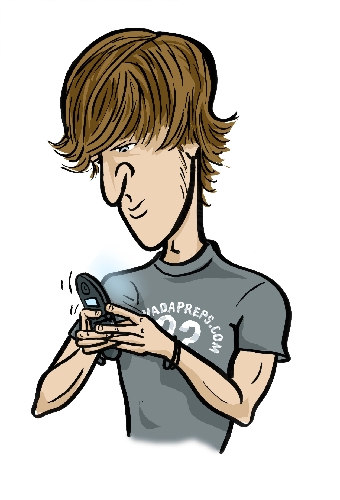 I remember the 100-degree days in August (barely), running from practice to practice and trying to figure out who'd be good in football this season.
Almost four months later, only one game is left.
Bishop Gorman (14-0) vs. Del Sol (12-1) for the state title.
That means after today, I need to find a hobby. So depressing.
Here's a breakdown on the big game:
Let's start with Del Sol …
• How they got here: Tied for first in the Southeast League, beat Valley, Liberty and Basic in the Sunrise Region playoffs.
• Background: Almost no one gave this team a chance to go to state. All the talk at the start of the year was Las Vegas vs. Silverado in the Sunrise Region final. Neither team made it, and Del Sol beat them both during the regular season.
The Dragons lost almost everyone from last year's team and somehow got better.
Dezerick Reed's running was the biggest key, but solid contributions from a ton of players got the Dragons to the top.
• How they can win: This one's tough because short of giving Gorman's limo drivers bad directions to the stadium, it's hard to like Del Sol's chances.
The Dragons have overcome odds before (like being down by 12 to Basic last week and coming back to win), but this is a huge mountain.
Controlling the clock and bottling up Gorman's speedsters are at the top of the list of musts for Del Sol. The Dragons have to force turnovers, not cough up the ball and score every chance they get.
• Things won't be good if: Gorman gets any momentum at all because the Gaels will exploit it. The higher the score in the game, the more likely Gorman wins.
Now for Gorman …
• How they got here: Um, won every game they played … by a combined total of 622 points.
• Background: Notre Gorman is really, really good. The Gaels have speed with Shaquille Powell and Victor Belen in the backfield and Johnathan Loyd as a returner, a top-notch passer in Jarrett Solomon, a huge line and good receivers.
• How they can win: Don't come in expecting just to show up and win. Just play the way they're capable of playing. If they can get to the field before noon, it'll be a good sign.
• Things won't be good if: Notre Dame or UNLV hires coach Tony Sanchez before the game and he and half the team suddenly leave.
Actually, if Gorman falls behind, it could be interesting. The Gaels aren't used to coming back, not to say they can't with all their firepower.
• The pick: I can hear many of you saying, "Fielder, this is your chance to tell us Gorman will lose. Here's your shot to pick an upset."
And you're right. It is my chance to tell you that.
But I'd be lying.
Del Sol has had a better season than just about anyone could've expected, but I think the best four teams in town are in the Sunset Region. Gorman is the best of that bunch.
I hope it's closer than I think it's going to be. Gorman just has too much … of everything. Gorman by 20.
Last week: 2-0 (overall), 1-1 (with points).
Season: 97-25 (overall), 86-36 (with points).
Contact Fielder at fielder@nevadapreps.com.
In-depth high school sports coverage