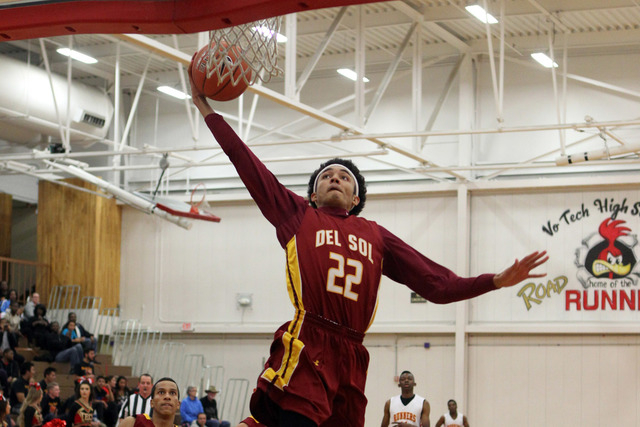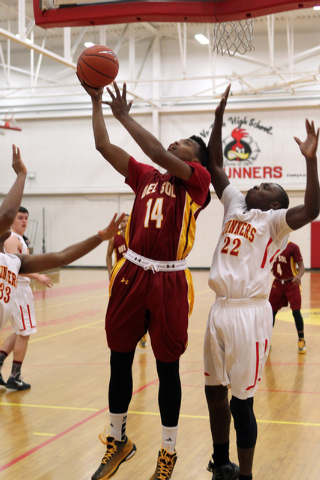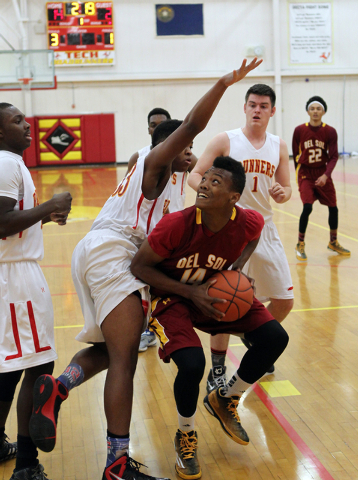 There were plenty of growing pains on the Del Sol boys basketball team's journey to this point. The Dragons endured in-fighting among teammates, selfish play and all the other negatives that losing brings out.
Along the way, coach Tyler Ehrke reminded his players their effort would eventually pay off.
"When you put hard work in, truly something good is going to come out on the other end. That's what we preach as coaches to them is do the little things and the rest will take care of itself," Ehrke said. "These kids are doing those things, so life lessons are kind of playing out."
Thanks to a battle-hardened core of experienced players, Del Sol is enjoying the best season in school history and is in line for its first postseason berth.
The Dragons (14-4, 5-1 Division I-A Sunrise League) defeated Tech 73-47 on Wednesday and are alone in second place, one game behind Desert Pines nearing the midpoint of the league schedule.
"They've built chemistry over their four years here," said Ehrke, in his sixth season. "It's almost far and few between to see groups of kids stick together and make it all the way through for four years. But these guys have stuck together.
"They took some whoopins their sophomore year, and even last year, and they're being rewarded for what they put into the program."
Del Sol has struggled in boys basketball since the school opened in the fall of 2004 and compiled a 52-122 record from 2007-08 through last season. The Dragons never won more than 12 games in a season until they surpassed that mark Friday with a 66-60 victory at Sunrise Mountain.
Ehrke admitted the turnaround is largely because of realignment, which dropped the Dragons to Division I-A after they struggled for years in the Southeast League. But Del Sol welcomed back five players from last season's 9-17 squad, and its roster features nine seniors in all.
"Regardless of what division we were going to be in, we were hoping to be pretty competitive," Ehrke said.
The Dragons prefer a "helter-skelter" style, according to Ehrke, and feature a balanced offense with eight players averaging at least 4.8 points. Del Sol is led by senior Brian Greer, a two-year starter who was averaging a team-high 16.7 points and 2.5 blocked shots to go with 5.5 rebounds before Wednesday.
JonRoss Juhas (10.1 points, 9.3 rebounds, 2.1 steals) and Rashaun Lawson (9.8 points, 6.1 assists) are three-year varsity players, and Del Sol got a boost from the return of senior Noah Spearman (13.3 points, 9.9 rebounds, 3.0 steals), who played for the Dragons two seasons ago before he and his brother Jonathan, a sophomore, spent last season living in Mississippi.
"I feel like I added more help to the team for rebounds and points, and also lifting up the players," Noah Spearman said. "When they feel bad, even when I feel down sometimes, just help them out, keep the motivation going."
The Dragons are on the road for their next four games, including a rematch with Desert Pines on Feb. 2 — Del Sol lost the first meeting 68-56 on Jan. 6 — before closing the regular season with four straight home games. The top four teams in each league qualify for the Division I-A Southern Region playoffs.
"I feel like all four years I've been hearing, 'We're going to do this and do that,' and (we) never do it," senior Anthony Merchant said. "But now that we've worked and have the talent to do it, one thing we've been doing is not to look forward to playoffs, to play every game one by one. Win every game, and eventually playoffs will come."
Contact reporter David Schoen at dschoen@reviewjournal.com or 702-387-5203. Follow him on Twitter: @DavidSchoenLVRJ.