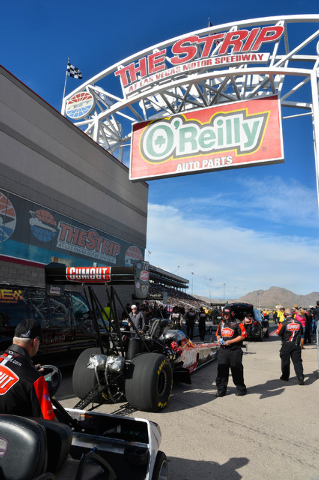 Saturday was the final day of qualifying for the NHRA Toyota Nationals drag races at The Strip at Las Vegas Motor Speedway and weather conditions couldn't have been more different than Friday's weather. I'd say it was almost a 180 degree turnaround. Two different tracks in two days.
Friday had sunny skies and temperatures in the high 80s but Saturday, after the storm went through the Las Vegas area, the temps had the a drop of some 25 degrees and with cloudy skies. The only common denominator was the wind. We are out in the desert at the race track and the wind can really blow. Luckily it didn't affect our Gumout/Dote Racing Top Fuel dragster too badly Saturday.
The wind at Las Vegas Motor Speedway can always be in the back of your mind when you are making a run down the track at over 300 miles per hour. You just need to be ready for it. I have raced at The Strip enough times to know how it can feel. It would be nice to have a tail wind every once in a while too.
It feels so good to return to The Strip this weekend after competing here for some many years. I thought about it this weekend as I was rolling into the staging lanes in the Top Fuel dragster. Of all of the tracks that I have raced at this year, most of the times I have been there once or twice before. But it hit me this weekend like a flashback that I have rolled into those lanes in a Junior Dragster, in an Sportsman Altered, in a Nostaglia Funny Car and a Pro Mod car. And going round after round of competition and winning the NHRA national event here in the Pro Mod car in 2011. Now in a Top Fuel dragster, it brings me back to a confidence level and a peace of mind that I have won here and that I want to do it again. It is very cool to have that emotional attachment to a race track.
It is different this weekend for me. Before I was almost star struck to see Top Fuel champions like Tony Schumacher, Antron Brown, Larry Dixon and others in the staging lanes and the pit area as I was driving in the lower classes. I was really in awe. Now I am racing against them and I feel like I have made it to the big time of drag racing.
I will never take anything for granted being in this position now. I am very appreciative to be able to race in the NHRA Mello Yello drag racing series and driving a Top Fuel dragster. I have always wanted to race at this caliber dating back to my days at age eight and nine in the Junior categories.
Of course, I'm not satisfied at this point of my career either. I want to be in a position to win Top Fuel races and compete for the coveted NHRA Mello Yello series title.
On Saturday, with the unusual weather conditions, the qualifying rounds were difficult. In the first round of qualifications, the Gumout machine launched very strong off the starting line. But in the middle of the track, the car started skating around or sliding a bit. I didn't like the feel of the car and I shut off the engine. When I did that, the engine made a big pop. So we had some mechanical issues. But they were fixable for round two on Saturday.
Then in our second run Saturday, we hit right on the setup. We ran my career best time at 3.755 seconds at 319. 29 miles per hour. It was the best ever for Dote Racing too. It's very exciting to post that type of run here with the big Gumout announcement on Friday. I ended up sixth in the 16-car field and this lineup is the quickest Top Fuel field in NHRA national event history. It's awesome to be a part of it.
I am very proud of our team and the performance they have shown this weekend so far. It's an extremely exciting time for us and I'll ready for Sunday's final eliminations which start at 11 a.m. PST.
We race Antron (Brown) in the first round on Sunday. He is a past world champion and a tough cookie off the starting line too. I need to be on my game on the starting line to stay with him.
Hope you can make it out to The Strip Sunday for the finals of the NHRA Toyota Nationals. You will have a great time.