Ex-Eldorado champion carries on uncle's wrestling dream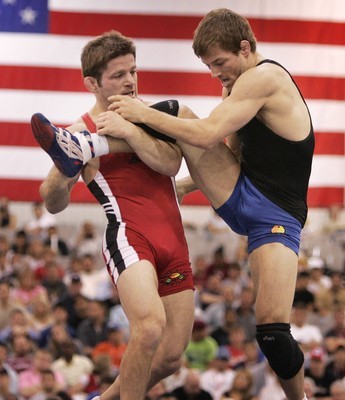 Members of the 1980 Olympic wrestling team will be honored throughout this weekend's U.S. Olympic Team Trials at the Thomas & Mack Center.
It's a little payback from when they were denied opportunities to reach the pinnacle of their lifelong athletic journeys after then-President Carter ordered an American boycott of the Moscow Games over the Soviet Union's invasion of Afghanistan.
The recognition will offer solace to those athletes, including John Azevedo, one of the athletes kept away from Moscow.
Unlike his former teammates, though, Azevedo has seen his dream of Olympic gold live on through the efforts of his nephew, former Nevada state prep champion Matt Azevedo.
The younger Azevedo, who won 1992 and '94 titles at Eldorado High, is seeded into tonight's best-of-3 championship round of the 121-pound (55-kilogram) freestyle division based on winning his first U.S. Senior Nationals championship two months ago in Las Vegas.
Azevedo, 30, understands the importance of this match to his family — especially his uncle — but is not being distracted.
"I use it as motivation," said the 5-foot-5-inch wrestler. "My dad, my uncle, my family and friends will be in the stands wanting me to win. That's always a positive; I want to do it for them, too."
Competing for Olympic gold — or "the prize" as Matt calls it — has been a family dream since his uncle's chance was taken away.
"It would be so great for John to see him make the team," Matt's father, Mark Azevedo, said. "John's quiet, but I can see in his eyes how much this means to him."
John Azevedo arrived in Las Vegas on Friday and will join the family in Section 116 of the Thomas & Mack.
"It will be very emotional when Matt makes the team, especially with all he's put into it," he said. "Lord willing, he'll be right there."
Knowing his nephew can tread where he couldn't will ease the pain of John Azevedo's lost opportunity. But it will not erase the memory of a stunning day in 1980 at the team's Olympic training camp in New York.
"We all couldn't believe it," said John, an NCAA champion that year. "You were dumfounded. Why would they do that? Why?"
Some wrestling experts consider the favorites in Azevedo's class tonight to be Henry Cejudo, 21, of Phoenix and Stephen Abas, 30, of Moreno Valley, Calif. Azevedo beat Cejudo for the nationals title in April.
Abas won silver in the 2004 Games in the weight class but missed the nationals. Knee injuries kept him off the mat in 2005 and '06.
Abas also handed Acevedo his only loss during his senior year of high school after Acevedo moved to Modesto, Calif., to wrestle at Calvary Chapel High, where his uncle was coaching. From there, Azevedo attended Arizona State and Iowa State, where he earned a degree in liberal arts studies and qualified for three NCAA tournaments.
He has spent the past six years working as an assistant wrestling coach for his uncle at Cal Poly in San Luis Obispo, Calif. He credits his improvement the past year to fellow assistant coach Sammie Hinson, who won Olympic silver in 2000 and retired from competition a year ago.
The tutelage helped Azevedo give up only one point in the nationals and led to his upset of Cejudo.
"Sammie has an innate ability to convince wrestlers like Matt who are good that they can win every match," said Mark Azevedo, a former wrestling coach at Durango High.
Not only does Matt Azevedo come from a wrestling family, but he also married into one.
He wed Brooke Lee three years ago. They attended Eldorado together but didn't begin dating until about five years later. Brooke's father, Russ, won three state championships at Basic High.
"She knew all about wrestling before we met," Matt joked.
There won't be any laughing tonight until after his match, he hopes.
If his hand is raised, count on plenty of tears — and not just from family and friends.
He might be carrying the dreams of his uncle's teammates after theirs were crushed 28 years ago.
Contact reporter Jeff Wolf at jwolf@ reviewjournal.com or 702-383-0247.