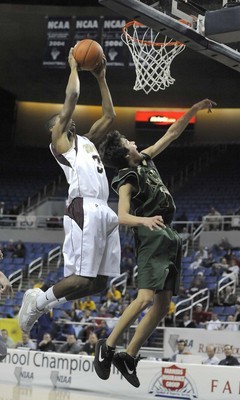 RENO — The Class 3A boys basketball season just wouldn't be complete without a Faith Lutheran-Dayton matchup.
The Crusaders and Dust Devils will meet for the fourth consecutive season in the 3A state title game after winning in the semifinals Friday at Lawlor Events Center.
Faith Lutheran (22-8) dominated Incline 67-38 to advance, and the Crusaders will be looking for their fourth straight title today. Tip-off is scheduled for 5 p.m.
Faith Lutheran beat Dayton 57-53 last year, 68-50 in 2006 and 63-48 in 2005.
The semifinal against Incline was never really in doubt. Faith Lutheran led 18-8 after the first quarter, then held Incline to three second-period points to take a 33-11 lead.
Diontea Wright had 14 points, seven rebounds and three steals to lead the Crusaders, and the team's starters spent most of the second half on the bench.
"We're just happy to be through it healthy," Faith Lutheran coach Bret Walter said. "And the guys obviously should be rested and ready to go since they didn't have to play a full game. I thought they gave good effort when they were playing. You're always happy to move on with all guys healthy and ready to go."
The Highlanders started three sophomores and looked overmatched from the beginning.
"The young guys are going to be good; they're just not as physical as our older guys," Walter said. "A lot of sophomores against a lot of seniors, I think that was a big difference. And our guys have had some experience through it."
Freshman Brett Lubbe added 10 points, and Max Done and Conner Maloney each scored eight for the Crusaders, who had 11 players score.
Joshua Dykstra scored 15 points for Incline.
• Dayton 48, Sparks 45 — Ryan Ransdell had 17 points to lead the Dust Devils over the Railroaders.
Jerrin Foster scored 11 points and Tanner Wood 10 for Dayton, which led by seven with 5:22 to play before Sparks rallied to tie the game at 42 with 3:08 left.
The teams then traded 3-pointers before Dayton sealed the win with three free throws.
Sparks' Zack Quilici led all scorers with 28 points.
Contact reporter Damon Seiters at dseiters@reviewjournal.com or (702) 380-4587.