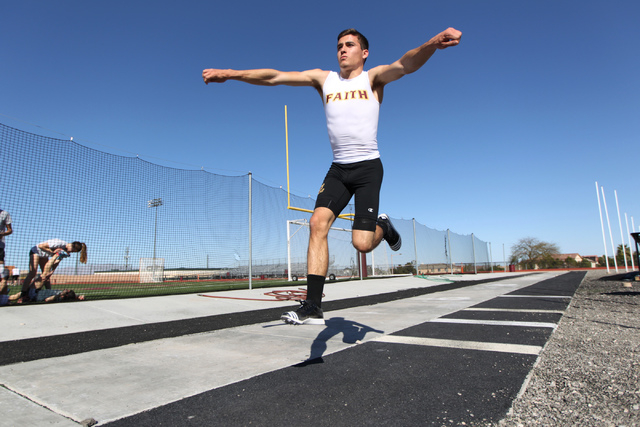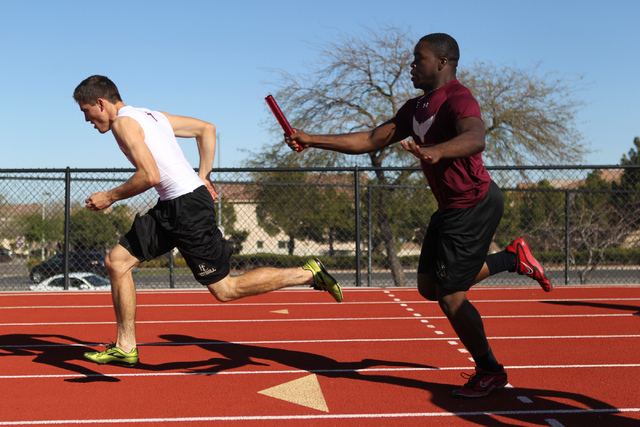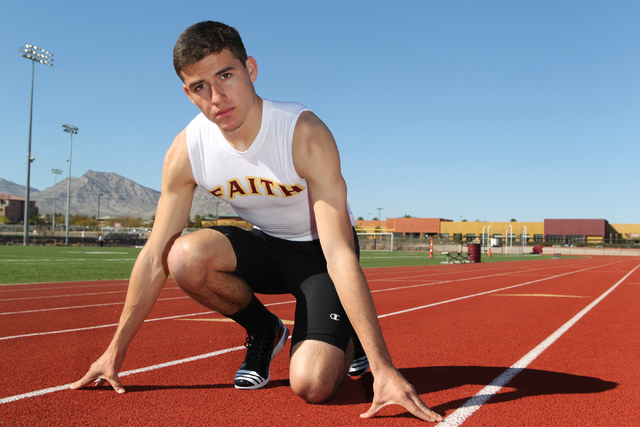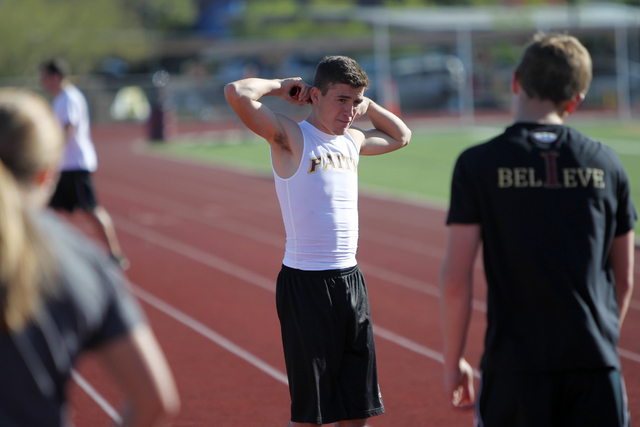 Nothing like a shaving cream pie to the face, right?
Faith Lutheran track coach Dan Kober has never actually had one, but some of his runners have, courtesy of senior Mark Rubalcaba.
It's all in good fun, and it's been that kind of light-heartedness from the six-time state champion that has created the type of unity Kober enjoys every season.
"He's always clowning with the other kids on the team and knows how to encourage other kids into tomfoolery," Kober said. "But one of the things I appreciate most about Mark is he knows how to have a good time, but he knows when it's time to work."
Rubalcaba, who has won five individual state track titles and was part of the 2013 state football championship team, certainly knows when it's time to take care of business, which is probably why he recently took recruiting trips to Auburn, Kentucky and Clemson. It is why he's been a state qualifier every year during his high school career.
"It's very humbling to recognize that these are such large universities and the fact there are people looking to try to recruit me," Rubalcaba said. "I've been blessed actually, because a lot of people have to go out and search for schools, but schools are coming to me and I can narrow it down from there."
As a freshman, he qualified in the triple jump. He won state titles in the long and triple jump as a sophomore and repeated in both events as a junior while adding the 200-meter dash to his trophy case.
"I've just always kind of looked at it like one season at a time," Rubalcaba said. "Each year I've set personal goals, in the classroom as well as on the track and football field, and generally speaking, I have to say I've made those goals, and that's a big thing. I never look at the goals like, 'oh, those are too great and I can't achieve that.' It's just got to be you against the world, you against yourself, and at the end of the day, I was just trying to get personal goals and personal bests, and that's really what's driven me.
"I've never really counted the track as a state championship, because they're individual events. Truthfully, this year, I'm looking to get the team a state championship."
He says his annual goals aren't about winning but more so about hitting certain times, getting better from the previous year and making the people around him better. And it's that sort of unselfishness that has made Rubalcaba a special member of Kober's team.
"I want that loose team because I've noticed in my experiences, that for most kids, if you have too tight of an environment, that they don't perform as well as they could," Kober said. "So you kind of need to have that loose atmosphere, where they can have fun and they're not worried about upsetting the coach. But when it's time to work they know when that time is and they understand that.
"Track can be a long season if you don't have a lot of fun with your teammates."
And your coaches.
Rubalcaba said he hasn't been able to catch Kober with any pranks, but got football coach Vernon Fox to fall once or twice.
"We've tried multiple ploys with coach Fox, told him we were quitting the team or something like that. We've gotten him a couple of times, but usually he catches on," Rubalcaba said. "Kober, we've tried dumping water on him, but he sees it coming or has people looking out for him.
"The things with sports is you can never take them too seriously. There always has to be an element of light-heartedness, keeping it fun, keep it a good time. If you're not having fun doing sports, then there's really no point. If it gets too serious, eventually you're just gonna drive yourself into the ground."
Besides, there's nothing like a shaving cream pie to the face, right?