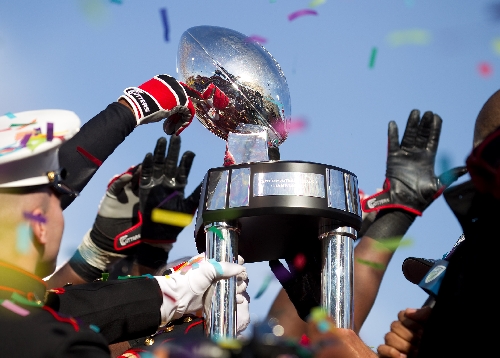 There was no parade down the Strip, no adoring crowd awaiting their arrival at McCarran International Airport. But in Jim Fassel's eyes, it doesn't diminish the accomplishment of the Locomotives repeating as United Football League champions.
"Not at all," said Fassel, Las Vegas' coach and general manager. He was back at the team's Pilot Road facility Monday, two days after the Locos beat Florida 23-20 in Omaha, Neb. "We were able to celebrate at Green Valley Ranch Sunday night, which was nice.
"What's rewarding about repeating is it's doubly hard when it's the team you beat last year. But everyone in this organization works together. Everyone's a team player. They help each other. That's what I'm the most proud of."
Most of the players left Las Vegas to return to their hometowns while the assistant coaches were tying up loose ends Monday. Fassel said he has a week's worth of work to catch up with before he can take a well-deserved break.
The UFL will play an expanded 10-game schedule in 2011 beginning the first weekend of August. That gives Fassel less time to prepare for next season, including deciding which 20 players to place on the team's protection list. Also, the Locos must decide whether to remain at Sam Boyd Stadium after paying UNLV $100,000 per home game this season.
"It's not going to dramatically change what we do," Fassel said. "We'll have everything all set. We'll just move up a month.
"I anticipate we'll play at Sam Boyd. UNLV has been very cooperative, and I think it will work out."
Fassel said he's not sure how his quarterback situation will play out. Tim Rattay continues to recover from a ruptured Achilles tendon, and it's uncertain whether he'll return. Title game Most Valuable Player Chase Clement and backup Drew Willy figure to return unless an NFL team signs them.
"I'm a pretty loyal guy," Fassel said. "But my job is to improve this team. I'm going to do a little analyzing. I'll talk to Tim and Chase and Drew, and then I'll make some decisions."
Fassel said he has no plans to leave the Locos. His name surfaced over the weekend as a possible candidate to fill the head coaching vacancy at the University of Miami, but Fassel said there's no truth to it.
"I plan to be here," he said. "I'm real excited and happy with what I do. I like living here. I like our players. I like our coaches. We're building something here that's exciting, and I'm enjoying being part of that. We've won two championships, and I want to win a third next year."
Fassel said he thinks there will be a lockout in the NFL next summer, which will broaden the UFL's talent pool and make the quality of play better.
"This year, the five teams that played (in the UFL) were so much better than the four in the first year," Fassel said. "The NFL has some serious issues, and right now, the league and the players are pretty far apart. But once the season starts and they're not playing, that's when you'll see some serious negotiating and they'll get it worked out.
"Meanwhile, we'll be well into our season, and I think we have an opportunity to really expose our product nationwide. People will see this is pretty good football."
Contact sports reporter Steve Carp at scarp@reviewjournal.com or at 702-387-2913.