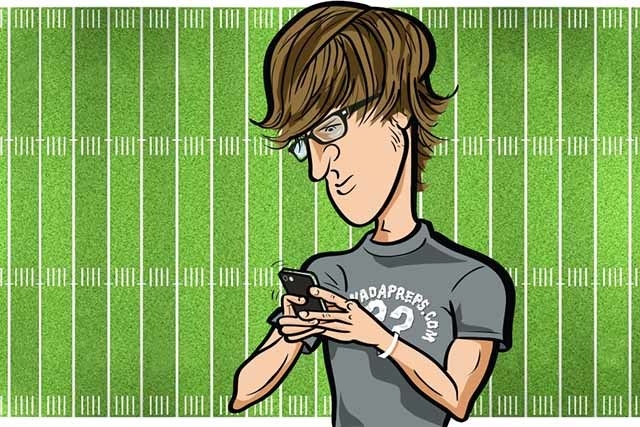 High school football rivalries come in all forms.
Last week in front of more than 15,000 fans in suburban Birmingham, Ala., host Hoover scored 21 second-half points to beat Colquitt County (Ga.) and fifth-year coach Rush Propst 24-10 in a matchup pitting two of the South's top teams.
Propst first gained national notoriety in 2006 as Hoover's wildly-successful-but-obnoxious coach on the MTV reality series "Two-A-Days." He resigned from the school in 2007 after an investigation undercovered evidence that football players had grades changed without teachers' knowledge and also admitted to having an extramarital affair and supporting a second family in another city.
Awkward.
Don't expect that sort of drama in Southern Nevada when two of the area's best-known rivalry games take place this weekend on the east side of the valley.
The Henderson Bowl kicks off at 7 p.m. Saturday as Basic visits Green Valley in a game that is being featured as part of iHigh Inc.'s 10th annual Great American Rivalry Series. According to its website, the series is "an elite schedule of football contests across America selected due to their unique and long-standing traditions and rabid fan support," and the Marines are supposed to present a trophy after the game. Sweet.
That's not all, though. Chaparral travels to Eldorado at 7 p.m. Saturday to battle for Hall of Fame defensive tackle Merlin Olsen's bronzed footwear in the "Cleat Game."
I have no clue what sort of trophy the Marines are giving out at the end of the Henderson Bowl, but it can't possibly be cooler than Olsen's cleat.
I've been busy with all those "assessment" assignments teachers always give at the start of the school year, but you can still find me on Twitter (@FielderNVP). And check out the rest of my picks at Nevadapreps.com.
■ Basic at Green Valley — From the R-J stats and info department: The teams have split the past six meetings, and the past three games have been decided by four points or fewer, including Green Valley's 31-27 victory in 2012.
The Gators were a bigger letdown than Fox Sports 1, ruining my perfect straight-up record with a 41-17 loss to Basha (Ariz.).
It's hard to know how they will bounce back. It's harder to know how the Wolves will play in their opener. … Green Valley by 4.
■ Chaparral at Eldorado — Eric, Skeet and I tried to buy fireworks in Pahrump this summer and got denied, so I can sympathize with the Cowboys having difficulty out there last week against Pahrump Valley.
Chaparral will wear its fancy new jerseys in front of the home crowd for the first time and will be pumped. The Sundevils are motivated after getting thrashed by their rival last season, but I'll fade the team that hasn't played yet. … Chaparral by 7.
■ Silverado at Liberty — There might be a couple of tremors in Henderson on Saturday, as these teams possess some of the largest and most physical linemen in the area.
The Patriots took some lumps in the first two weeks and have given up 108 points thus far, but it gives them a big advantage against Silverado, which will be working out the season-opening jitters. … Liberty by 10.
■ Las Vegas at Foothill — Something tells me this won't be the first time we see these teams square off this season.
Falcons senior quarterback Drew Doxtator tossed two touchdowns last week in a loss to Desert Hills (Utah) and showed flashes of why he is being recruited by several FBS schools. Wildcats junior Trevor Swenson made tremendous strides over the summer after throwing for 1,786 yards last season.
All that means you better tell the baby sitter you won't be home before 9 p.m. if you're heading to Henderson for this one. There's going to be lots of passes. … Las Vegas by 3.
Last week: 7-1, 6-2 (with points)
Season: 7-1, 6-2 (with points)
Contact Fielder at fielder@nevadapreps.com. Follow him on Twitter: @FielderNVP.