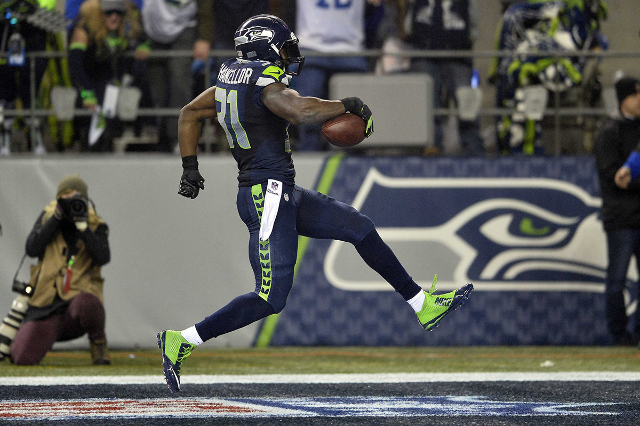 Seattle Seahawks strong safety Kam Chancellor ended his holdout Wednesday after sitting out the first two games of the season in a contract dispute.
The Seahawks, who are 0-2 after losses to the St. Louis Rams and Green Bay Packers, said Chancellor arrived at the team facility on Wednesday morning. It was his first appearance since June's minicamp and ended a holdout that lasted nearly eight weeks.
Chancellor, a three-time Pro Bowler, did not report to the team at the beginning of training camp, and Seattle played its first two games with Dion Bailey and DeShawn Shead starting at strong safety. Chancellor has been on the reserve/did not report list, so a roster move will have to be made to add him to the 53-man roster before he can play in a game. The team was granted a roster exemption, allowing him to return to practice immediately.
Chancellor, 27, was seeking an adjustment to his contract that would increase his 2015 salary.
The Seahawks were willing to make slight adjustments to Chancellor's deal, but leery of setting a precedent for others to follow — including disgruntled defensive lineman Michael Bennett — as general manager John Schneider and owner Paul Allen spoke out against the idea of blinking in the standoff.
Chancellor accumulated $1.1 million in fines and the Seahawks could claim a portion of his signing bonus totaling nearly $500,000.
Chancellor told ESPN's Stephen A. Smith that he intends to revisit his contract situation after the season.
"Ima go help my teammates that are understanding of my position and the ones who aren't," Chancellor said in a text message to Smith. "God forgives all, why can't i? Time to help us get back to the big dance. I can address business after the season. Me and Marshawn started a mission 2 years ago. I can't let my Dawg down….Real talk."
The 6-foot-3, 232-pounds Chancellor signed a four-year, $28 million extension after the 2012 season, with $17 million guaranteed, but the deal didn't take effect until 2013. He is scheduled to make $5.1 million in base salary in 2016 and $6.8 million in 2017.
Chancellor is an impact player at the back of Seattle's defense, but the vaunted Legion of Boom secondary has not been the same without the enforcer to intimidate receivers crossing the middle of the field.
Chancellor, a fifth-round pick in 2010, has started 61 games over the past four seasons, and earned second-team All-Pro honors each of the past two seasons.
Asked about Chancellor's continued absence last week, Seahawks coach Pete Carroll said:
"I'm just disappointed like I know he is and everybody is that it hasn't found a way to get him here, that's all, and been disappointed about it. … He needs to come back in. Yeah, that's it, we need to get him in."
The Seahawks are two games out of first place in the NFC West behind undefeated Arizona, and host the Chicago Bears on Sunday.
Like Sports News on Facebook: