Coldplay, Bruno and Beyonce bring the love at Super Bowl halftime
February 7, 2016 - 10:46 pm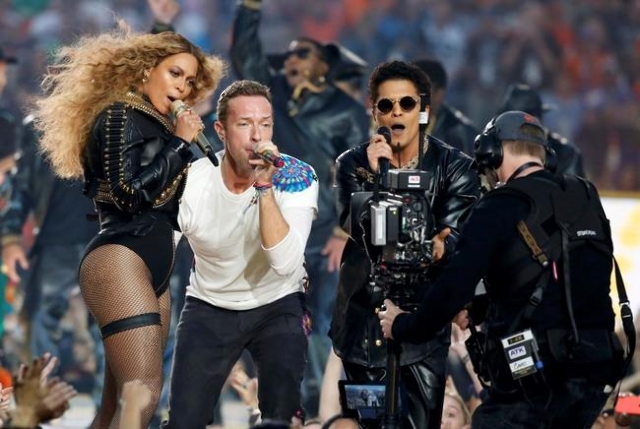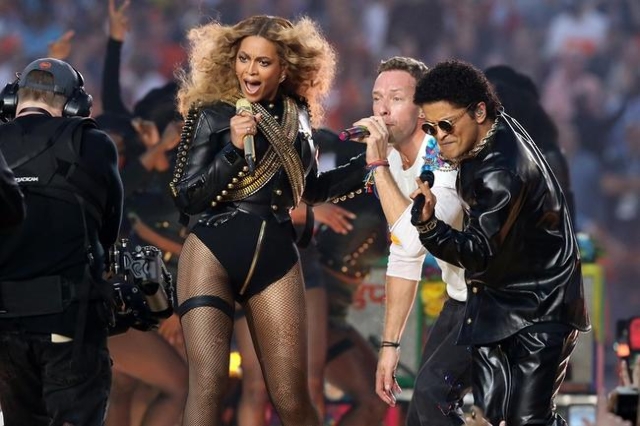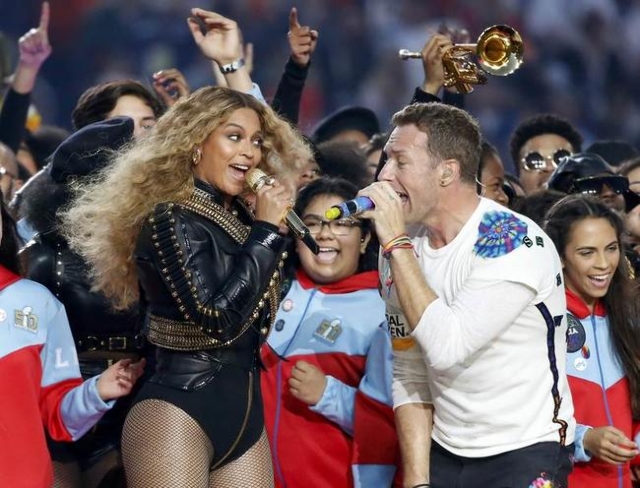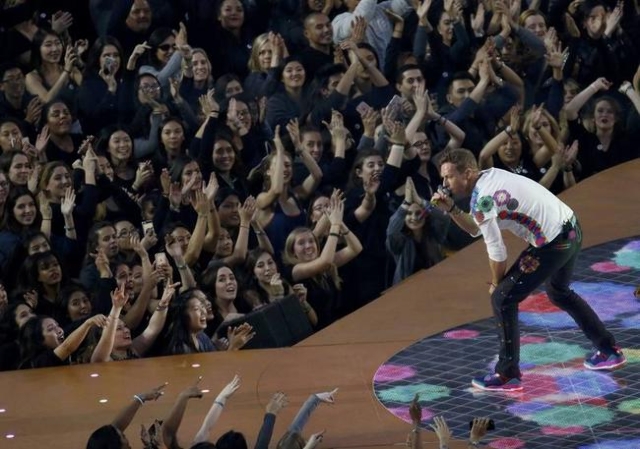 Peace, love and revolution.
These were the prevailing themes during Super Bowl 50's halftime show featuring Coldplay, Bruno Mars and Beyonce.
It all kicked off with a lowkey Chris Martin singing the opening to "Viva la Vida" on his haunches while fans ran around him onto the field.
Once Martin took to the stage, which doubled as a video screen pulsing with a swirl of colorful flowers and sunbursts, he and the band quickly ran through a few hits, including "Adventure of a Lifetime" while Martin jumped as though equipped with a pogo stick.
Young violinists and a psychedelically dressed marching band backed up the Brits.
The energy on the field soared even higher when Martin introduced Mars, who sang and grooved with a backup band and dancers to "Uptown Funk."
Dressed in black leather and gold chains, Mars worked the stage in a frenzy of choreography that could only be matched by one person …
It was Martin who sang "When I ruled the world," but Beyonce prepared to take over the reins as she marched onto the field with army of black-clad dancers and drummers wearing revolutionary-style berets.
Bey launched into "Formation," her first new song since 2014, which debuted only Saturday.
She almost took a tumble during the routine but quickly recovered.
After some hot stepping, Beyonce joined Bruno onstage for a face-off featuring songs from both of their catalogs. Martin popped up between the pair to finish out the medley, which sent Twitter into spasms of delight.
Although Beyonce sings on Coldplay's new track "Hymn for the Weekend," which was met with some controversy, they didn't perform the collaboration at halftime, leaving fans scratching their heads.
"No matter where you are, we're in this together. Let's go," sang Martin, closing out the performance with a montage of past Super Bowl halftime performers, some of whom have died. They included Bruce Springsteen, James Brown, Whitney Houston, U2, the Rolling Stones and Michael Jackson.
The nostalgia along with the energetic performances had folks feeling the love.
Lady Gaga sings national anthem
Lady Gaga's rendition of the national anthem, which kicked off Super Bowl 50, has fans of the singer going gaga for her sweeping vocals.
Gaga opened the show at Levi's stadium in Santa Clara, Calif., with a gospel-inflected performance of "The Star-Spangled Banner."
Actress Marlee Matlin, who is deaf, signed the anthem.
Wearing a glittering red suit and matching eye shadow, along with American-flag inspired shoes, Gaga belted out the anthem into a silvery microphone.
The Grammy award-winning and Oscar-nominated singer and actress is famously dramatic — her delivery and look didn't disappoint.
Some folks on social media took the opportunity to rib Gaga about her resemblance to a certain flamboyant movie character: Effie Trinket of the "The Hunger Games."