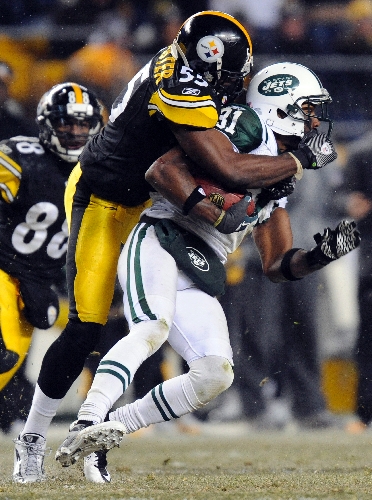 Marcus Sherman always believed in Stevenson Sylvester, seeing potential most others couldn't envision.
Sherman saw it in the penalty Sylvester, then at Valley High School, drew for what the official said was hitting an opposing player too hard.
"I hadn't heard that before," Sherman said, recalling the play. "It was a clean hit. Stevie hit him hard."
Sherman saw Sylvester's potential in other ways as well.
"You saw his frame and his aggressiveness," said Sherman, who recently was promoted to Valley's head coach. "He would seek out contact."
Maybe Sylvester is in the perfect place. He is a rookie linebacker for the Pittsburgh Steelers, an organization known for its toughness and, like Sylvester, willingness to seek contact.
And, like Sylvester, the Steelers spent this season exceeding unusually low expectations to make Sunday's Super Bowl against the Green Bay Packers.
"A lot of people expected us to be 8-8," Sylvester said. "We had Ben (Roethlisberger) gone for the first four games. We had one quarterback at a time for three games.
"Some thought we were too young or too old. We used it as motivation to keep on pushing."
Sylvester knows a little something about that approach. Forget making it to the NFL, few thought he would be successful in college football – if he made that level at all.
UNLV projected him as a safety but didn't consider Sylvester much of a prospect at all.
Sherman thought Sylvester could play linebacker somewhere, and when scholarship offers didn't come, Sherman took action. He called a friend on Utah's staff shortly before the Utes were to visit UNLV in a 2005 game.
"That was the only school that was interested in him," Sherman said.
It worked out well for the Utes. Sylvester started 37 games and was a two-year captain, making All-Mountain West Conference first team in 2009.
His signature game occurred following the 2008 season when he made three sacks and recovered a fumble in Utah's upset of Alabama in the Sugar Bowl.
"I hadn't cried in a long time, but that game brought me to tears," Sherman said. "I couldn't believe it was the same kid. … That kid had no fear. He felt he could play with anyone."
The Steelers drafted Sylvester in the fifth round last year, and he played in all 16 regular-season games, mostly on special teams. He made 14 tackles and forced a fumble.
But Sylvester feels like he hasn't completely left Salt Lake City, that Pittsburgh's love for the Steelers makes his new city feel like a college town.
"I'm driving down the street, and on any car you see a Steelers sticker or something else on it," Sylvester said. "You can see a 1973 Ford Pinto … and there will be stickers on it. I like going out on Fridays because it's Steelers Friday, and you see people wear their jerseys to work."
The Steelers, who will try to add to their record six Super Bowl titles, play in a city with high expectations that also extend to the locker room.
But before this season, it was mostly the players in the locker room who believed this could be a special year. The league suspended Roethlisberger for the first four games for an alleged sexual assault of a Georgia college student during the offseason.
Pittsburgh, however, surprised many by going 3-1 in those opening games. The Steelers went on to finish 12-4 and grab the AFC's No. 2 seed.
They beat the New York Jets in the AFC Championship Game to earn their place on Super Sunday.
"The great thing about the Steelers is we come from a winning tradition, and we expect to win," Sylvester said. "You can't teach it."
That doesn't make this week any less special, though, especially for a rookie who many thought would be watching the Super Bowl, not playing in it.
"I still actually feel like I'm dreaming," Sylvester said. "It's crazy. I'm in the biggest game in all of sports."
Contact reporter Mark Anderson at manderson@reviewjournal.com or 702-387-2914.