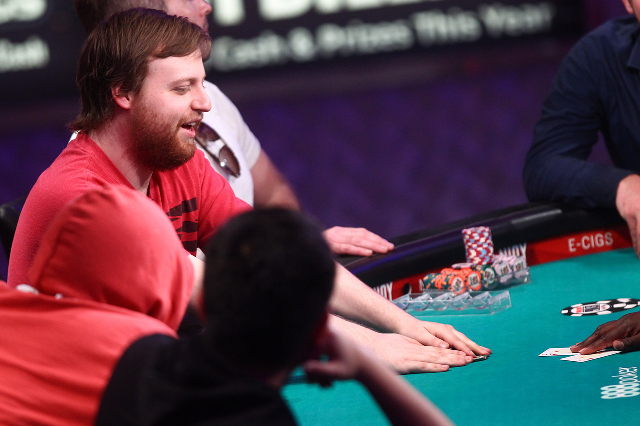 Deep runs in the World Series of Poker's Main Event are not supposed to be easy.
Navigating a field of more than 6,000 amateur and professional poker players comes with plenty of booby traps, and the deck is bound to turn cold at some point over seven days of action.
But for Joe McKeehen, it's largely been smooth sailing.
"The stress level has been a lot lower than expected," McKeehen said.
McKeehen, a professional poker player residing in North Wales, Pa., was near the chip lead for the majority of the $10,000 buy-in No-limit Texas Hold 'em World Championship and coasted into the final day of action Tuesday at the Rio Convention Center.
McKeehen was the overwhelming leader with 41.65 million chips at 10:30 p.m., and fan favorite Daniel Negreanu, a six-time WSOP bracelet winner, was one of 11 players remaining. Play in the Main Event continued late Tuesday and stopped with nine players remaining.
The tournament pauses for the next four months, and the final table resumes Nov. 8 at the Rio's Penn & Teller Theater as the "November Nine" battle for the $7.68 million first prize.
Coverage of the Main Event begins Sept. 14 on ESPN2.
"I've been deep in tournaments. I think I know how to play the end of the tournament reasonably well," McKeehen said. "This tournament is a lot different than the ones previously just because of the amount of chips in the field, but all I can do is play my game, play my best, and hope everything falls into place."
McKeehen is an avid game player and, with a little prodding, will admit to winning the 2010 Annual Risk Classic tournament for the board game Risk. He also recently earned "Legend" status in the online card game Hearthstone, which puts him in the top 0.5 percent of all ranked players.
But it's in tournament poker that the 24-year-old has found the most success.
"I just always liked to play games. It seemed cool," McKeehen said. "It seemed like something I could do, and then as I grew older, I found out there's actually a lot of money in poker if you're good at it, so I tried my best to get good at it."
McKeehen captured two WSOP circuit rings in 2013, winning the $1,675 buy-in No-limit Hold 'em Main Event in March of that year at Caesars Atlantic City for $174,147 and the $365 buy-in No-limit Hold 'em tournament Harrah's New Orleans two months later for more than $24,000.
This also is McKeehen's second deep run in a large-field WSOP event. He finished second to France's Hugo Pingray in last year's $1,500 buy-in "Monster Stack" tournament, which featured 7,862 entrants.
McKeehen cashed in four events this summer and has almost $1.2 million in WSOP earnings, not including the minimum of $526,778 he'll collect from this Main Event run.
"Having experience on the stage is cool because coming here, I'm not intimidated by the bright lights or anything," McKeehen said. "It's helping me stay in the moment, and I'm not getting overwhelmed, and I think that other people have definitely suffered that fate already where they have gotten overwhelmed and maybe they've made a mistake they wouldn't normally make. I think I'm playing pretty well."
McKeehen is a big Philadelphia sports fan and wore a T-shirt every day during the tournament representing either the Phillies, Flyers, Sixers and Eagles. He ended Day 1 of the Main Event slightly above the 30,000-chip starting stack and was in the top 350 after Day 2.
But he made a big jump on Day 3 into second place and ended Day 4 as the overall leader, and he hasn't been out of the top 20 since.
McKeehen said the first time he was at risk for his tournament life came during Day 6, a luxury many of the other Main Event participants didn't have.
"It's a great advantage to have the big stack. I don't necessarily bully people around with the big stack, but it definitely helps knowing you're not going to bust," McKeehen said. "Even if you lose a portion of your chips, you're still going to have a ton of chips left over. Even if you do make a slip-up or something, you're still in the tournament. You just get right back up on that horse and go."
NOTE — The 46th WSOP drew a record 103,512 entries for its 68 events, topping the previous best of 82,360 set last year, and awarded $210,379,285 in prize money, the third most in history.
Contact reporter David Schoen at dschoen@reviewjournal.com or 702-387-5203. Follow him on Twitter: @DavidSchoenLVRJ.