PGA Tour veteran Craig Barlow hangs up clubs
September 15, 2016 - 12:08 am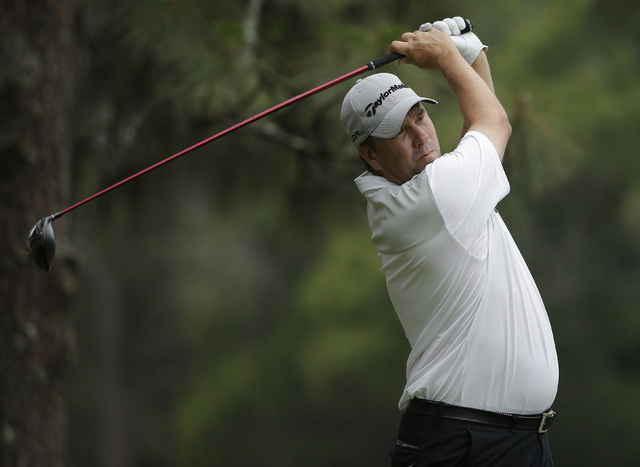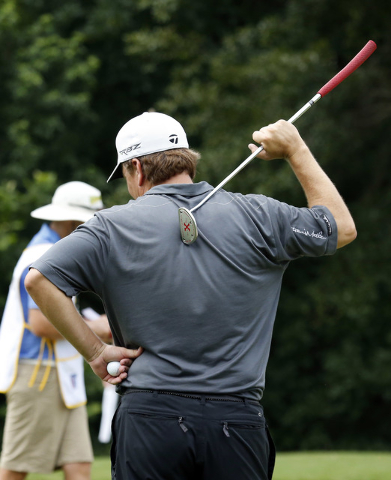 Craig Barlow was fortunate to live his golf passion for more than 20 years.
The lifelong resident of Henderson made 164 cuts on the PGA Tour and 37 on the Web.com Tour, but hasn't played in at least 15 tournaments on the big tour since 2008. During that time, it has been an emotional, physical and financial roller coaster for the 1994 Southern Nevada Golf Association player of the year.
In late August, after missing the Web.com Tour Finals and a chance to earn PGA Tour status, the 44-year-old Barlow made the decision to stop playing competitively.
"This isn't an ending, this is the beginning of a new chapter," Barlow said.
Chief among the reasons for Barlow to make the change is to better support his family, which has faced adversity over the past few years. Barlow's wife, LeeAnn, is dealing with heart issues and is on medication, and his stepson, Jason, has cancer. Also, Craig and LeAnn's son, Riley, has Down syndrome.
Finances also played a role in his decision. Despite making $45,707 this year, after travel and other expenses, he lost money. Barlow said he made "a man's decision" to give up his golf quest.
"There was a time in my life that the only thing that mattered to me was golf," Barlow said. "As soon as I woke up, I would think about how to get better and I would go to bed thinking about it.
"I have accomplished most of my goals. The biggest void is not winning, and that is disappointing because I thought I was talented enough to win. But I called playing golf my job for 21 years, so I'm very fortunate. Life changes and evolves, and my priorities are now different. I can't say I'm chasing my passion anymore because I've done that. Now it's time to be a better dad, a better husband."
Local golfers Eric Dutt and Brady Exber serve as mentors to Barlow, and his swing coach, Vic Wilk, is assisting during the transition. Barlow looks forward to teaching juniors and others, and sharing the wisdom he's gained from two decades of playing on golf's biggest stages.
REBELS
There is plenty to celebrate for UNLV golf fans this week:
• Former UNLV women's All-American Dana Finkelstein said a few months ago that she would one day play on the LPGA Tour. After a win at the LPGA Symetra Tour Garden City Charity Classic in Kansas last weekend, her time could come as early as next season. The four-stroke win propelled her into fourth on the money list with four tournaments left in the season. The top 10 receive full exempt status on the 2017 LPGA Tour.
"To all the people that said I could never do it, here is to them," said Finkelstein, a first-year pro who is about 5 feet tall. "My whole career, I've had the mentality of proving people wrong, and it is fun when you get to do it."
• Andres Gonzales, who played for the Rebels from 2003 to 2006, earned back his exempt PGA Tour status after his runner-up finish at the Web.com Tour's DAP Championship in Ohio.
• Former Rebels Adam Scott and Ryan Moore qualified for the PGA Tour Championship. In addition, Las Vegas resident Kevin Na also is in the field of 30 for the Sept. 22 to 25 event.
• The UNLV men's team tied for the Gene Miranda Invitational title, and John Oda won individually.
DEAL OF THE WEEK
Join the Southern Nevada Golf Association at GetVegasGolf.com for $49 and enjoy benefits throughout 2016 and 2017. Sign up this month and also receive a free round of golf plus a Golf Passport that features 242 golf discounts.
STARS ON, OFF COURSE
Na's sponsor, Titleist, welcomed his newborn daughter, Sophia, by sending her a new set of clubs, and he shared the moment on Instagram.
The golf notebook appears each Thursday. Freelance writer Brian Hurlburt is a two-time author who has covered golf in Las Vegas for more than two decades. He can be reached at bhurlburt5@gmail.com or @LVGolfInsider.