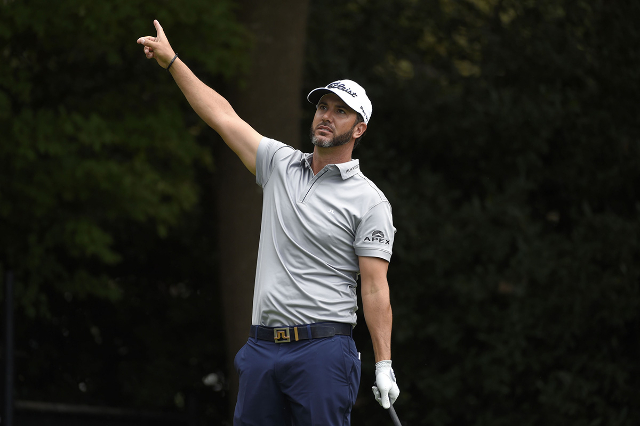 When the PGA Tour made its decision a couple of years ago to change its schedule and have its Fall Series become part of the Fed Ex Cup points chase, it was with The Shriners Hospitals for Children Open in mind.
It was a lifeline for a tournament that might not have remained in Las Vegas had the Tour not opted to go to a wraparound format with its schedule that had the new season begin in mid-October instead of early January.
"I think it saved four or five tournaments," Las Vegas Tour pro Scott Piercy said of his hometown event. "Without the FedEx points, I don't know if these tournaments like the Shriners, the Frys and McGladrey would still be around."
Thursday at TPC Summerlin, one of the strongest fields in years will compete for $6.4 million in prize money and those valuable FedEx points. And whoever wins Sunday will have gotten his season off to a great start as he'll receive 500 points.
"It's changed the way players think about their schedule," said Tour veteran and former UNLV star Chad Campbell. "In the past, a lot of guys would be tired and would call it a season and not come here to Vegas. Now, guys have had a few weeks off and they're ready to go."
Keegan Bradley is one of those players Campbell was referring to. The talented American is playing the Shriners Open for the first time because his schedule allows him to.
"I've always wanted to play this tournament," Bradley said. "But I could never fit it into my schedule. But I've been off the last few weeks so I'm ready to start my season and I'm real excited. It's a great field and the course looks to be in great condition."
To get Bradley or Jason Dufner or Rickie Fowler to commit to play took a lot of work on the part of first-year tournament director Patrick Lindsey. Months of networking, follow-up phone calls to agents and selling the cause of the Shriners, who operate 22 hospitals in three countries to help sick kids, ultimately paid off.
"It's an easier conversation to have now that we have the 500 points," Lindsey said. "You don't have to ask the players to come out just for the sake of the cause. Now you're talking about guys securing their future by playing here."
After spinning its wheels for five years from 2008 to 2012, the Shriners stayed involved with golf on the strength of the Tour's promise to include their tournament with full FedEx points and give the event more importance among the players. It was not an easy decision to stay the course as putting on a professional golf tournament takes a huge financial commitment.
"We made the decision to spend more to kep the tournament here," Shriners chairman Gary Dunwoody said. "It was not an easy decision. But looking back on it, it was the right thing to do. It was a wise decision and it has helped us tremendously. We're getting tremendous bang for our buck and it was money well-spent.
But the Shriners made one other critical decision in 2013 to their long-range plans for the tournament. Instead of maintaining a relationship with a celebrity as it did the first five years with Justin Timberlake, the focus shifted to the hospitals and the kids as the new contract began.
"The kids are the celebrities," Dunwoody said of the thousands of patients the Shriners Hospitals service. "That's the way it should be. We want the focus to be on them and the work we do with the hospitals."
The Shriners' current contract with the PGA Tour runs through 2017. Look for an extension to be signed sometime next year and for the tournament to remain in Las Vegas for the forseeable future.
"This tournament's not going anywhere," Dunwoody said. "The community is getting more and more involved, which we're thrilled to see. We want it to be a local event."
It's also starting to be a must-play event for the players. Lindsey said he continues to network with some of the game's best in the hopes of making the field stronger each year.
"We'd love to get Jason Day back here," Lindsey said. "It would be great if we can get Jordan Spieth, Rory McIlroy and Justin Rose here. The reality is the depth of the PGA Tour is at an all-time high. There are so many great young players out there. We're trying to get in with some of those young players at the start of their careers and that's who we're recruiting."
That's what the Shriners open did with Ben Martin. He was invited four years ago when no one outside of South Carolina knew him. Now, he's back as the tournament's defending champion and he said he will always be grateful to the Shriners for giving him a chance to play and win in Las Vegas.
"Without the points you wouldn't see the field you see here," Martin said. "Having the FedEx points is a big incentive for all the players."
And for those who can take advantage of the opportunity this week, it will help set them up for a potential big year.
"It's tough to play all year round," Piercy said. "But starting in the fall and having success makes it a lot easier later on."
Added Martin: "When you get off to a good start early, it puts you ahead of the game."
Contact reporter Steve Carp at scarp@reviewjournal.com or 702-387-2913. Follow him on Twitter: @stevecarprj