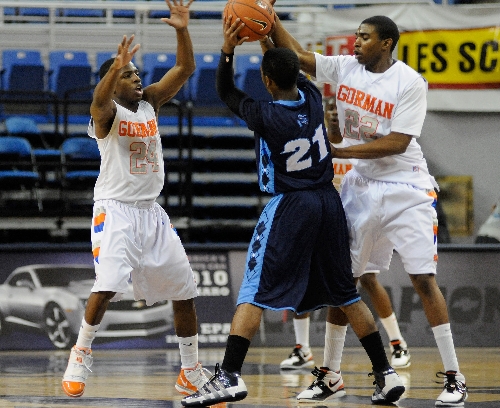 RENO — Just how deep is Bishop Gorman's boys basketball team?
For the second straight night, the most impressive player on the floor didn't start for the Gaels.
Taylor Spencer came off the bench to score 19 points Friday night to lead Gorman to a 69-48 win over Canyon Springs at Lawlor Events Center for the Gaels' second straight Class 4A state championship.
"Taylor Spencer really, really finished," said Gorman coach Grant Rice, who saw sophomore Ronnie Stanley come off the bench to score 14 points Thursday in a semifinal win over Bishop Manogue. "What an athlete. We've been saying Taylor's the X-factor for a while. When we get good defense and good offense from Taylor, we're pretty hard to beat."
Gorman (30-2) led by four at halftime, and Canyon Springs (26-4) was within 33-27 with 5:35 left in the third quarter. The Gaels closed the third quarter with a 22-9 run, and the Pioneers never recovered.
"Gorman's a very good team," Canyon Springs coach Daryl Branham said. "They shifted gears on us, and we didn't stay with them. They played very hard and rebounded the ball well."
Gorman had a 48-32 rebounding advantage and limited Canyon Springs to 16-for-55 shooting (29.1 percent).
"We've been known to have a decent first half, but the third quarter is when we show who's going to win," said Spencer, who has signed to play football at UNLV. "So we just broke out and got the lead."
Rice said his team relied on the outside shot too much in the first half, when the Gaels were 12-for-30 (40 percent) from the field. But they got the transition game going, making 14 of 25 shots after halftime.
"We were out of sync in that first half offensively," Rice said. "Defensively we were fine, but we just kind of made bad decisions offensively. We settled for the jump shot way too much instead of getting to the basket and making things happen."
That wasn't a problem in the second half, especially for Spencer, who had four open-court dunks, including a rim-rattling, two-handed stuff with 6:54 left to put Gorman up 59-34.
"I've had a tendency to cherry pick a lot all year trying to get dunks," Spencer said. "I don't know what it was about this game. I just got a lot of wide-open chances, and I just took them."
Branham said his team didn't do a good job of playing transition defense in the second half.
"We got caught sleeping," Branham said. "In the first half, I thought we did a very good job of containing their run-outs. In the third quarter, our focus slipped a little bit. What can you say? They're a very good team and played very well tonight." 
The 6-foot-2-inch Spencer, who is expected to play safety at UNLV, added five rebounds and four steals and made 9 of 12 field-goal attempts.
"These playoffs he's been incredible," Rice said. "And I really believe he's the best athlete in the city. And he's going to be a great college football player. And I think he could play some college basketball, as well."
Donald Anderson led Canyon Springs with 16 points.
Shabazz Muhammad added 14 points and nine rebounds for the Gaels, ranked No. 13 in the nation by USA Today.
"We've had pressure on us all year," Rice said. "Sometimes it's hard to win when there's that pressure. So I'm really proud of the guys."
Contact Prep Sports Editor Damon Seiters at dseiters@reviewjournal.com or 702-380-4587.
In-depth high school sports coverage