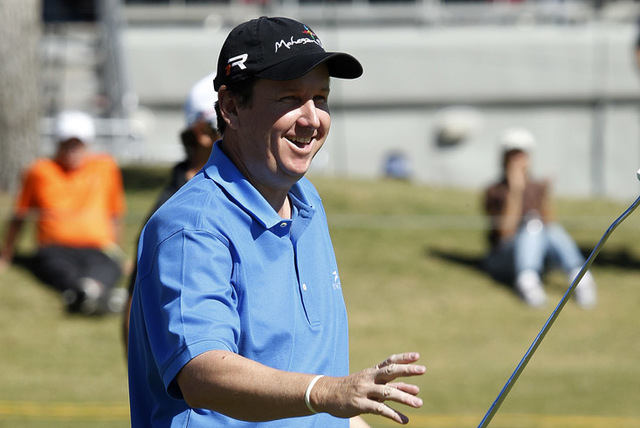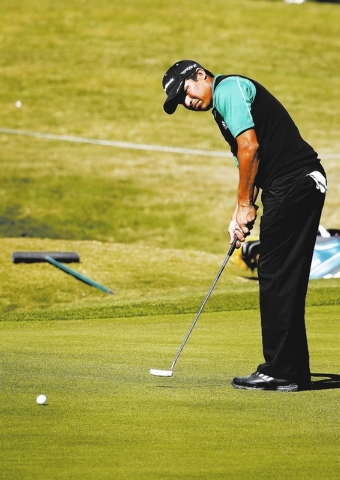 It never fails.
Whenever conditions at TPC Summerlin become benign, the course comes under attack and often yields double-digit scores below par.
Thursday was such a day, and J.J. Henry and Andres Romero took full advantage of the opportunity in the Shriners Hospitals for Children Open. Henry used an eagle at the par-5 ninth to finish with a course-record 11-under-par 60, giving him a one-stroke lead over Romero, who carded two eagles on his final 10 holes.
With no measurable wind and pristine course conditions, it was going to be that kind of a day. Even tougher-than-normal pin placements for a first round failed to be a deterrent.
"Obviously you gotta shoot low out here, so it's nice to get off to a start like that," Henry said.
As exhilarating as Henry was feeling, imagine how frustrated Jeff Overton, Jonathan Byrd and James Driscoll felt. All three shot 63, yet trail by three strokes.
"Anytime you get no wind and a golf course in perfect shape, this is the PGA Tour, people are going to light it up," Overton said. "It's awesome playing a course where you get those kind of opportunities."
Henry, 38, who lives and plays out of Fort Worth, Texas, is a two-time winner on the PGA Tour. He hadn't played in Las Vegas since 2009, when he finished 46th at 10 under.
On Thursday, he surpassed that in one round.
"Hopefully, I can improve on that," Henry said. "I know I have to continue to go low, but anytime you start with a round like I had, it gives you a lot of confidence for the rest of the week."
Henry started from the 10th tee, and after a pedestrian start that saw him par his first two holes, the notion he would break the course record seemed like a long shot. And even after he started to find his rhythm and make the turn at 4 under, it still didn't appear possible.
But on the front side, Henry birdied holes 3 through 6 to get to 8 under. He birdied the par-3 eighth to go to 9 under, then capped his record round by chipping in from 50 feet, 9 inches for eagle at the par-5 ninth.
"It was pretty cold in the morning, and I was just trying to shoot a couple under and kind of get my feet wet," Henry said. "I made a nice birdie on my 11th hole — the second hole — and that was probably the point where I got to 5 under knowing I have a reachable par 5 and a couple of short par 4s. I was just thinking of keeping the ball in the fairway.
"I wouldn't say there was anything all of a sudden where I felt like I was going to shoot 58 or 59, but I just felt like I played pretty consistent throughout the whole day."
While Henry made up a lot of ground to get to 60, Romero made up even more to card his 61. He began on the front side and was even through five holes. At that point, he was more concerned about making the cut today than leading the tournament.
Instead, he suddenly caught fire. He made birdies at 6 through 8, then eagled No. 9 to make the turn at 5 under. He made another eagle at the par-4 15th to go to 9 under, then followed with a birdie at the par-5 16th.
The stellar effort on his final 13 holes left the 32-year-old from Yerba Buena, Argentina, with a wide smile on his face.
"I was feeling very good coming into this week," Romero said through an interpreter. "My swing is there. I was hitting the ball well, and I had a really good round.
"I thought I was going to finish as the leader, but Henry did one more birdie."
Defending champion Ryan Moore tied the course record last year with a first-round 61, but struggled to a 69 on Thursday. The former UNLV All-American made the turn at par and needed a birdie at No. 9 to get to 2 under.
"I just never got any great momentum," Moore said. "I just kept burning edges, and overall, a couple unders isn't going to kill me. Obviously, I know what I've got to do from here."
Contact reporter Steve Carp at scarp@reviewjournal.com or 702-387-2913. Follow him on Twitter: @stevecarprj.