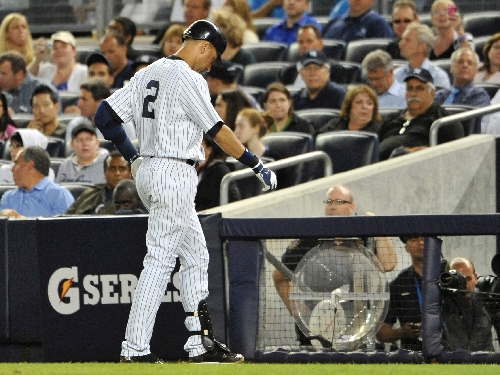 NEW YORK — The 3,000 Hit Club is an elite group of baseball's greats. Musial. Ripken. Cobb. Mays. Not one of the 27, though, joined while wearing a Yankees uniform.
Babe Ruth and Lou Gehrig never did it. Neither did Joe DiMaggio or Mickey Mantle. Same for Bernie Williams and Don Mattingly. There's an All-Star roll call of Yankees who came up short for reasons that include illness, injury, wartime service and, frankly, not being wanted any longer in win-now New York.
No. 2 from Kalamazoo is on the verge of changing that, but his quest probably will be delayed after Jeter suffered a strained right calf Monday during a 1-0 loss to Cleveland.
"I'm worried about him," manager Joe Girardi said. "Just keep our fingers crossed and hopefully it's not too serious."
Jeter, who singled in the first inning for hit No. 2,994, appeared to hurt himself on a flyout to right field in the fifth. He has not been on the disabled list since 2003.
"He just walked off the field and you could tell he was done," Girardi said. "You don't see him come out of games."
Girardi said he didn't think Jeter would be able to play tonight against Texas.
Entering the season needing 74 hits for 3,000, this spring was supposed to be more or less a victory lap for the 36-year-old captain. Instead, it's maybe been the most trying stretch in a charmed career that began with a single off Seattle's Tim Belcher on May 30, 1995.
"We've always tried to keep things in a positive perspective — that doesn't mean we're not realistic," said Charles Jeter, Derek's dad. "One of the things I admire in my son is the fact that he's able to not dwell on things and to say, 'I'm not going to talk about it' and move on."
The kid from Michigan's ability to "move on" certainly has helped him unlike many other Yankees who played for the blustery George Steinbrenner in media-saturated New York.
Hall of Famers Dave Winfield, Rickey Henderson and Wade Boggs all played in pinstripes before they reached 3,000. In fact, only one Yankees player has gotten a hit after getting there — Paul Waner's last hit, No. 3,152, came during a seven at-bat stint with them in the mid-1940s.
Winfield was one of those players run out of town despite going to eight straight All-Star games in nearly a decade in the Bronx. He is all too familiar with the pitfalls of playing in New York and thinks it's the toughest place to play, which could help explain why no Yankee has reached the milestone.
"I would say it is, just because you have to really focus on playing ball each day more than anywhere else. So if you struggle along the way, it could be difficult," said Winfield, an ESPN Baseball Tonight analyst. "They even gave Derek some grief early in the season."
Jeter has managed to stay above the fray for most of his 16-plus consistently stellar seasons — when Steinbrenner criticized him for partying, the owner and young star turned the spat into a lighthearted TV commercial.
Jeter did face the dark side of the organization this winter. General manager Brian Cashman challenged him to find a better offer during contentious contract negotiations that ended in a new three-year deal with a player's option.
Those surprisingly public talks were only the beginning. After hitting a career-low .270 last year, Jeter fiddled with his swing. As he slumped to a .219 average on April 20, he faced relentless scrutiny. The 11-time All-Star has gradually lifted his average to .260.
Sports talk hosts, columnists and scouts might clamor that two weeks shy of his 37th birthday, Jeter is washed up as a star, but his No. 2 jersey is the No. 1 seller with fans. He's only 1½ seasons removed from a fifth World Series title, winning the Roberto Clemente Award and being chosen as Sports Illustrated's Sportsman of the Year — the first Yankees player to earn that honor, too.
"I think the way he's gone about his business, with consistency and just as a professional, being just stubborn enough to be great. He's been a joy to watch," Hall of Famer Reggie Jackson said. "He's everybody's favorite player."
Confident, respectful and as graceful as one of his jump throws from the hole, Jeter won four World Series championships in his first five years. He's noted for playing with a team-first, win-at-all-cost attitude; remember the catch and bloody dive into the stands against Boston?
"He respects the game, he does everything the right way," Red Sox manager Terry Francona said. "I'm a huge fan of his except for when he's hitting."
Major League Baseball plans to have a representative in attendance when Jeter reaches the mark, and at least a dozen licenses for gear commemorating the event will be issued. Jeter's Turn 2 Foundation is marking the occasion with DJ3K bracelets, and the Hall of Fame has talked to him about acquiring game-used mementoes from the day.
"Three thousand hits is pretty good," Yankees great Yogi Berra said in an email. "But I think Jeter cares more about winning than the other stuff."
Always preferring to deflect attention away from himself and onto his teammates, Jeter has been reluctant to talk about the pursuit. He has said he does feel pressure to reach the mark at home, as he did in 2009 when he passed Gehrig for most career hits as a Yankee.
"I'd be lying to you if I told you I haven't been thinking about it," Jeter said Sunday. "It's impossible for that not to be in your head, because I'm around that all the time."