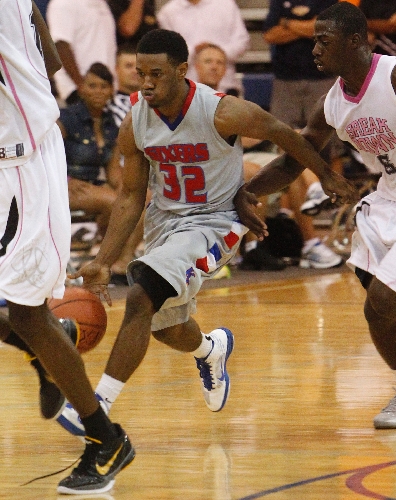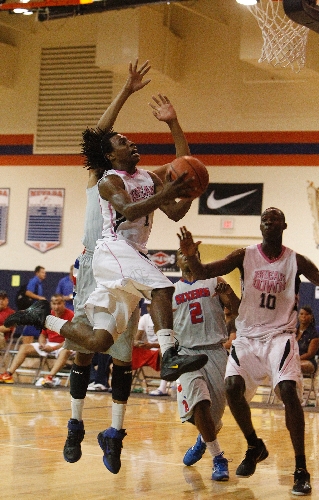 A few days ago, Broderick Newbill was a relatively low-profile prospect on a long-shot team.
But most of that changed Monday night, when Newbill led the Kansas City 76ers to the Fab 48 tournament championship.
"Nobody was thinking we were going to win this tournament," he said.
Newbill scored 20 points as the 76ers used a late run to defeat Team Breakdown (Fla.) 79-64 at Bishop Gorman High School.
While the adidas Super 64 tournament across town has the star power of Bishop Gorman's Shabazz Muhammad, the nation's top-ranked recruit, the Fab 48 was left with an odd couple of finalists and no big-time players.
Muhammad had every high-profile coach in the nation at Rancho High this week. UCLA's Ben Howland and St. John's Steve Lavin were the most notable coaches in attendance Monday night at Gorman.
Newbill, a 6-foot-6-inch guard, staged an elite performance. He hit two 3-pointers and had a dunk as the 76ers closed it out down the stretch.
"I just want to go home and go to sleep," said Ishmael Wainright, who added 13 points for Kansas City.
The 76ers won five games in two days and knocked off the tournament favorite, the Mac Irvin Fire from Chicago, in the quarterfinals.
"I'm surprised. We were the underdogs," Wainright said.
AJ Astroth scored 18 points, 15 in the first half, for Team Breakdown. Stefan Moody, a quick 5-11 point guard, added 15 points and a late dunk that pumped up the crowd.
But Newbill took the air out of his opponent with a showing that will get him noticed. He received interest from Colorado, Memphis, Missouri State and Wichita State before the tournament.
"I feel like I helped myself a lot," he said.
Moody's dunk with 5:41 left pulled Team Breakdown to within 59-52, but Moody drew a technical for hanging on the rim, and the dubious call drew boos from the fans in attendance. The 76ers pulled away after that call.
Astroth, a 6-foot-6 forward from Tampa, Fla., was the big story of the first half, when he had college coaches scurrying to look up his name in the program.
"This is a big breakout for him, because he was a mid-major guy until today," said Van Coleman, a national recruiting analyst for Hot100Hoops.com.