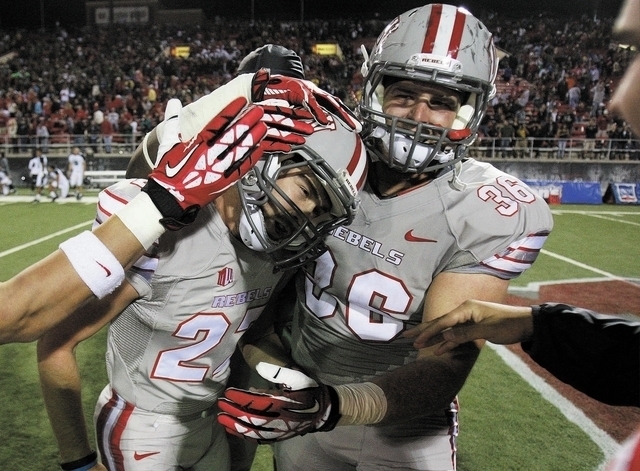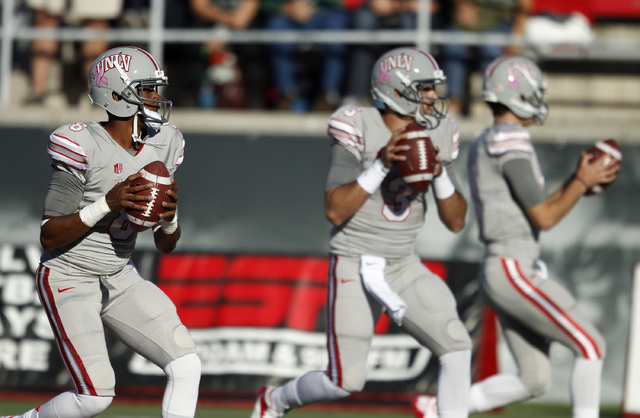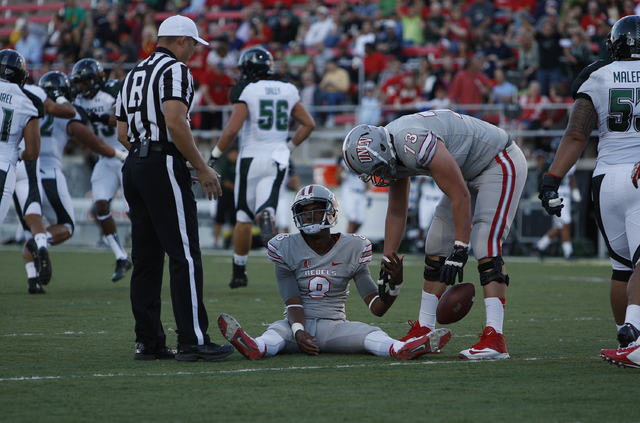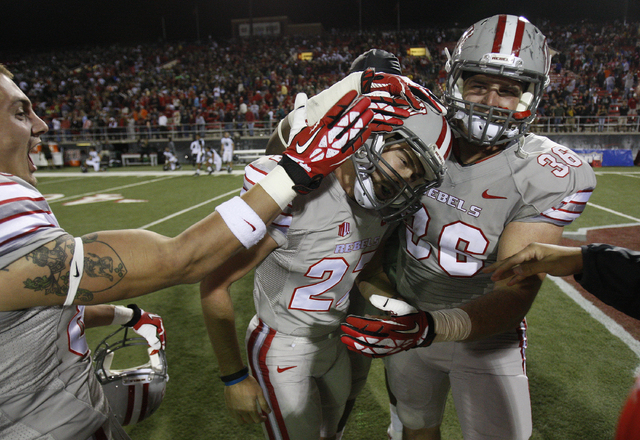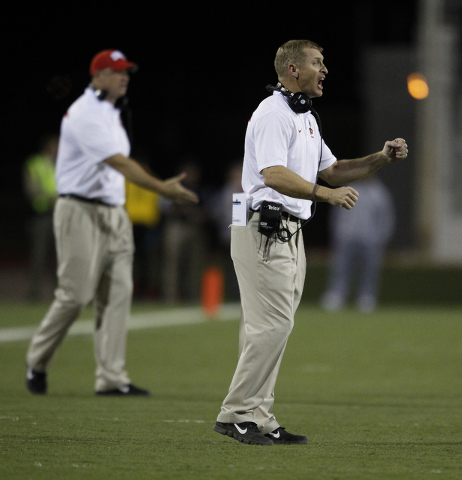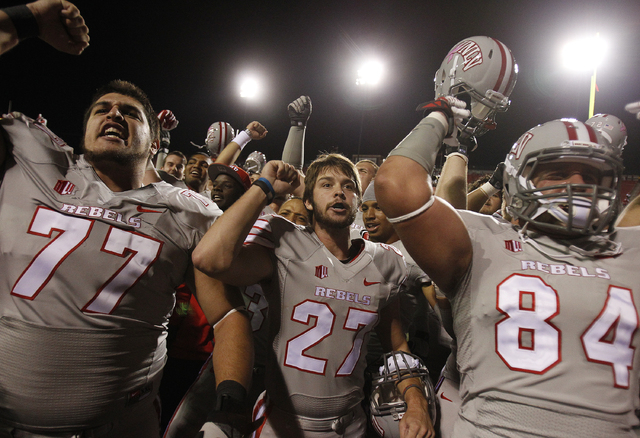 UNLV was in the midst of an epic meltdown, a once-sure victory that seemingly had become a crushing loss.
The Rebels, though, had just enough time on the clock for one more shot at victory to save not only Saturday night's game, but probably their football season.
UNLV took it, driving 51 yards to Hawaii's 26-yard line, setting up kicker Nolan Kohorst with just five seconds remaining.
Hawaii called its final timeout to try to ice the senior from Green Valley High School.
The tactic, which often fails, didn't work.
Kohorst drilled the 44-yard field goal for a no-doubt-about-it make, and the Rebels rushed onto the Sam Boyd Stadium field to celebrate their 39-37 victory.
"I had never hit a game-winner before, so I didn't know what to do," Kohorst said. "I just ran one way. My teammates ran toward me and found me."
This was the fourth victory in a row for the Rebels (4-2, 2-0 Mountain West), their first such winning streak since 2000. Their last four-game regular-season winning streak occurred when they won seven straight in 1984.
UNLV, which next plays at Fresno State on Saturday, also is two games above .500 for the first time since beginning the 2008 season 3-1.
Victory seemed assured against the Rainbow Warriors (0-6, 0-4) when UNLV took a 36-17 lead with 13:11 left in the game.
But Hawaii had been in this position before, trailing Fresno State 42-3 in the third quarter two weeks ago before storming back and eventually losing just 42-37.
Then against UNLV, Hawaii scored 20 consecutive points, with Steven Lakalaka rushing for a 15-yard touchdown and Sean Schroeder completing TD passes for 48 and 44 yards. The last one, which wide receiver Chris Gant scored after splitting two UNLV defenders, came with 1:44 left to put the Warriors in front 37-36.
"They did to us a little bit what they did to Fresno State," Rebels coach Bobby Hauck said. "Thank goodness we got the win."
UNLV got the win after taking over at its 23 with 1:39 left.
"We know we have good things to go into that situation," UNLV quarterback Caleb Herring said. "This is a drill we practice every day going down and needing a field goal or a touchdown to win."
Not that the Rebels didn't have tense moments, facing a third-and-10 at its 46. But after a 2-yard completion to wide receiver Marcus Sullivan, Hawaii cornerback Trayvon Henderson was called for a 15-yard face-mask penalty.
Then Caleb Herring appeared to complete a 27-yard pass to Maika Mataele to the 10, but video replay showed he bobbled the ball after rolling out of bounds. Herring shook that off to complete a 2-yard pass to running back Tim Cornett and a 9-yarder to Sullivan to the 26.
Kohorst took the field, and Hawaii used its final timeout to make him think about it.
"I thought Coach Hauck originally called it," Kohorst said. "I loved the timeout. It gave me 30 more seconds to warm up, 30 more seconds to evaluate everything."
He came through, just as his teammates did most of the night. UNLV had 114 plays, breaking the Mountain West record by three set by Texas Christian in 2007 against San Diego State.
The Rebels finished with a season-high 579 yards.
Herring completed 34 of 57 passes for 385 yards and a touchdown. Sullivan caught 11 of those passes for 113 yards, and Devante Davis hauled in eight catches for 141 yards.
Cornett rushed for 162 yards and two scores on 29 carries. He now stands just 40 yards behind school record holder Mike Thomas, who rushed for 3,149 yards in 1973 and 1974.
UNLV's defense, however, gave up 454 yards, including 325 through the air. The Rebels' secondary struggled badly against Hawaii's receivers, particularly on deep patterns.
That difficulty made an easy night nearly one that could've blown up the season, allowing Hawaii to nearly steal the game.
But the Rebels, who now have rallied to win three times this season, had one last shot and made the most of it.
"The one thing we do take from the game is we're a united football team and we know how to win games," Hauck said. "This has taken four years to kind of put together. I'm very proud of them."
Contact reporter Mark Anderson at manderson@reviewjournal.com or 702-387-2914. Follow him on Twitter: @markanderson65.