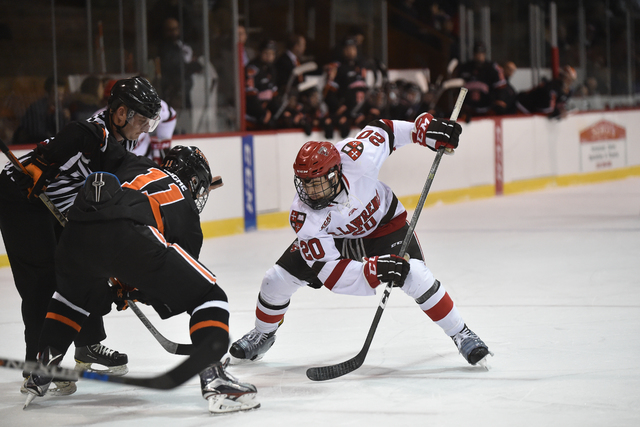 Whenever a team changes coaches, established players often don't know what to expect and it can lead to trepidation.
Do I have to prove myself all over again? Is my resume good enough to provide some security? Will the new style of play fit my skills?
Those questions and others were going through Joe Sullivan's mind after Mark Morris was named coach of the St. Lawrence University hockey team last spring, replacing Greg Carvel, who left to become coach at Massachusetts. Carvel had recruited Sullivan, a 5-foot-10-inch center from Las Vegas.
"I was a little bit nervous," Sullivan said. "I knew with a new coach that everyone wanted to get off on the right foot. He had a great resume, and he had a lot of experience."
Not only did Sullivan make a positive impression on Morris, but he also has become one of his favorite players. Because of injuries to the team's top two centers, Morris moved Sullivan from right wing to center early in the season, and Sullivan has delivered.
The 22-year-old junior is third in scoring with eight goals and 17 points for St. Lawrence (10-5-4). More importantly, he's doing the things good centers do. He is winning more faceoffs. He has been responsible in the defensive half of the ice. He has avoided a prolonged slump and not dragged down his linemates.
"I think it goes back to the work ethic," Sullivan said of his on-ice consistency. "You can't control the bounce of the puck. But you can control how hard you play, and I try to leave it all out there every shift."
Morris has become a big fan.
"You know you're in a game when you play against him," Morris said. "He's a low-maintenance player, very coachable. He plays a gritty 200-foot game, and he's very consistent even though he's logging heavy minutes. We have him on the power play and killing penalties. I have a lot of trust in Joe."
Sullivan had to leave Las Vegas to get the necessary competition to improve his game. He had played midget hockey for the Las Vegas Storm and left in 2011 to play junior hockey for the Wings in Aberdeen, South Dakota.
It was a culture shock on several levels.
"You can imagine being from Las Vegas and going to South Dakota how different life is," Sullivan said. "And the change in weather. It was so cold there. But I had a great billet family that looked after me, and it was a great experience."
He also got a taste of the business of hockey. During his second year with the Wings, he was traded in midseason to the Wenatchee Wild, not an easy adjustment for an 18-year-old.
"I called my dad. He flew from Vegas to Rapid City, picked me up and we drove nonstop to Wenatchee, which is in the middle of Washington state," Sullivan said. "The day after I got there, I was on the bus and going on a road trip with the team."
The following year, Sullivan climbed to the top tier of American junior hockey, the U.S. Hockey League. He had 22 points for the Indiana Ice in 2013 and drew the attention of college coaches. He was offered an opportunity at Bemidji State in Minnesota, and Army also was interested.
Instead, Sullivan selected St. Lawrence, which is in Canton, in upstate New York, and has a history of hockey success.
"It was an opportunity to play," he said. "I had a teammate at Indy who had committed to St. Lawrence, and I wanted to play Division I and get a good education."
Sullivan, a math and economics major, is carrying a 3.50 GPA. Socially, he said he has fit in well in a place where the average wintertime temperature hovers around 16 degrees. When it's that cold, it's an easy decision to stay inside and study.
"Living in Aberdeen helped get me ready for St. Lawrence," Sullivan said. "But after a while, you get used to the weather (in Canton)."
Sullivan said college hockey is more intense than juniors and is a tighter checking game.
"Everything is magnified in college," he said. "Every shift is important. There's less time and space to make plays. It moves fast. In college, you're playing in front of your peers, other students, while in juniors, it's mostly the people in town who come out to watch you, so the crowds are very different."
He's had a chance to see the world with the Saints. The team played in Switzerland and Italy during his sophomore season. In October, St. Lawrence played in a four-team event in Belfast, Northern Ireland, getting a tie with Quinnipiac and Massachusetts.
"It was cool to go over there and meet the people and see the history," Sullivan said. "The people were very welcoming, and the kids loved us."
As is the case with most people in the Las Vegas hockey community, Sullivan is excited about the NHL coming to the valley and the Vegas Golden Knights' inaugural season in October.
"Growing up here in Vegas, we never thought we'd have an NHL team," said Sullivan, a lifelong New York Rangers fan whose parents were season-ticket holders when they lived on Long Island. "I still can't believe we got one.
"What it's going to do is grow the game among kids. You're going to see a lot more kids playing now that there's an NHL team. Plus, with the extra ice (at the Knights' practice facility), it will give more people a chance to skate."
Sullivan is one of three Las Vegans playing Division I hockey this season, along with Michael McNicholas, a junior forward at New Hampshire, and Joey Raats, a sophomore defenseman at Arizona State. Sullivan thinks that could change with the arrival of the Knights.
"I'm sure we'll have a lot more kids playing college in a few years," he said. "I know UNLV is trying to go varsity. There's just a lot more opportunities for kids now to play today than when I started playing years ago."
Contact Steve Carp at scarp@reviewjournal.com or 702-387-2913. Follow @stevecarprj on Twitter.
THE SULLIVAN FILE
WHO: Joe Sullivan
AGE: 22
COLLEGE: St. Lawrence University
POSITION: Center
YEAR: Junior
HEIGHT: 5 feet 10 inches
WEIGHT: 190 pounds
SHOOTS: Right
MAJOR: Math/Economics
BORN: West Islip, New York
HOMETOWN: Las Vegas
PLAYING CAREER: Las Vegas Storm Midget-16 AAA, 2010-11; Aberdeen, South Dakota Wings (NAHL), 2011-13; Wenatchee, Washington Wild (NAHL), 2012-13; Indiana Ice (USHL), 2013-14; St. Lawrence University (ECAC), 2014-present.
DID YOU KNOW?: Sullivan ran track at Spring Valley High School, competing in the 400 meters, 800 meters and 300 hurdles.