Las Vegas Lights owner wants team to be 'fast, fun, soccer party'
October 30, 2017 - 1:30 pm
Updated October 30, 2017 - 5:29 pm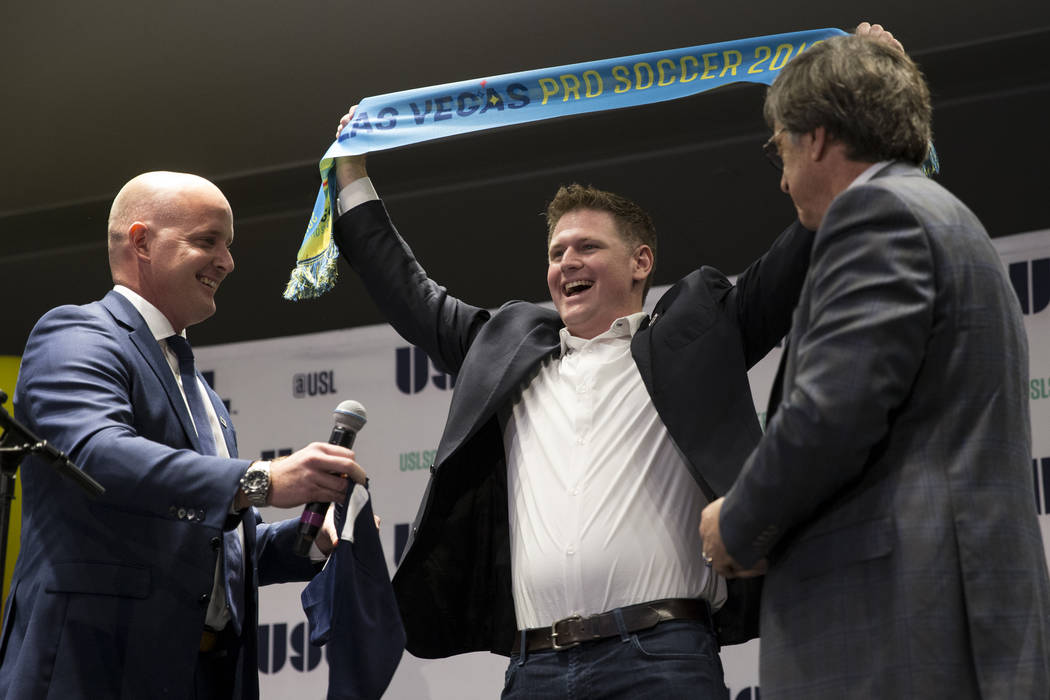 Las Vegas Lights FC owner Brett Lashbrook knows exactly what he wants his United Soccer League team to look like on the pitch.
"A fast, fun soccer party," Lashbrook said.
Lashbrook believes a team should reflect the community it represents, so he doesn't think conservative play is going to cut it when the team begins playing at Cashman Field in the 2018 season. And now that the Lights have a logo, which was released Monday, his next moves involve hiring people in soccer operations that share his vision.
"When you think Vegas, what do you think? You think fast, fun, furious. Going for the goal, a high-scoring soccer fiesta," Lashbrook said. "It's a riskier style of play. It's high-risk, high-reward. But that's 100 percent what we want to do."
Lashbrook is working to vet coaching and soccer operations candidates, and even beginning to recruit players, with a goal of some announcements in the coming weeks. He said his ideal coaching candidate will not only bring the style of soccer he wants, but embrace the challenge of starting a team from scratch.
"We're doing an incredibly thorough search and we're pushing the envelope on who our candidate pool is," Lashbrook said. "There's a lot of American teams that have limited what their pool is and we believe that with the diversity of Las Vegas and the diversity of what our roster is going to be, we need to have a more diverse candidate pool as well."
The team will be able to sign players from anywhere in the "Wild West" that is international soccer, Lashbrook said. He hopes to have a roster with players from all over the world, but also wants the team to have some local ties.
"There's 2.2 million people here and I think there's a lot of talent here," Lashbrook said. "And I think part of our responsibility coming in as a professional soccer team is to help that talent."
Players are scheduled to report in January. The team will host at least a few home exhibitions at Cashman Field, and Lashbrook thinks the venue fits perfectly with his desired style of play. The Lights' field at Cashman will be 80 yards wide, much wider than the minimum width of 50 yards specified by FIFA.
"With 80 yards we get more front-row seats and we also allow the game to open up," Lashbrook said. "We're going to make visiting teams come into the hottest market at the hottest time of the year, playing on the widest field, and play a team built for speed. What's that going to result in? That's going to result in more goals."
This much is clear: Lashbrook isn't going to settle for a lot of 1-0 games on his home turf.
SEASON TICKETS
To go with the Lights logo announcement, the team also revealed its season-ticket pricing Monday, starting at $200. Fans who purchase full season tickets will be able to attend all the team's regular-season home games, as well as any exhibitions.
With the team's schedule yet to be released, the Lights said tickets would cover "20-plus" home matches.
"We'll do several high-profile exhibitions in February," Lashbrook said. "Our goal is to bring Major League soccer teams in for our preseason and host them here in Las Vegas to launch our season."
The Lights will also give anyone who purchases season tickets a free jersey.
Contact Ben Gotz at bgotz@reviewjournal.com. Follow@BenSGotz on Twitter.
Las Vegas Lights FC Season Tickets
*Pricing: $200 to $1,400*
*Website: http://www.lasvegaslightsfc.com/tickets
*Phone: 702-728-GOAL
*all season tickets come with free jersey