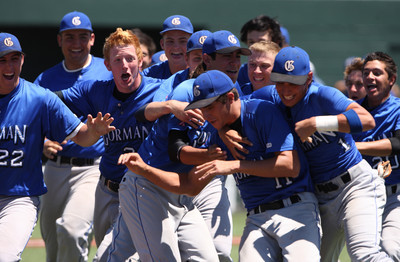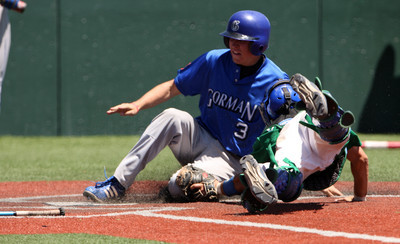 RENO — There's something about Bishop Gorman's baseball team and late-inning rallies in the state tournament.
The Gaels scored five runs in the bottom of the sixth Saturday at UNR's Peccole Park to break a 3-all tie and beat Green Valley 8-3 to capture their third consecutive Class 4A state title.
All three championships for Gorman (41-3) have come thanks to a late-inning rally.
"They don't come easy, and you appreciate every one for what they are," Gorman coach Chris Sheff said. "We have to play good baseball at the right time and beat good people to win state championships. They don't just come to you. And I think (the players) took care of business the way they were supposed to today."
Stephen Manthei started the sixth-inning rally by lining a single to left field, and Corey Laffler then singled through the right side to chase Green Valley starter Joe Robinson, who had turned in a solid performance despite having thrown 72 pitches Thursday.
After Joey Rickard popped out, Johnny Field lined a single to right to score pinch runner Matt Hall to break the tie. The Gaels added an RBI triple by Jeff Malm, an RBI double by Paul Sewald and an RBI single by John Rickard. Another run scored on an error.
"We had a motivational speech in between innings, and it just got us up," senior catcher John Rickard said. "Our intensity stepped up, and we knew all along that eventually we'd get on top."
Sheff said the team's experience helped in the tough situation.
"There's no panic in this club, and that shows, especially in the late innings because you see guys respond," Sheff said. "It's a tested club, an experienced club."
The rally started with No. 8 hitter Manthei, showing the team's offensive depth.
"Their hitters came through when they needed to, and that's the bottom line," Green Valley coach Nick Garritano said. "That's a potent lineup. That's about the most potent lineup I've seen in high school baseball since I've started coaching. They deserve it."
Joey Rickard started on the mound for the Gaels and gave the team five adventurous innings. He allowed two runs in the first before settling down and keeping the Gators scoreless until they plated a run in the fifth on an RBI single by Dominic McGovern.
Joey Rickard pitched out of a couple of tough situations, striking out Green Valley leadoff hitter Jordan Van Hoosier to end the fourth with two runners on, then striking out Eric Stewart with the bases loaded and the score tied at 3 in the fifth.
Joey Rickard allowed four hits, walked six and struck out six.
"It's a grind a little bit with him," Sheff said. "He's kind of effectively wild, and we're on the edge of our seats a lot with him. But he made some really quality pitches when he had to."
Joey Rickard also came through at the plate, hitting a solo home run to lead off the bottom of the first and adding an RBI double in the fourth.
"I was locked in today, just because I knew I needed to step up big," he said. "My team stepped up; that's why we were here. I just thought I owed it to them. I needed to do it for the seniors."
Sheff said the leadoff homer was especially important after Green Valley (34-7) had taken a 2-0 lead in the top of the first.
"The leadoff home run was huge, because they came out and kind of slapped us in the face a little bit with two runs," Sheff said. "Sometimes that can take the breath out of you. For Joey to hit a leadoff home run, it just kind of set the tone for the game that it wasn't going to be easy for them, either. It was a great answer for us."
Joey Rickard, John Rickard, Field, Sewald and Manthei each had two hits for the Gaels.
Contact Prep Sports Editor Damon Seiters at dseiters@reviewjournal.com or 702-380-4587.