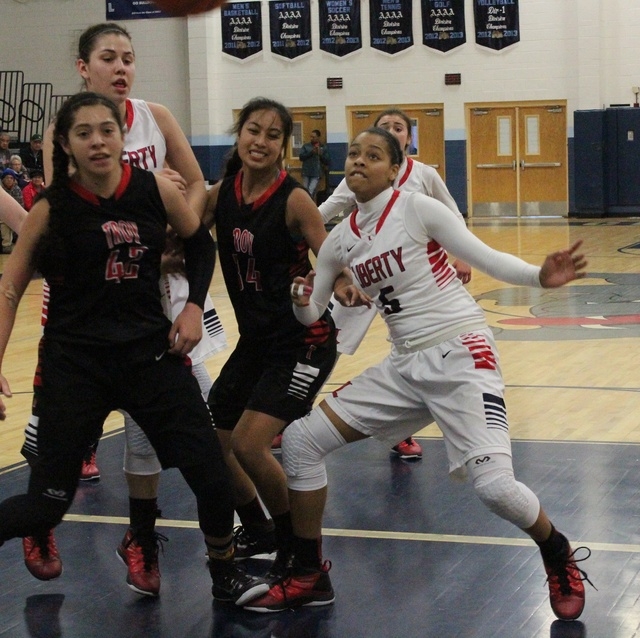 Jaelyn Royal turns 16 years old today. But Dec. 30 forever will be a much bigger annual celebration for the Liberty sophomore basketball player.
On that day in 2013, Royal underwent Chiari Malformation decompression surgery, a procedure that reduces or eliminates pressure on the spinal cord caused by the cerebellar tonsils. In order to decompress, a neurosurgeon makes an incision in the back of the head and removes a small piece of the skull.
So when Royal took the court with her teammates for the championship game of the Las Vegas Holiday Classic at Centennial on Dec. 30, it's understandable how it might have held a bit more meaning for her family than today.
"Just as well as it went this way, it could have easily went the other way," said her father, Keith. "Her recovery was miraculous, and it was months beyond what it should have been. So right now, at the one-year point, it's miraculous. I'm proud, she's put the hard work in to get back to this point, and it's just been a miracle to me."
As it should be, since his daughter wasn't released by doctors to do anything until April 1, about seven months before Liberty officially started preparing for this season. And at that point, all she was able to do was light shooting. It wasn't until midsummer when she was able to begin running and conditioning, to get back into playing shape. She wasn't allowed to lift weights until school began in late August.
"As a coach, and knowing what it takes, I'm always going to push," her father said. "But I really had to assess the situation and put our relationship as a father and daughter before basketball, because I don't want that fractured. I had to take a step back and let other people interject."
Like doctors and specialists, and, most important, his wife, Vicki.
"I had to cut them off; I had to have people supervising," Vicki Royal said. "I had to keep reminding him what the doctor said: no weights, limited running and little steps. And Jaelyn was the same way; I had to keep reminding her, because she felt great. But she still had to heal."
Nonetheless, each time the doctor gave a little more leeway, the 6-foot forward increased the number of times she would hit the gym, shooting long-range jumpers, or shooting field goals from a chair. Eventually, she was in the gym three times a day, hoping she would be ready to join the Patriots, last year's state runners-up.
"At first, I thought I would never recover, I thought I'd be in the hospital for months and I thought I wouldn't be able to play. I just didn't think I'd ever be the same," Royal said. "But I was really hungry to get back on the court. I knew that not a lot of people come back from something like that, so I just got hungry to make a comeback and was ready to start working hard."
Royal credits her family, friends and teammates for keeping her positive throughout her recovery, and said frequent visits from team captains Paris Strawther and Aubre' Fortner led her to believe she could come back 100 percent, knowing her team was eager to have her don navy and red again.
"Not too many people can recover from that mentally, but she's been amazing during her comeback," Liberty coach Chad Kapanui said. "To see her progress, it's just been amazing."
Royal appeared in every one of the team's first 16 games. And though she isn't tearing things up statistically — she's averaging 2.6 points and 1.8 rebounds — Kapanui said she's been vital in coming off the bench to give Strawther, a UNLV signee, or some of his other low-post players rest.
"We have a real good team, and she's young," said Kapanui, whose team is 13-3 and ranked No. 3 in the Southern Nevada coaches poll. "But with her taking a role of coming in and giving us quality minutes, she's been awesome. She's very versatile. I've been playing her in the post because she can play down low. But she can shoot and handle (the ball), too. She's a very good player, and she's worked hard to get back on the court. She's earned her role on this team and will only get better."
For now, that's just fine with the Royals, who remember a year ago it wasn't about celebrating her birthday but more so about a life-changing procedure.
"I'll always be a little paranoid, just because she's always going to have it, she's always going to have that malformation," Vicki Royal said. "Whether it grows or not, that's one thing. We're hoping it doesn't grow, the surgeon reassures us it's not going to grow, but it's always going to be there, and me being a mom, I'm always paranoid.
"But Jaelyn is better than ever, stronger than ever, and she just feels great. She amazes me every day. God is good."
Jaelyn Royal said: "I'm excited now, I love being on the court and I have so much support from my teammates, my friends and especially my parents. Without any of them, I wouldn't be able to get through all this."