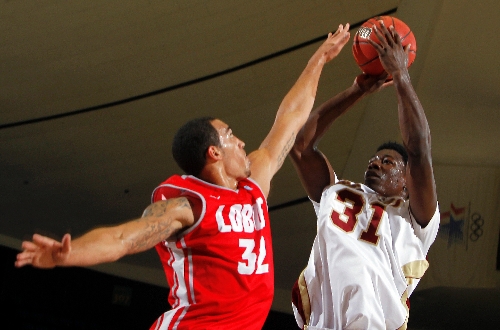 ANAHEIM, Calif. — Niyi Harrison hit two go-ahead free throws with 1:59 left in overtime to lift Santa Clara to a 79-76 victory over New Mexico on Thursday in the opening round of the 76 Classic.
Kevin Foster scored 26 points and former Foothill High standout Evan Roquemore had 24, and they combined for nine of the Broncos' 11 3-pointers. Harrison added 19 points for Santa Clara (3-1).
Tony Snell scored 18 points for the Lobos (2-2). Hugh Greenwood added 14.
Harrison broke an overtime tie to make it 76-74 with his free throws. Raymond Cowels was fouled moments later and hit two free throws to give the Broncos a four-point cushion.
Jamal Fenton made two free throws for the Lobos, who then intentionally fouled Foster. He split his free throws, putting Santa Clara up, 79-76.
New Mexico called timeout to set up a final play, but Phillip McDonald's 3-pointer hit the back of the rim.
TOP 25
■ No. 4 Connecticut 73, North Carolina-Asheville 63 — At Paradise Island, Bahamas, Shabazz Napier and Jeremy Lamb each scored 23 points to help the Huskies run their winning streak to 16 games with a victory over the Bulldogs in the first round of the Battle 4 Atlantis.
Napier made four 3-pointers, including a late four-point play, and also had seven assists and three steals for defending national champion UConn (5-0). The Huskies shot 25 of 47 from the field and 9 of 22 from 3-point range to easily overcome 19 turnovers.
Matt Dickey led Asheville (2-3) with 18 points, and Jeremy Atkinson added 18.
■ No. 22 Florida State 73, Massachusetts 53 — At Paradise Island, Bahamas, Michael Snaer had 18 points and 10 rebounds and the Seminoles took advantage of the Minutemen's dismal shooting in a first-round victory of the Battle 4 Atlantis.
Luke Loucks added 12 points, and Bernard James had nine points and five blocks for Florida State (5-0).
Raphiael Putney scored 11 points for Massachusetts (4-1). The Minutemen were 19 of 68 from the field and just 2 for 23 from 3-point range.