Magsino's state swimming title brings acclaim to Legacy program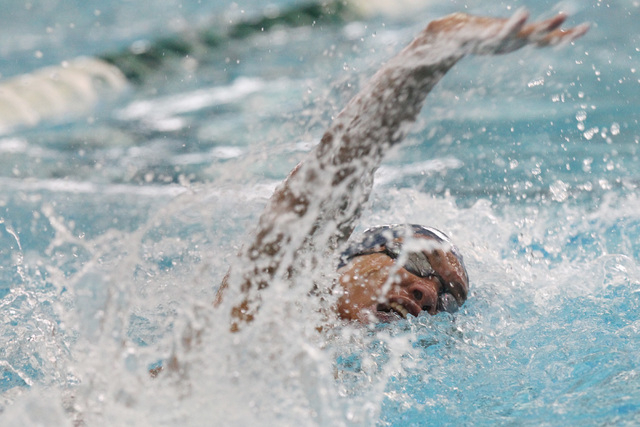 The high school located just off the 215 Beltway in the northern-most part of North Las Vegas is not known for housing elite swimmers.
On Legacy's campus, however, Isiah Magsino is anything but anonymous.
All it takes is one look at his hand.
"I wear the (state championship) ring around, a lot," Magsino said with a sheepish grin. "I think having a state title gives respect and brings attention to the sport."
Magsino, a senior for the Longhorns' boys swimming and diving team, is the defending Division I state champion in the 100-yard backstroke and the only swimmer in school history to win a state title.
And his success — not to mention that bling on his finger — has helped put the spotlight on a program that might otherwise go unnoticed.
"Swimming is overlooked at most schools, but he put us on the map as far as that goes," second-year Legacy coach Rachel Meadow said. "The kids around school notice it. His success helped get kids interested."
Magsino, whose father, Fernand, is in the Navy, was born in Hawaii and also lived in Guam, Chicago and San Diego. As an eighth-grader, Magsino moved from Memphis, Tenn., to Las Vegas for his second stint in the valley.
"Going from the South back to Vegas, I've seen the best of both worlds," he said.
Magsino attended Canyon Springs as a freshman and finished fourth in the 100 backstroke at the state meet. He sat out his sophomore year after transferring to Legacy and made a big impact when he became eligible last season.
Magsino, who trains with the Sandpipers of Nevada club program, set a Division I Sunset Region record in the 100 backstroke (51.65 seconds) and bettered that time at the state meet, winning in 50.84. The latter mark is No. 3 in state history, according to the Nevada Interscholastic Activities Association record book, and not far off the state record of 49.94 set by Sparks' Brian Retterer in 1990.
Magsino also finished second at state in the 200 individual medley (1:54.50) as a junior and swam a leg on the Longhorns' 400 freestyle relay that took fourth place.
"He's really great with team spirit and getting teammates to swim faster," Meadow said. "Being on the relays, the kids see how you're supposed to act. He's a great example to the other kids."
Magsino had his wisdom teeth removed during spring break and missed almost two weeks of training this season while he recovered. He remains the favorite for the state title in the 100 back and should be pushed by Centennial's Carter Grimes, the state runner-up last season. Green Valley senior Michael Velazquez is the defending state champ in the 200 IM.
The Sunset Region meet takes place Wednesday (trials) and May 9 (finals) at UNLV's Buchanan Natatorium, followed by the state meet May 16 at Carson Aquatic Facility in Carson City.
"It's hard to miss a day, and the fact I missed almost two weeks so close to state makes me kind of nervous," Magsino said after Saturday's meet at Pavilion Center Pool. "But, I am a sprinter and this is my second week back, so I have three more weeks to get back in shape. I'm hoping my sprinter qualities can help me, and also my drive."
Magsino will continue his swimming career at Fordham. He expects to major in marketing at the school located in the Bronx, N.Y.
"I've always loved New York," Magsino said, "and I thought Fordham was a perfect mixture of having a college-campus experience and also having so much access to the city."
Contact reporter David Schoen at dschoen@reviewjournal.com or 702-387-5203. Follow him on Twitter: @DavidSchoenLVRJ.