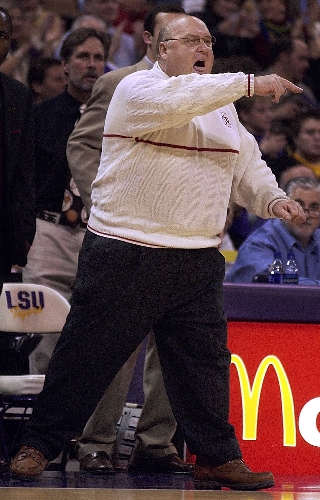 LOS ANGELES – Rick Majerus, the jovial basketball-obsessed coach who led Utah to the 1998 NCAA final and had only one losing season in 25 years with four schools, died Saturday. He was 64.
Utah industrialist Jon Huntsman, the coach's longtime friend, confirmed that Majerus died of heart failure at a Los Angeles hospital. The coach had been hospitalized there for several months.
Players and fellow coaches remembered Majerus, who got his start as an assistant under Al McGuire at Marquette, as a coach who was exacting and perhaps unorthodox at times, but always fair. Majerus was known for assembling rosters with an international flair, and his final team at Saint Louis had players from Australia and New Zealand.
"It was a unique experience, I'll tell you that, and I loved every minute of it," said Saint Louis guard Kyle Cassity, who was mostly a backup on last season's 26-win team after starting for Majerus earlier in his college career. "A lot of people questioned the way he did things, but I loved it. He'd be hard as hell on you, but he really cared."
Saint Louis announced Nov. 19 that Majerus wouldn't return as coach because of the heart condition. He ended the school's 12-year NCAA Tournament drought last season, leading a team that won its opening tournament game and took top regional seed Michigan State to the wire. The Billikens were ranked for the first time since 1994-95.
Majerus was undergoing evaluation and treatment in California for the ongoing heart trouble and the school announced he was on leave in late August.
While Majerus coached Utah from 1989 to 2004, his teams were perhaps UNLV's greatest rivals.
Former Rebels coach Jerry Tarkanian was saddened by Majerus' death.
"I always liked Rick. He was a great coach," Tarkanian said. "His teams were always well prepared. I respected what he did and we always got along."
UNLV coach Dave Rice said, "Coach Majerus was one of the great strategists. When you went up against one of Coach Majerus' teams and you won, it meant you had prepared well."
Majerus compiled a career record of 517-216, notching 15 20-win seasons and two 30-win seasons. He had his most success at Utah, going 323-95 over 15 seasons. He coached at Marquette from 1983 to 1986, and Ball State from 1987 to 1989. In five seasons with Saint Louis, his record was 95-69.
Majerus had a history of heart and weight problems dating to 1989 that persisted despite a daily constitutional of a mile swim. He had a stent inserted in August 2011 in Salt Lake City and missed some games during the 2011-12 season after gashing his leg in a collision with players.
He backed out of a commitment to coach Southern California because of heart problems.
The portly coach was unabashed in his love of food, always quick with a restaurant recommendation for whatever town his teams were playing in.
Majerus' autobiography, "My Life On a Napkin," came out in 2000.
Las Vegas Review-Journal reporter Steve Carp contributed to this story.