Miami commit Brevin Jordan is top playmaker for Bishop Gorman
October 31, 2017 - 5:01 pm
Updated October 31, 2017 - 6:26 pm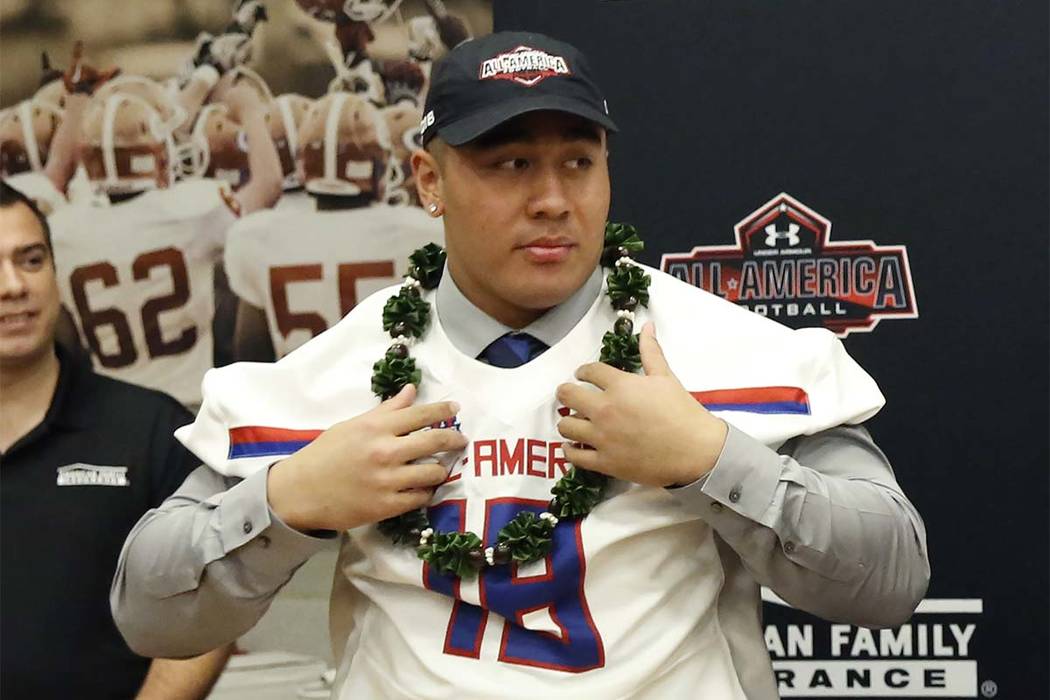 Bishop Gorman senior Brevin Jordan will conclude his prep football career as an Under Armour All-American, a Miami commit and the top-ranked tight end recruit in the country.
And to think he didn't want to play the position.
Jordan arrived at Gorman in 2014, hoping to play wide receiver. But the coaching staff converted him to tight end, where he blossomed into a high school Rob Gronkowski — big, fast and full of personality — and leads his team with 743 receiving yards this season.
"You've got a guy who is a route-runner, weighs 250 pounds and can stay in and block," Gaels coach Kenny Sanchez said. "You see the Gronks in the NFL, they're just tough to deal with. And he's the same way."
Thanks to an undying passion, and a veracious desire to improve.
Jordan's father, Darrell, was drafted by the Atlanta Falcons in the ninth round of the in the 1990 NFL Draft, and inspired him to start playing tackle football when he was 5 years old, competing in the 8-year-old age division.
"I knew at a young age that I wanted to go to the NFL," the younger Jordan said. "I want to live my dream of playing football through my dad."
He played running back as a youth and shared the backfield with Gaels quarterback and UCLA recruit Dorian Thompson-Robinson, who said Jordan was always an imposing player with whom he formed "a one-two punch."
But Jordan was tired of the punishment that accompanies the tailback position and wanted to try his hand at receiver, much to the chagrin of a coaching staff that recognized his potential as a tight end.
"At first he was like 'No, I'm not a lineman,'" said his mother, Beverly. "Just being a competitor, he trusted the process."
Jordan worked with Gorman's strength coaches and beefed up under their tutelage. He cracked the varsity lineup as a sophomore and grew into a top target for former Gaels quarterback Tate Martell.
Colorado offered Jordan a scholarship during his sophomore year, and seemingly all the preeminent college football programs followed suit.
But he settled in April on Miami, which he affectionately refers to as "Tight-End U" — a nod to the Hurricanes football alums who turned into Pro Bowl tight ends, like Jeremy Shockey, Kellen Winslow Jr., Greg Olsen and Jimmy Graham.
"It was the obvious decision," Beverly Jordan said. "It just clicked."
So, yeah, that tight end thing worked out pretty well.
Jordan now stands at 6-foot-3 and checks in around 250 pounds. He overwhelms opposing defensive backs with his size and strength, and is fleet-footed enough to outrun linebackers.
He's one of Gorman's captains, too, and he galvanizes the Gaels with both his gregarious demeanor and his touchdown receptions.
"You really can't (cover him)," Thompson-Robinson said. "He's big, he's strong, he's physical. He's also fast. He's everything you look for in a tight end. … If I know I need somebody to go to, it's always going to be him."
Clark tops Gorman in preseason tourney
Junior wing Jalen Hill made a layup as time expired to lift Clark's boys basketball team to a 50-48 victory over defending Class 4A state champion Bishop Gorman in the preseason Halloween Hoops tournament championship game at Coronado on Sunday.
The Gaels came from behind to beat the Chargers in the 2017 Class 4A state championship game. They're scheduled to meet twice during the 2017-18 regular season.
Sunrise Mountain defender nearing record
Sunrise Mountain pass-rush specialist Dalwin Spates has 20.5 sacks through nine games this season. He needs one sack to eclipse the Class 3A single-season record of 21, set by Josh Paulman of Fernley in 1995.
Contact reporter Sam Gordon at sgordon@reviewjournal.com. Follow @BySamGordon on Twitter.