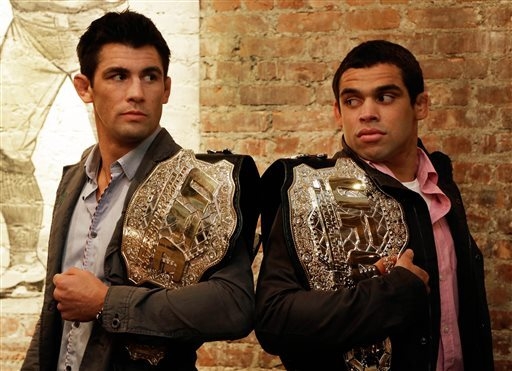 Yet another injury has forced UFC bantamweight champion Dominick Cruz to pull out of a fight.
This time, it will cost him the belt.
Cruz has been stripped of the title after the UFC on Monday announced he had to pull out of a scheduled bout against interim champion Renan Barao at UFC 169 on Feb. 1 because of a torn groin. Barao was named champion and will defend the belt against Urijah Faber in the main event of the Super Bowl weekend card in Newark, N.J.
Faber went 4-0 in 2013, with three wins by submission. His last loss came to Barao in a one-sided unanimous decision for the interim belt in July 2012.
"Urijah Faber is going to step in on three weeks' notice and fight Barao," UFC president Dana White said on ESPN. "Faber has been on an absolute tear with four wins in 2013 against top competition. Not only is he a stud, but he agreed to step up and take this fight."
Cruz last fought in October 2011 when he defended the bantamweight belt with a unanimous decision win over current flyweight champion Demetrious Johnson. He has been out since that fight after undergoing a pair of surgeries to repair a torn ACL.
Barao had defended the interim belt twice since defeating Faber for it.
During the same announcement, White said he believes Anderson Silva is planning a return to fighting after breaking his leg during a fight against Chris Weidman last month.
"Anderson will be back ready to train in six months," White said. "I'm going to visit him, but from everything I hear, he's doing great and he wants to come back."
■ SINGAPORE RESULTS — Former Strikeforce welterweight champion Tarec Saffiedine was successful in his UFC debut, scoring a unanimous decision over Hyun Gyu Lim in the main event of Fight Night 34 on Saturday in Marina Bay, Singapore.
Featherweight Tatsuya Kawajiri made his UFC debut with a second-round technical submission win over Sean Soriano.
The event was the first to air exclusively on the UFC's new digital platform, UFC Fight Pass.
■ ORTIZ ARRESTED — Former UFC light heavyweight champion Tito Ortiz, currently with Bellator Fighting Championships, was arrested early Monday for suspicion of DUI after crashing his Porsche on a Los Angeles freeway.
According to television station KTLA, Ortiz and two passengers were headed north on Interstate 405 when he hit a concrete median around 4 a.m. There were no injuries and the car sustained moderate damage, according to KTLA's website. Ortiz was released after posting $15,000 bail, according to the station.
According to several reports, Ortiz was leaving a BCS title game pre-party at the Playboy Mansion.
■ WEIDMAN: BELFORT TRT 'UNFAIR' — The UFC's announcement that it plans on Chris Weidman's next title defense against Vitor Belfort happening in Las Vegas has sparked renewed debate on Belfort's testosterone replacement therapy.
Belfort was granted a therapeutic use exemption for testosterone in his last few fights, which were held in his native Brazil and overseen by the UFC.
He is likely to face greater scrutiny by the Nevada Athletic Commission, however, because he failed a test for steroids in the state following a 2006 fight.
Weidman told FoxSports.com last week he's not entirely comfortable with Belfort's use of testosterone.
"He's failed a drug test before. He's on TRT now. I don't agree with TRT to begin with, so him failing a drug test and being on TRT, I don't really like it. So I appreciate there will be a commission making sure he's doing things right," Weidman said. "I don't have high testosterone at all. I'm completely fine. I guarantee (Belfort's) testosterone on TRT is two or three times higher than mine. I wake up and I work hard two or three times a day. I don't feel that there's a need for it, and if it comes to point where you need it, then you retire, you don't fight.
"Fighting is a sport where strength is important, and if you're going to have extra testosterone, especially after you've been caught cheating, it's unfair."
No date for the fight has been set.
■ HIGH OUT, BRENNEMAN IN — Jason High had pulled out of a scheduled lightweight fight against Beneil Dariush after suffering a ruptured appendix Jan. 1.
Charlie Brenneman, 4-0 since being released by the UFC following his second straight loss in September 2012, has been brought back to the organization to replace High against Dariush at UFC Fight Night 35 in Gwinnett, Ga., on Jan. 15.
Dariush, who trains in Las Vegas, was himself a late replacement. High was originally slated to face Adlan Amagov.
UFC Fight Night 35 features a middleweight main event between Luke Rockhold and Costa Philippou. Also, Lorenz Larkin will fight Brad Tavares in a matchup of middleweight strikers.
The event airs on Fox Sports 1 (Cable 329).
Contact reporter Adam Hill at ahill@reviewjournal.com or 702-224-5509. Follow him on Twitter: @adamhilllvrj.