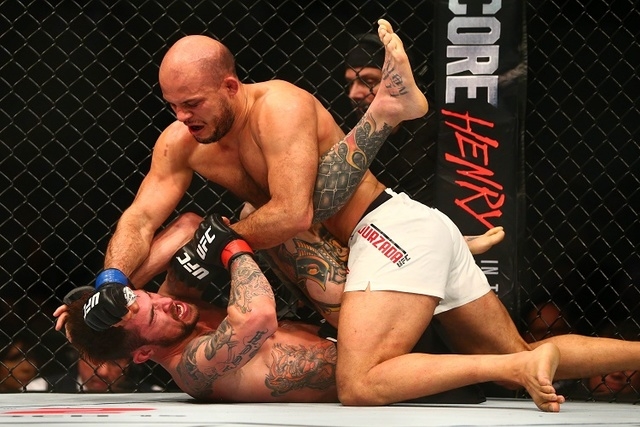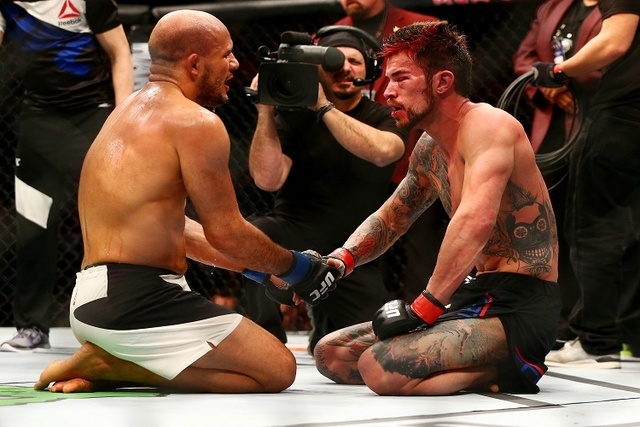 Siyar "The Great" Bahadurzada was told by doctors he wouldn't be able to compete in mixed martial arts again.
The welterweight competitor from Afghanistan refused to accept his fate. Two years and two shattered shoulders later, Bahadurzada had his arm raised by an Ultimate Fighting Championship official in victory.
"I couldn't even hold a glass of water," Bahadurzada said. "Fighting back from a time like that was difficult when nobody believed in me. My doctors … everybody said this was it. You're done."
With a revamped fighting technique, Bahadurzada put Brandon Thatch in an arm-triangle choke to force the submission in the third round during the prelims of "McGregor vs. Diaz" on Saturday at the MGM Grand Garden Arena.
It was the first time Bahadurzada (22-6-1) stepped into the octagon since December of 2013 and his first win since April of 2012.
"This sport evolves really fast and to be out for two years and get a win out of the gate is by far my biggest accomplishment," Bahadurzada said.
The last time the Afghan was in the octagon, Bahadurzada faced John Howard despite injuring both shoulders during training camp.
Bahadurzada said he took cortisone shots in his shoulders before losing via unanimous decision.
"When I went back home I had shoulder surgery," Bahadurzada said. "I couldn't sleep for 10 months because of the surgery. I literally went through hell, I literally went through hell."
Bahadurzada said seeing the light at the end of the tunnel and motivation from his trainer Greg Jackson got him through the dark days of recovery.
Bahadurzada was known as a striker and going to the ground wasn't in his arsenal. That changed under Jackson.
"So when I started training with Greg Jackson he told me 'This is MMA, not striking. You have to be able to do everything,'" Bahadurzada said.
The new training helped Bahadurzada take down Thatch and complete his first submission since 2007.
It was a night of many firsts for Bahadurzada.
Contact Gilbert Manzano at gmanzano@reviewjournal.com or 702-383-0492. Follow him on Twitter: @gmanzano24