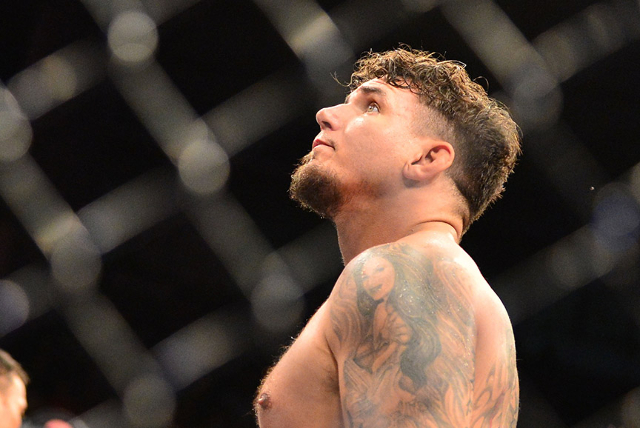 When Frank Mir, a former Ultimate Fighting Championship heavyweight champion, first trained with Todd Duffee more than five years ago, his initial impression was similar to that of most observers.
Duffee'€™s athleticism and physique are difficult to miss.
"The average fan will look at him take his shirt off when it'™s time to weigh in and go, '€˜Oh, my,'"€ Mir said.
Duffee has been pegged as a potential champion since making his UFC debut with an organizational record seven-second knockout of Tim Hague in 2009. It didn'€™t take long for Mir to figure out what might prevent Duffee from reaching his potential.
"€œI thought he had a lot of physical attributes, but some of the conversations I'€™ve had with him, I just don't know,"€ Mir said. "€œSome of his doubts and the way he overthought things was frustrating, to say the least. I think a lot of his training partners, if you ask what it's like to deal with Todd's mental situation, I don'€™t think anyone'€™s going to say it'€™s easy."€
The heavyweights trained together briefly, but will renew acquaintances tonight in the main event of a UFC card in San Diego.
Mir offers a harsh critique of Duffee'€™s career.
"€œI think he's kind of been a bust,"€ Mir said. "€œWhen he walks into the gym and you see him and then watch him hit pads and moving around, he looks like a king. People thought this guy was the next thing. It'€™s almost like that guy in the NFL that goes to the combine and runs a 4.3 (40-yard dash), has a 42-inch vertical, rips out 35 reps at 225 (pounds) and the Raiders are drafting him and you never hear from him again, because when it comes to actually performing on the field, it just doesn'€™t work out.
"That's kind of been Todd Duffee'€™s career. He'€™s performed well at times, and people say, 'Well, he'€™s had a bunch of first-round knockouts,'€™ and I'€™m just like, €˜Against who?'"€
After the victory over Hague, Duffee suffered a shocking third-round knockout loss to Mike Russow in a fight he controlled from the opening bell. He was surprisingly released from the organization after an alleged business dispute with UFC officials.
Duffee went overseas and got knocked out by Alistair Overeem in his next fight in December 2010. He bounced back to win a fight and was re-signed by the UFC in late 2012.
Duffee is 2-0 in his second stint in the organization, but those fights have come over an extended period because of an injury and a bout with Parsonage Turner Syndrome (a neurological disorder). Now fully healthy and training full time at American Top Team in Florida, Duffee thinks he'€™s ready to finally live up to expectations.
"€œI definitely feel like it'€™s my time,"€ he told reporters Monday in San Diego. "€œI'€™ve matured. That'€™s the biggest thing for me. I was (always) very (talented). There'™s no question. You can'€™t argue that. But I didn'€™t have a good camp, I never had that good support system like I do now. I didn't have the experience that I do now.
"I'™m just a different guy."€
He knows a win over Mir, one of the most accomplished heavyweights in UFC history and a future Hall of Famer, would show how far he has come in his development.
That'€™s why he was so aggressive in calling out the Las Vegan. Mir has been around long enough to understand the business, but he thought Duffee was excessive in his lobbying.
"€œI thought our relationship was decent,"€ Mir said. "œI thought he was a friendly guy. It'€™s not like I'€™ve eaten dinner at his house, but I thought we were cool with each other. Even him calling me out didn't bother me at first. That'€™s what fighting's about. Shawn Jordan called me out, but he didn'€™t do it in a disrespectful way. I saw some of the rants (Duffee) was putting out there on social media and everything about what he was going to do to me, so I called up the UFC and said, '€˜Let'€™s do this.'€™
"He talked himself into a beating."
Mir, 36, has been rejuvenated by a first-round knockout over Antonio "Bigfoot"€ Silva in February. He had lost four straight fights, all to top contenders, and decided to take a year off from competition. After pondering retirement, he took the Silva fight, and now says the only thing that could stop him from fighting in the foreseeable future is if it's taking too much time away from his family.
The fight headlines a card that also features a lightweight bout between Josh Thomson and Tony Ferguson. Fox Sports 1 (Cable 329) will televise the main card at 7 p.m. and the preliminary card at 5.
Contact reporter Adam Hill at ahill@reviewjournal.com or 702-224-5509. Follow him on Twitter: @adamhilllvrj.