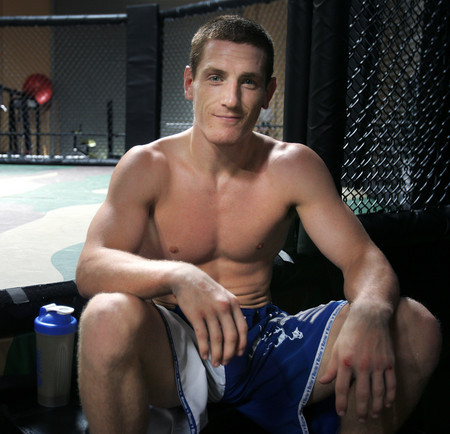 The Review-Journal recently sat down with Ultimate Fighting Championship competitor Mac Danzig after a workout at the Xtreme Couture Training Center.
The 29-year-old Las Vegan is preparing for his lightweight bout against Jim Miller at UFC 100 on Saturday at Mandalay Bay.
Danzig (18-6-1) was the Season 5 champion on "The Ultimate Fighter" reality show, but he has lost his last two fights.
Danzig talks about the mindset of a fighter, what it's like to lose and what he does in his spare time to take his mind off his violent profession.
When did you realize you wanted to be a professional fighter?
I think it was in 2001, when I did my first amateur tournament. I won three fights in one night, all by submission. I wasn't really sure how far I was going to take it at that time, but after I won that tournament, I decided right then I knew this was something I wanted to do.
As you moved from there, was there a low point in your career when you thought that it may not happen for you?
The low point was probably in 2004 when the sport was still mostly underground. Zuffa had just acquired the UFC and hadn't really started exposing the mainstream to the sport. The pay was really, really low, and it was hard just to get a fight. At that point, I was fighting maybe once or twice a year for a couple hundred dollars. I wasn't really sure if I was going to be able to do it for a living, and I was seriously considering quitting to try to do something else because it just wasn't lucrative.
When was the turning point that made you realize you could make it in mixed martial arts?
When I won a world championship in a smaller organization. It was called King of the Cage. I won their lightweight title (in October 2005), and I had a feeling that I could take it a little bit farther.
Do you think there is something in a person's mentality that leads them to be able to succeed as a fighter?
Yeah, I definitely think that people who end up being successful fighters, no matter what their personality is, are usually very determined people. Sometimes they are headstrong and kind of hardheaded in a way, but regardless of any of that, they are almost always determined people who have a lot of heart.
As you prepare for a fight, how long is your training camp and what is your typical day like?
I like to get in at least eight weeks of very hard training. I'll be training other than that leading up to it, but eight weeks is a good time for the hard training camp. During that time, I usually train twice a day, about two to three hours each time. The training consists of a morning workout of either a really good cardiovascular and conditioning workout or hitting mitts with my boxing coach. In the evening, it's sparring. Either kickboxing or MMA-style sparring.
What is your mental state during a training camp?
It's normal to get really exhausted. If you're not exhausted or worn out or tired, you're probably not training hard enough, so that's actually a good indicator. One of the things that I like to do is make sure I give myself one day off per week where I don't think about MMA at all. Not only is it physically draining, but it's mentally draining, so I like to take one day a week, usually Sunday, where I don't think about fighting. I don't watch fights on video. I just spend time with my daughter (9-month-old Nova) and work on my photography and things like that.
As you're walking to the cage, what are you thinking about and what's going on in your mind?
I'm usually trying to control the nervous energy. That is something that consumes anybody who's about to compete in a big event. I'm trying to stay focused and keep my mind clear and start thinking about technique and the task at hand. It's easy to get caught up in the crowd and kind of get that deer-in-the-headlights feeling, but I'm doing my best to stay focused, almost in a meditative state. I know I'm about to have a really big job ahead of me in a minute or two, so I'm staying focused on technique.
With so much going on in the arena — the crowd, the cameras, the judges — is it difficult to stay focused on the opponent in front of you when the fight begins?
It's only difficult if your mind isn't right. If you're distracted, you'll tend to hear individual voices in the crowd. You'll tend to hear things that you shouldn't be hearing. If you're focused properly, you won't really hear any of that. You may hear your coach's voice because you're used to hearing it your whole training camp, but if your mind is right, you should only be thinking about your opponent and the crowd and everything else should get lost in the back of your mind. You shouldn't even be thinking about them. It should be almost you're fighting a guy in a gym and it's just you and him.
After a fight is over and you've won, what is that feeling like?
Winning is probably the best feeling there is in fighting. It's the highest high and the lowest low if you lose. Winning gives you the greatest sense of accomplishment. There's no greater feeling than that.
When you have gone through all that hard work and you get to the end of a fight and lost, what is that like?
A loss is the hardest thing for a fighter to deal with and it's the most disappointing thing, especially when you have trained really hard and you put in so many hours in the gym and you've worked so hard at attaining a goal and you fall short. That's the hardest thing to deal with, but part of being a fighter is dealing with losses, and you've got to be able to somehow get past that depression and think optimistically about it. It's all about how you come back from a loss. That tells more about a fighter than how they deal with a winning streak.
What advice would you give a young fighter, either someone just getting into MMA or thinking about getting into the sport?
I'd say to take it one day at a time and train with the best people you can. Learn what you're all about with hard training before you decide whether you want to dedicate yourself to fighting and whether you want to dedicate your entire life to it. It's a huge undertaking. It's not something to be taken lightly, so really learn what you're all about. If you try to jump completely into it without any experience, it might be a bad idea.
You mentioned you enjoy photography. How important is it for you to balance your life with a hobby that is so different from your job?
It's extremely important to me because I've been doing the sport for so long. I've had many years in the sport and many fights and many training camps. It's gotten to the point where I still love the sport, but I can't dedicate so much of my mind and my mental and emotional energy into nothing but competing all the time. I need something else to balance it out. I've always enjoyed nature, and photography is a great reason to get out in nature. Get away from people and get away from the fight scene and just clear my mind and do something artistic and constructive at the same time. It's very important as far as balancing my life out. It has saved me thus far.
COUNTDOWN TO UFC 100