UFC plots aggressive path to expand global empire
August 12, 2013 - 12:42 pm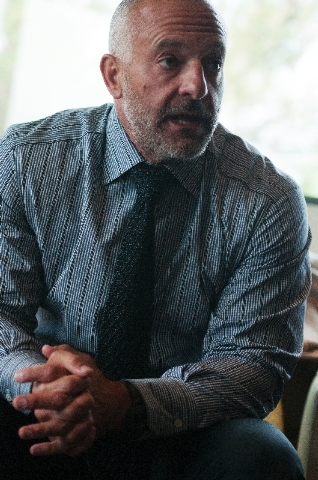 Dana White once floored Canadian reporters with one of his patented grenadelike remarks. But like many in-your-face quips from the president of Las Vegas-based Ultimate Fighting Championship, his slightly off-color comment was all about marketing.
White called UFC welterweight champion Georges St-Pierre Canada's most famous athlete because he was better-known around the world than was hockey superstar Wayne Gretzky.
Sacrilege, protested the assembled Canadian press.
White then placed the media in a verbal chokehold, saying "Let's fly Georges St-Pierre and Wayne Gretzky anywhere else in the world other than America and Canada. Who gives a s—?"
It's hard to quibble with his sentiment that fighting is the world's universal sport. Consider this: mixed martial arts superstar St.-Pierre is known in Mexico City, Rio de Janeiro, London, Manila, Shanghai, New Delhi, North Africa and the Middle East. Gretzky? Well, not so much outside North America and European hockey-playing nations.
That's exactly why after conquering the Western Hemisphere with the exception of New York State, where MMA fight shows are outlawed, UFC is approaching global domination.
UFC content is already broadcast by more than 30 TV networks in 28 languages in 145 nations with a potential of more than 800 million viewing households.
With an average of more than three people per household ­— and more in poorer countries — that's at least 2.5 billion people who have access to watching UFC fights and programming.
Now, the Las Vegas MMA production, media and promotion company plans to make fans out of just about anyone on the planet who has a TV screen, a mobile communications device or cash for an event ticket.
OVERSEAS INCOME
In an interview with the Review-Journal, Zuffa Chief Executive Lorenzo Fertitta projected UFC's annual international revenue from sources such as staging fights, media sales, sponsorships and merchandise will outstrip its domestic revenue by 2015.
UFC currently generates about 40 percent of its annual revenue outside the United States.
Zuffa manages UFC, which was bought by Fertitta and brother Frank Fertitta III for just $2 million in 2001. Frank Fertitta concentrates on the Fertitta family's Station Casinos, while Lorenzo Fertitta and White, his friend since high school, run the MMA empire.
In just a dozen years, UFC has grown into an enterprise valued at $2 billion, rivaling the market worth of the NFL's Dallas Cowboys or Major League Baseball's New York Yankees.
UFC's annual revenues are more than $500 million. Since UFC is a private company, financials such as net income and expenses are private.
After cutting several major TV partnership and fight event deals in countries from Mexico to China over the past three months, Fertitta revealed UFC soon will expand into a new frontier: sub-Saharan Africa, where UFC will make its fights and related content available through smartphone apps in 18 languages.
Africa is an intriguing market for UFC, which has done its homework on the media most used there to consume entertainment, Fertitta said.
"What we found is that over 90 percent of the way people consume entertainment in those markets is through mobile devices," he said at UFC headquarters on West Sahara Avenue.
UFC has cut a multiyear, multihundred-million-dollar broadcast-rights deal with Fox Sports or partnered with Latin American TV companies to produce UFC fights and content. But in sub-Saharan Africa, the fight company is strategically circumventing traditional TV broadcasters and working with mobile phone companies instead.
It's a strategy that will help the bottom line, allowing UFC to "garner a larger share of the revenues," Fertitta said.
One African nation of particular interest to UFC is South Africa, where the company is looking into staging live events, cutting broadcast deals and distributing programming via cellphones.
"South Africa has a pretty good market for mixed martial arts," Fertitta said.
In Asia, UFC will unveil its popular "The Ultimate Fighter" reality TV show in Hindi to reach India's 1.2 billion people.
Fertitta explained that "The Ultimate Fighter" will be used as a media tool to help recruit India's best MMA fighters while exposing the UFC brand and fights to a giant market outside of the UFC broadcasts already aired in India by the Sony Entertainment Television network.
Other global initiatives include live events in new markets such as Warsaw and Istanbul in 2014, Fertitta said.
FIVE-YEAR PLAN
The expectation that UFC will generate more revenue from international operations in coming months is the culmination of a five-year game plan, Fertitta said.
UFC's business strategy is predicated on one simple notion: Two people fighting is the most universal sport of all.
"When you look at the sport landscape, most sports have problems traveling to other countries," Fertitta said. "Take the NFL, the biggest sport in this country. I grew up with the NFL. But the NFL is not in South America or Asia. We have the most simple form of sport. (Put) two tremendous athletes in an octagon, and let them compete."
UFC's push for world athletic domination follows several high-profile global agreements consummated in the past three months.
They include:
■ Partnering with Latin America broadcast powerhouse Televisa Networks to build and distribute a new UFC subscription channel in 20 Spanish-speaking countries, including Mexico, Colombia and Argentina. It's a model already in place with TV Globo in Brazil, a hotbed for MMA and UFC.
The first live UFC event in Mexico City will happen next year. In addition to the new subscription TV channel, there will be quarterly free broadcast events to expose the brand.
■ Deepening investment in Asia to stage live events at The Venetian Macau and Marina Bay Sands, the luxury Singapore property of Sands China's parent company, Las Vegas Sands Corp. UFC for the first time will co-produce a Chinese version of The Ultimate Fighter TV to reach more than 830 million viewers across China.
■ Scoring a political victory in Canada with a House of Commons update of a 69-year-old law to spell out that MMA is officially legal north of the border. The UFC waited four years for that law to be updated.
■ Staging a world tour with pit stops in Sweden, England and Brazil to hype the UFC brand.
All the international wheeling and dealing follows UFC's global business strategy of partnering in media production and promotion of its fight events, rather than selling its content to foreign media companies. This approach allows UFC to retain control over its content while directly receiving revenues from its fight events and ancillary revenue-makers such as sponsorships, and sales from DVDs, magazines, video games and logo gear.
That strategy is consistent with UFC's biggest money maker: pay-per-view fight events.
UFC officials also want to broadcast more live prime-time fights in major cities across the world so that local TV audiences in those time zones or near those time zones can watch fights during traditional evening or weekend hours.
For example, UFC fights are scheduled to be broadcast from new international host event cities such as Berlin, Istanbul, Mexico City and Warsaw in 2014.
UNDERSTANDING MARKETS
To execute UFC's plan for global domination, the company has dedicated 20 percent of its 500-worker force to offices around the world. UFC deploys about 100 workers in London, Toronto and Beijing.
After launching its international push in 2008, UFC followed a strategy of hiring international business talent from other sports.
"We hired smart people who understand individual markets," Fertitta said.
In Canada, for example, UFC hired Tom Wright in 2010 as director of Canadian operations. Wright was a Canadian Football League commissioner and former president of adidas Canada.
That same year, UFC hired Mark Fischer to be Asia executive vice president and managing director. Fischer has extensive sports contacts in the region, where he had worked since 1997 and was most recently NBA Asia's senior vice president and managing director.
In 2012, Garry Cook became UFC's executive vice president and managing director for operations in Europe, the Middle East and Africa. Cook was chief executive of the Manchester City Football Club in England for three years. Before that, at Nike, he worked closely with NBA superstar Michael Jordan and led Nike's Brand Jordan campaign.
In Brazil, where MMA is the nation's second-most-popular sport behind soccer, Grace Tourinho has been UFC's exclusive authorized representative since 2012. Tourinho has vast event ticketing and financial experience in Brazil.
In expanding across the world, UFC has bumped into various cultural issues. For example, Fertitta said, there is no alcohol use in The Ultimate Fighter TV show in Brazil.
"But the one thing that will never change is our product. The sport is the sport."
Contact reporter Alan Snel at asnel@reviewjournal.com or 702-387-5273.