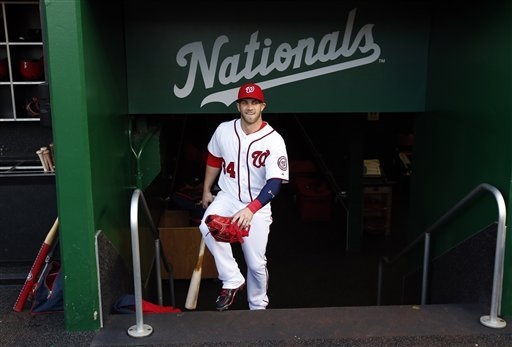 Another day, another Bryce Harper story that casts the Las Vegas slugger in a negative light.
In his most recent column, respected D.C. baseball writer and author of lots of baseball books Tom Boswell wrote the Las Vegas phenom was only the Nationals seventh-best player. In his opinion.
This was after Harper was benched by manager Matt Williams for not running out a comebacker against the Cardinals, and that day's scorecard had run a picture of Harper that said "Nothing But Hustle."
Then during his chat today, Boswell suggested Harper might have faked an injury last week to avoid having to bat against the Marlins' Jose Fernandez, who is a pretty good pitcher and throws smoke.
This is what Boswell said on the chat, courtesy of Yahoo.com:
"As to the quad (injury), Harper missed a game on Weds. that happened to be against Jose Fernandez. Other players always look for "coincidences." The next game, he laid down a bunt against (Adam) Wainwright, flew to first and looked fine … but teammates noticed. I assume his quad really did hurt him. But the Nats, over the last year, have certainly narrowed their eyes in looking at Harper's motivations …"
So there's that, and then there was that Gatorade spot featuring Harper that came out last week.
That commericial was much cooler than a respected baseball writer suggesting (probably via teammates) one faked an injury to avoid batting against Jose Fernandez.