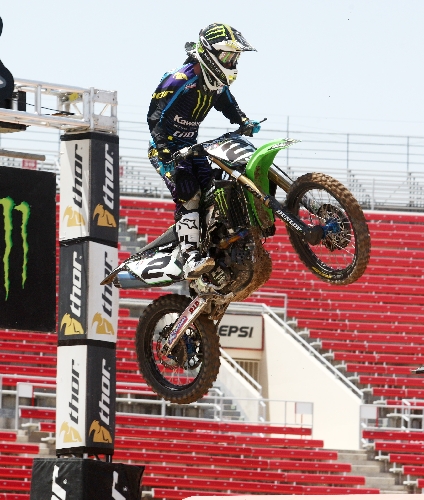 Ryan Villopoto wore a stoic expression Friday to match his strategy for tonight's AMA Supercross finale.
"It's just another race, really. You just have to go out there and do nothing different, show up like it's a regular race," Villopoto said during a news conference at Sam Boyd Stadium, where the 22-year-old will seek his first championship in front of a sold-out crowd of nearly 40,000.
But a glimmer in Villopoto's eyes suggested that he knows this isn't business as usual but rather the biggest race of his career.
Villopoto, who won a series-best six of 17 races this year, has a nine-point lead over second-place rider Chad Reed, a two-time series champion, and needs to finish fifth or better to clinch the title.
Four riders remain in contention. Reigning champion Ryan Dungey trails by 12 points, and two-time winner James Stewart is 23 points behind Villopoto.
The race awards 25 points for first place, 22 for second, 18 for third, 16 for fourth and 11 for fifth.
It's the first time that four riders have entered the finale with a chance to win the title, which industry sources say is worth a few million dollars in prize money and sponsor bonuses.
"I'm not going to change anything," Villopoto said. "I'm just going to get the 20 laps out of the way."
Reed knows from experience that it won't be so easy.
"Yeah, in some ways it's just another race," said Reed, who won championships in 2004 and 2008 and has been runner-up five times since 2003. "Somebody who hasn't won a championship will downplay that they could be a Supercross champion. That is something they've wanted all their life.
"And more than the race itself, we all have to qualify to get into it."
Reed, 29, knows he's a long shot to overtake Villopoto but said he plans to charge hard and be in position to capitalize if the leader falters.
"The first time you're in a position to win the championship, those are the longest 20 laps of your life," Reed said. "He's going to feel every bump in the racetrack, feel every vibration in the motorcycle. It's going to be an experience that will be horrible."
Unless Villopoto takes the checkered flag as the season champion.
Qualifying begins at 7 p.m., with the 20-lap feature race set for approximately 10:10.
■ NEW LAS VEGAS RACE — Feld Entertainment announced that it will stage a new Supercross invitational on Oct. 15 at Sam Boyd, with a prize fund of $250,000 to $1.25 million. …
The AMA Supercross series also announced dates for the 2012 season, including the May 5 finale at Sam Boyd.
■ REVIEW-JOURNAL ONLINE — Visit lvrj.com/motorsports for more news about Supercross and tonight's race.
Contact reporter Jeff Wolf at jwolf@reviewjournal.com or 702-383-0247.