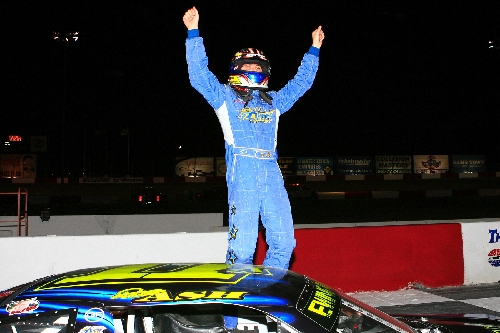 Dustin Ash could take a break from racing Saturday night at Las Vegas Motor Speedway's Bullring, but he'll show up and work overtime.
Every racer relishes the chance to celebrate winning a series championship, and that's what Ash will do Saturday after the final points race of the NASCAR All-American Series season at the three-eighths-mile oval.
The 22-year-old College of Southern Nevada student clinched his second Super Late Models championship in four years Saturday when he won his seventh feature race of the 14-race season. That extended Ash's lead over reigning champion Scott Gafforini to 53 points, a margin that Gafforini cannot make up regardless of what Ash does Saturday.
But Ash doesn't plan to rest on his accomplishment. He'll also race in Legends Cars and Thunder Cars features on Saturday. Just for fun, he said.
Ash claimed the Super Late Models championship in 2007 when he won nine races for a team owned by his family. After not racing full time in Super Late Models the past three years, he joined Ewing Bros. Racing and has dominated since this year's summer break by winning the past four races.
"I was riding home from the (Ewing Bros.) shop with my dad (Ken Ash) a few nights ago when it really hit me what we have done. I looked at him and said, 'I guess 2007 wasn't a fluke after all,' " he said.
The Super Late Models finale might lack drama, but championship races will come down to the wire in the other NASCAR divisions.
In Chargers, Phil Goodwin, who has won nine times this year, has a 21-point lead over teammate Mario Oppipari. Vinny Raucci is three points out of second. The tightest race is in Bombers, where Pete Meyer leads Wade Pearson by one point.
■ WATER SPORTS — The 29th annual International Jet Sports Boating Association Worlds Finals continue today through Sunday in Lake Havasu City, Ariz.
The event features the best personal watercraft riders from the United States and 36 other countries. For more information, visit ijsba.com and GoLakeHavasu.com on the Internet.
Contact reporter Jeff Wolf at jwolf@reviewjournal.com or 702-383-0247.